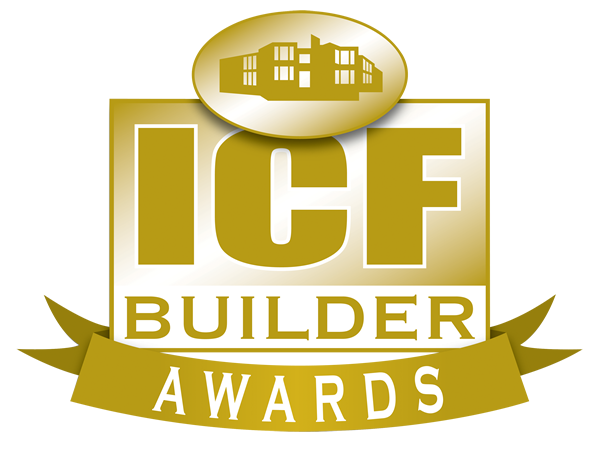 Seeing a school built out of ICF is always an exciting prospect, because you know it's going to safely and sustainably shelter students for decades to come. Granbury High School in Granbury, Texas (just west of Dallas/Fort Worth) was particularly interesting because it had so many firsts going for it. It was the first ICF project for Granbury Independent School District (ISD). It was the first ICF high school in Tarrant County. It was the first ICF project for the construction manager. It was the first ICF project for the ICF installer – but definitely not the last. It was the first ICF project to utilize the industry's first one-sided form product – the Nudura One-series. And it was the first school project to implement an all-glass corner window constructed out of ICF. To top it off, the project also had twenty six 32-foot-wide window openings.
Completed in June 2016 using Nudura blocks, the project was a 130,000-square-foot addition to the high school that cost just under $50 million. It used 50,000 square feet of exterior ICF walls and approximately 3,000 square feet of interior walls. Completion of the ICF installation took just 75 days out of an approximately 60-week construction schedule. 
"The architect, Huckabee and Associates, designed a truly unique building with huge 32-foot wide openings as well as cantilevered ICF over an all glass corner," explains Nudura representative Cameron Ware. "As is typical for projects of this nature, the all-glass corner required strict attention to rebar schedule and proper internal vibration for consolidation. J&E Companies provided the Granbury school district with a top-notch ICF installation. Furthermore, each of the school's twenty-six 32-foot openings required careful attention to lintel details since pocket beams were utilized for the bar joist floor system." 
Weather and Complexity
As is likely in Texas, weather played a role. The team worked many days in snow and rain in order to stay on track. Rick Wooldridge, J&E Companies general superintendent, said the project went very well, even though the team had never worked with ICF before. "I would say we hit it out of the park," he said. 
The large openings required exceptional workmanship and attention to detail with the implementation of the bracing to ensure they remained orthogonal while being set with a SkyTrak. Although J&E Companies has since completed many ICF jobs, this was their first one and the new ICF installation crew was diligent in maintaining pour elevations, internal and external vibration of the concrete, proper slump, and spacing of trucks, Ware says. 
"Granbury went very well," said J&E Companies ICF foreman Landon Miller. "ICF is similar to masonry in some ways but with an added mix of new technology. After the successful completion of the first few pours our confidence grew. I was glad to have been chosen to spearhead our first ICF project." 
Thanks to the learning and the success achieved here, J&E Companies went on to become one of the largest ICF installers in the United States. Ware says they have since installed more than two million square feet of ICF and counting across more than 50 projects in the years since this project was completed. 
The Learning Environment
The learning environment being open and relaxed is an important part of designing a school, and that was a priority for Huckabee. They chose ICF because of its insulating factor and reduced heating and cooling costs, which is an important money-saving feature for the school district over time and will contribute to the student's ongoing comfort. Since the project is in tornado alley, ICFs also provide increased safety for the inhabitants.  
The ICF also creates a sound structure — almost all of the perimeter vertical red-iron was eliminated by using the walls as load bearing. At the time of construction, ICF walls were slightly less expensive per square foot installed than insulated CMU. Therefore, no additional costs were realized by choosing ICF, but there were certainly many other advantages. 
Significance Of The Project
This project was visited by a few local Granbury builders interested in building with ICF. However, the single biggest impact to the ICF industry as a whole was the fact that this was J&E Companies first ICF job. Even with the challenge of their first job being a high school and some complexity associated with windows, one-sided forms and corner design, the project went flawlessly, confirms Ware. 
 "Our company is continually adapting to new technologies," said Kyle Wilson, vice president of masonry for J&E Companies. "ICF was a strategic step for us and we planned this carefully. Granbury High School was the first of our many successful school implementations. " 
J&E Companies was chosen by construction manager Buford Thompson Companies because they had an extensive history of success together on numerous other projects. Nudura was selected because Nudura is the basis of design for Huckabee and Associates schools. Buford Thompson Company, J&E Companies, and representatives from Nudura met several times to ensure success on the project. 
Project Statistics 
---
Location: Granbury, Texas
Type: High School
Size: 130,000 sq. ft. addition
ICF Use: 50,000 sq. ft. 
Cost: $49,846,000
Total Construction: 60 weeks (approx.)
ICF Installation Time: 75 days
Construction Team 
---
Owner: Granbury Independent School District
General Contractor: Scott Barnes, Buford Thompson Co.
ICF Installer: Landon Miller & Kyle Wilson, J&E Companies
Form Distributor: Nudura
Architect: Huckabee and Associates
ICF System: Nudura
Fast Facts 
---
First ICF project for Granbury Independent School District
First ICF high school in Tarrant County 
First ICF project for construction manager 
First ICF project for ICF installer – followed by dozens of other school projects
First ICF project to utilize the industry's first one-side form 
First project to implement all-glass ICF corner as well as 26 32-foot window openings
Like what you read?
Yearly Subscriptions Starting @ $30