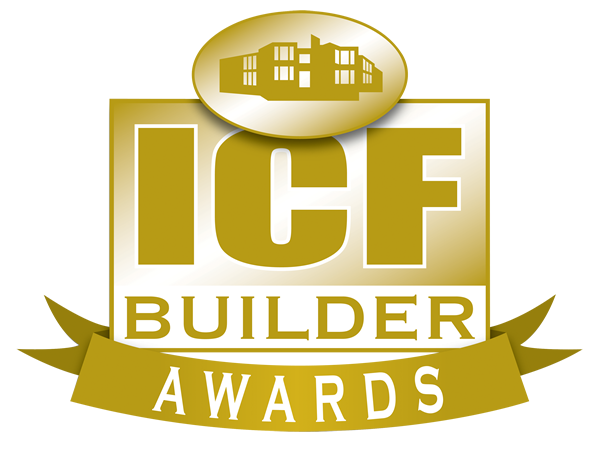 2005 Heavy Commercial
Winner
This large, three-story retirement residence not only placed first in the Heavy Commercial category, but also won "Best Overall" project of the year honors. 
The Conservatory pond Retirement Residence required almost 100,000 sq. ft. of block, which was used on both interior and exterior walls to a height of 30 ft. above grade.
The decision to use ICFs was made in the early design stages by the architect, but it was only after several weeks of bidding that the general contractor chose IntegraSpec. 
The final decision was only partially based on price. Insulated Concrete Solutions, who won the bid, claims that in addition to being price competitive, they could also offer a more complete package, including EPS finished openings for all doors, windows and air-conditioning units. The EPS door bucks allowed them to pre-install all the steel door frames prior to the pour, a major time saver on a project of this size.
Another advantage IntegraSpec offered was the ability to
use foam on only one side of the form to create an exposed concrete face (ECF) inside the elevator shafts as required by Canadian code. 
Exterior walls used blocks with a 6 inch core, while interior walls used an 8 inch core to support the pre-cast concrete floors.
The contractor estimates the project was completed about two months sooner than traditional construction methods would allow, and that the owners have already recouped any additional construction costs by opening the building 60 days early.
The quiet, energy-efficient complex is perfect for the lifestyle of the retirees that live there. "As the residents will be paying the heating and cooling costs of each unit, [ICF construction] will give them the maximum return on investment," notes Juan Andres, president of Insulated Concrete Solutions. 
Project Statistics 
---
Location: Kingston, Ontario
Size: 84,000 sq. ft. / 96,000 sq. ft. of ICF walls used
Cost: $5 million
Construction Time: 180 days
Date Completed: January 2005 
Construction Team 
---
Developer: Succession Development Group
Architect: Fabian Architects Ltd.
Engineer: SWS Engineering
General Contractor: Succession Development Group
ICF Installer: Insulated Concrete Solutions
Additional Team Member: St. Mary's Cement
Fast Facts 
---
ICF Block: IntegraSpec, with 6" and 8" cores
Wall Bracing: Insulated Concrete Walls 
Window and Door Bucks: IntegraSpec
Ledgers/Joists: Precast hollow-core concrete
Exterior Finishes: DuRock Duroscreen TAFS
Like what you read?
Yearly Subscriptions Starting @ $30