SMALL RESIDENTIAL - FINALIST
This home—built in Putnam County, Fla, about 50 miles north of Orlando—a showpiece of resilience, efficiency, and value.
Its lines are typical of a "cracker home," a classic type of Florida architecture featuring metal roofs, wide wrap-around porches, a raised floor, and clerestory windows for light and ventilation. This home has all of those traditional characteristics, but is built with insulated concrete forms (ICFs). Combined with clever engineering, ICF construction makes the house extremely energy efficient and virtually hurricane-proof, a trait that was severely tested within a month or two of completion.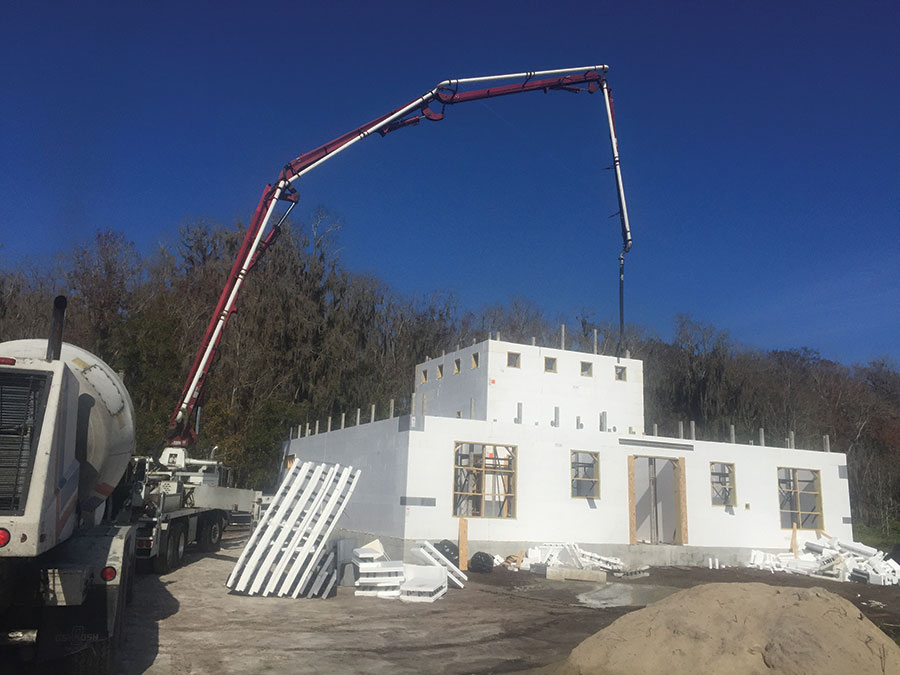 Mike Russell, the homeowner, is the Logix territory manager for the region, so when it came time to build, he knew which product would be used.
The ICF portion was straightforward. Russell reports the biggest challenge was the sitework prior to construction. The soil report indicated that the top three feet of soil was unsuitable for construction and had to be removed. It was hauled off and replaced with five feet of compacted backfill. "We hauled in more than 200 truckloads of engineered fill," he says. Even with the fill, the engineer required massive footings 36″ square.
The home is located in a FEMA D-Rated area, used for areas where there are possible but undetermined flood hazards. In this case, the site is exposed to high tides and "open water high wind potential.
To minimize the risk of flooding, the house was built on a "Carolina Slab," which consists of a CMU stemwall foundation extending several feet above grade, filled with soil and topped with the slab. Mike set the height of the slab 12″ higher than the anticipated storm surge.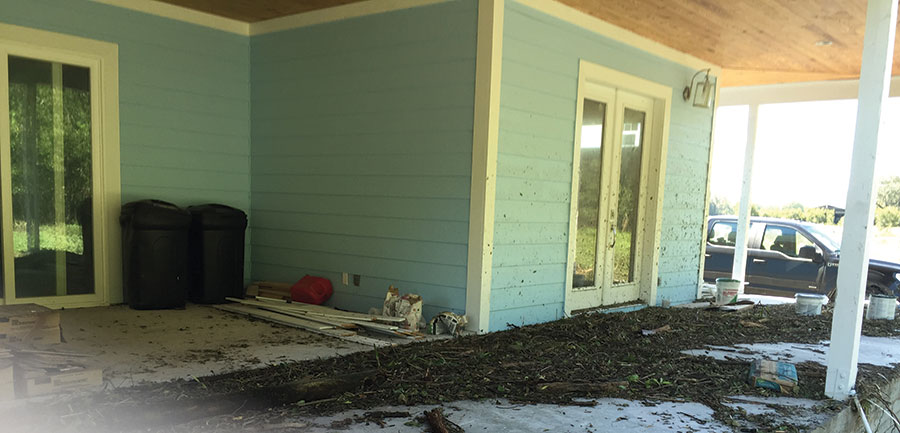 Virtually all interior and exterior walls are built with ICF, so the 2,272 sq. ft. . home ended up using 3,810 sq. ft. of forms. Russell chose to use a 4″ core form for all walls. The inner walls reach 21′ above the slab. At the top, a 360-degree row of windows provide clerestory lighting. With all four walls of the tower being ICF, it creates a central safe room within a safe house.
Russell says, "According to specifications, you shouldn't go more than 14 feet high with 4" core ICF, but in this case most of the wall is interior and will never see any wind loading, as only a few feet are exposed above the roof.
The roof trusses were attached to the central tower with ICFVL ledger hangers from Simpson. The deep wrap-around porches create inviting space for outdoor living, and bring the total area under roof to a touch more than 4,000 sq. ft.
With the sitework done, the ICF work went smoothly. Even the 21-foot-tall walls, which required specialty bracing due to the height, went smoothly.
"We poured the whole house, interior and exterior walls, in about six hours," Russell reports, "and that includes an hour of wait time for a late load of concrete."
The entire home was engineered to withstand 250-mph winds. Typical of Cracker-style houses, it features a hipped roof on all four sides for maximum wind deflection. The roof trusses are rated at 250 mph, and placed 16″ on center for additional strength. The exterior walls center-brace the soffits at mid-span for even greater durability.
Built with interior and exterior walls (bottom left) the home survived a direct hit from a hurricane with minimal damage. Although the storm surge topped the patio, it did not enter the home (left). Strong as a bunker, the home still feels light and airy due to the high ceilings, ventilation, and lighting (right).
Exterior finishes are simple, but extra sturdy. Standing-seam metal roofing was screwed down at 8″ on center instead of 16″. The Hardi-plank cement-board siding was fastened with ring-shank nails. All windows and doors are impact-rated.
The attic area is sealed with expanding polyurethane foam insulation rated at R-30. To prevent roof damage in high-wind events, the designer chose to go with non-vented soffits. Solid wood tongue-and-groove pine ceilings on the porches ensure no wind can get under the roof.
The ICF and super-insulated ceiling are just a few of the sustainable features in this house. Russell says it was built to Net Zero standards, meaning it will generate as much electricity as it uses over the course of a year, although currently Russell is still waiting for the local electrical utility to install the photovoltaic panels. The home is conditioned with a 2-ton Amana multi-speed fan heat pump. (A wood-frame home this size would typically require a 5-ton unit.) The projected energy bill is $48 per month, although Russell says the highest actual energy bill so far is only $18.
But before the homeowners could enjoy the efficiency of their new home, it seems Mother Nature had to test its durability. In October 2016, barely 30 days after construction was completed, Hurricane Matthew roared ashore. Putnam County was ground zero. Winds topped 150 mph, and the power was out for four days in most of the county.
"This home withstood the full force of the storm of the century," Russell says. "This was the very center of the area hit hardest by this storm. We had 160 mile per hour sustained winds, with gusts above that, hitting this home over an extended period of time."
Russell and his wife had not yet moved in, and they rode out the storm anxiously waiting for the first chance to see how their new home had fared.
"My wife was afraid to check on it for fear that water had gotten in, but we were fortunate," Russell says. "This home was constructed to the 100-year FEMA Flood Plane level, and water came to within two inches of the home." The flood had overtopped the Carolina Slab, but not the threshold of the doors. "There was absolutely no damage to the home. Not one thing. We had to power wash some vegetation off the exterior siding. That's it."
Perhaps even more remarkable than the home surviving the hurricane is the extraordinary value.
"Most people say it's too expensive to build with ICFs, but that's really just not the case," Russell says. "We didn't cut corners, and yet this house still came in at less than $95 per square foot." Mike Russell is a big guy, so he ordered extra tall kitchen cabinets (40″ instead of 34 ½"). They're topped with granite surfaces. That cost figure includes the 200 loads of fill that was hauled in and the 148 yards of concrete used in the home.
Just more than $90 per sq. ft. is a fantastic value for a home of this quality, sustainability and disaster resilience.
Project Statistics
---
Location: Putnam County, Fla.
Type: Private Residence
Size: 2,272 sq. ft. (floor)
ICF Use: 3,810 sq. ft.
Cost: $210,000
Total Construction: 25 weeks
ICF Installation time: 14 days
Construction Team
---
Owner + General Contractor: Mike Russell
ICF Installer: ICF ICF of Florida
Form Distributor: Perma R Products
Architect: Robert Hanselman AIA
Engineer: Lee Structural Engineering
ICF System: Logix Pro
Fast Facts
---
Built to Net Zero standards
Engineered to withstand 250 mph winds
Cost $90/sq. ft.
Survived Hurricane Matthew
Energy bill is $18 per month