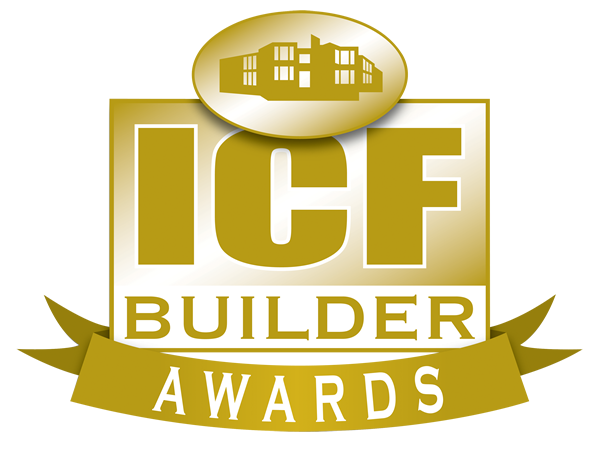 2020 Heavy Commercial
Winner
We honored the ShowBiz Cinema project in Homestead, Florida, with a win in our Heavy Commercial category in our 2020 Builder Awards due to its complexity and its use of ICF. This 9-screen movie theatre, Imax theater, bowling alley, and entertainment center used ICF for all theater walls and bowling alley walls. The theater features SDX Theatre Sound, making sound attenuation very important.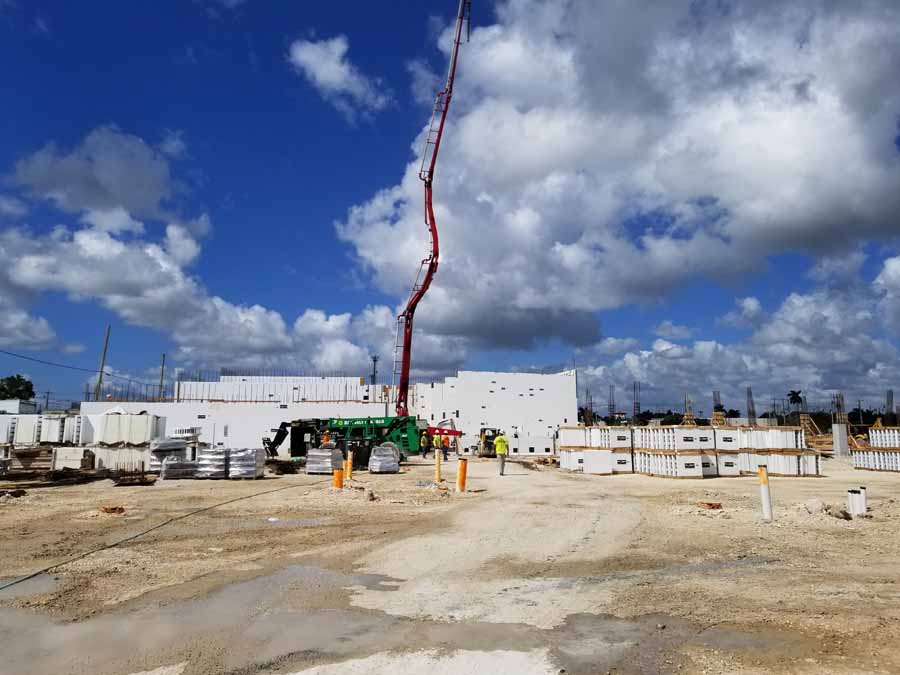 The project was completed in September 2019 and uses a total of 88,144 square feet of Fox Blocks ICF and 48,600 square feet of exterior ICF walls. In addition, all interior walls for the theaters were built with ICF to the tune of 37,544 square feet. 
The project involved many complexities, including extremely tall walls and interior walls which were all built with ICF. Over 2,000 structural steel embeds, all of the roof structure, and the mezzanine structure were designed to join into ICF walls. Turning Leaf Construction, the ICF installer, designed, engineered, and implemented a "tall wall outrigger system" in conjunction with Giraffe ICF Bracing to achieve the tall wall pours without having to brace off the floor or typical masonry scaffolding. The design also included many interior walls that were raked to accommodate the roof pitch as well as some very large raked walls at the entrance.
Construction Complexities
The entry raked walls are incorporated with a decorative structural steel tower at the main entrance. All walls were built with ICF, maximizing the energy efficiency and sound attenuation of the building. There were several construction complexities as well. "For one, construction began during the rainy season, and the site was completely underwater," says Mike Kennaw of Fox Blocks. "Building in Homestead, which is 8 feet above sea level, meant that many of the footers were at or below sea level. The contractor had to conduct a dewatering operation to move the water around to be able to install the ICF walls below grade."
The site was also extremely tight, with only 5 feet off the property line on one side. It was also within 12 feet of a new parking garage on the other side. "This created many challenges for formwork on the outside of the ICF walls," says Kennaw. 
Challenges aside, all ICF walls ended up being perfectly straight and there were no issues with the more than 2,000 embeds installed for structural steel connections. "Zero voids occurred and minimal bulges occurred, even with the 12-inch core Fox Blocks ICF," he says.
Revitalizing Homestead
This cinema project is the center focus of a revitalization project going on throughout the entire downtown Homestead area. This movie theater is in the middle of downtown Homestead and will be the architectural and entertainment centerpiece of the city.
Part of the Homestead Station, and in addition to the 9-screen theater, Imax theater, and boutique bowling area is an arcade, salon, market, bar and lounge, as well as other dining and entertainment options. The project also includes a public parking garage that serves the City of Homestead Park-N-Ride, and the world's first Cybrarium, a technology-driven public library, education, and entertainment complex.
Long-lasting building durability was the main driver in using ICF rather than CMU. "With the hot, humid conditions in south Dade County, the ICF will pay the ownership team in lifetime operational cost savings," says Kennaw.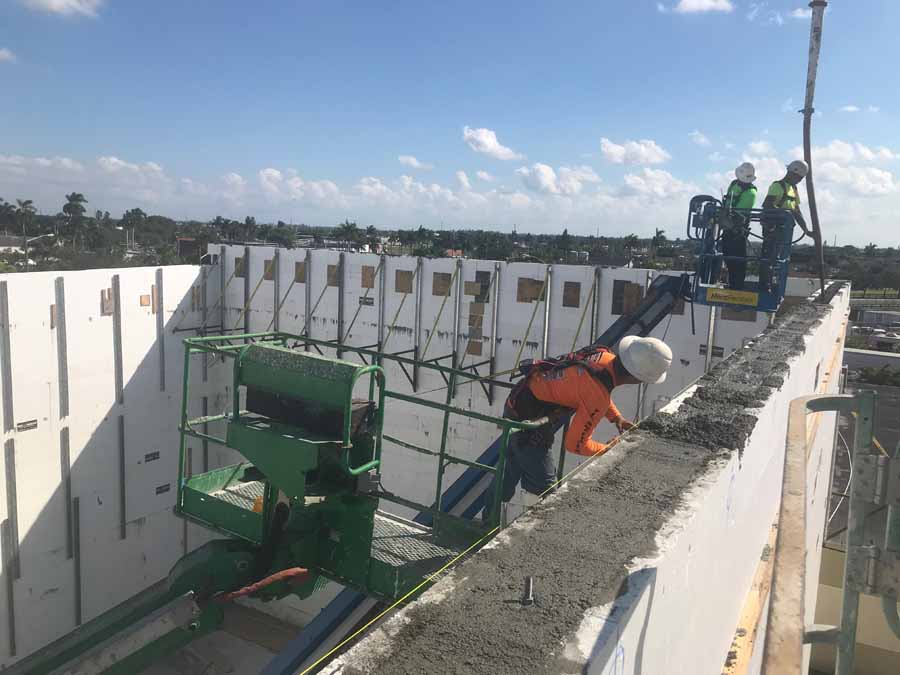 Future Impact
Long term maintenance cost savings will be measured annually. This is the owner's very first ICF project, but it will hopefully not be the last, although the full impact of the global pandemic on entertainment options such as movie theaters still remains to be seen. ShowBiz Cinemas owns a total of nine venues with theaters, four of which also include bowling. "The success of this build will jumpstart ShowBiz Cinemas to utilize ICF on many future project opportunities which is a true win for the industry," says Kennaw. "This also put ICF on the map in South Florida, as one of only five total large commercial ICF projects in the region. South Dade County has now witnessed this very successful build in their community with safe, secure, energy-efficient construction."
The positive impact of utilizing ICF and the ability to monitor the energy-saving impact in this project is expanding the market of theaters and complexes that are built with ICFs, he says.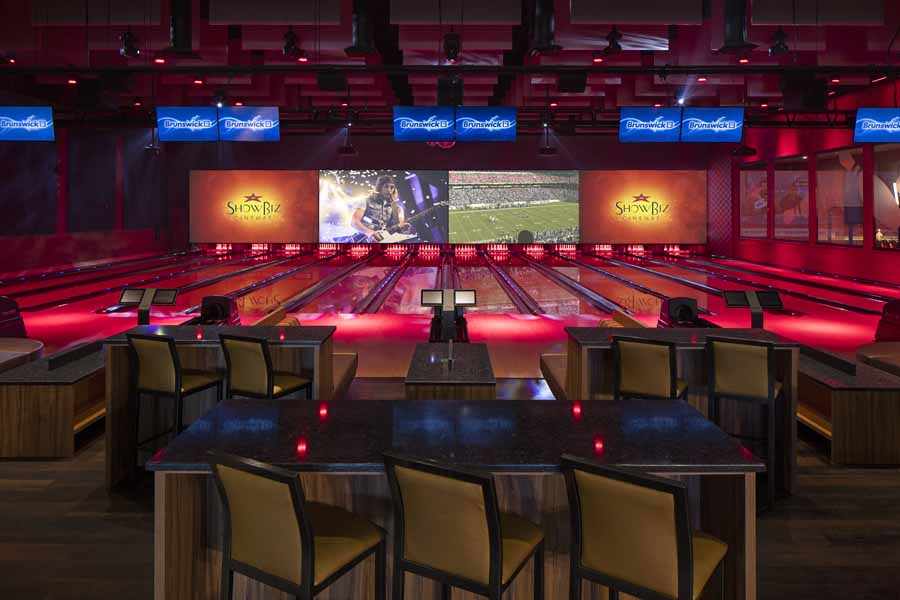 This was a team effort. Randy Daniels at Fox Blocks, worked hand-in-hand with Identity Architects and Axiom Construction throughout design development and construction. Fox Blocks was specified as the most experienced ICF company working on tall wall theatre and auditorium construction. Turning Leaf Construction was selected as the most qualified ICF installers in the Florida market as South Florida does not have many experienced commercial ICF installers. TLC worked under the local concrete contractor, TSG, on the project. 
Project Statistics 
---
Location: Homestead, Florida
Type: 10-screen Movie Theater
Size: 75,500 sq. ft. (floor)
ICF Use: 88,100 sq. ft. 
Cost: $12.5 Million
Total Construction: 60 weeks
ICF Installation Time: 100 days
Construction Team 
---
Owner: Showbiz Cinemas, LLC
General Contractor: Axiom Construction
ICF Installer: Turning Leaf Construction
Form Distributor: Fox Blocks (Direct)
Architect: Identity Architects
ICF System: Fox Blocks
Fast Facts 
---
All Interior and Exterior Walls ICF
SDX room has 62-foot walls with 12-inch core
Extremely congested jobsite
More than 2,000 steel embeds placed 
Like what you read?
Yearly Subscriptions Starting @ $30