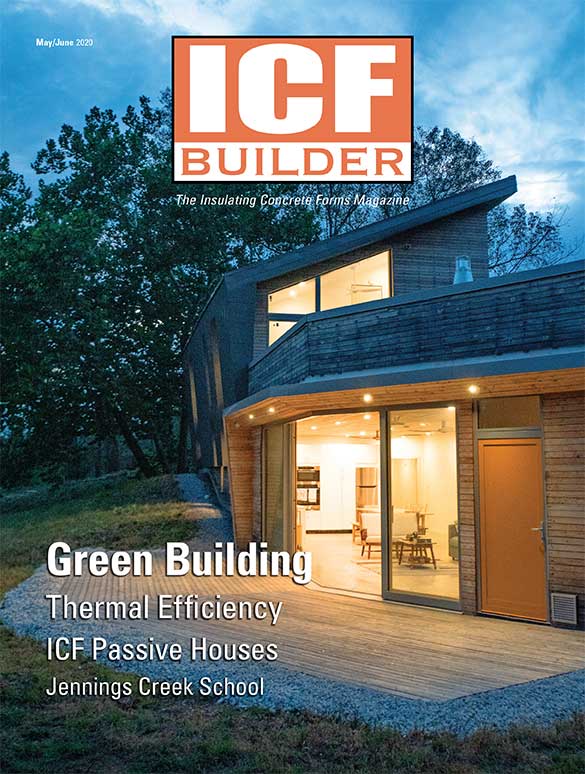 The Thermal Performance of ICF Wall Systems
By Micah Garrett
New research sponsored by the ICFMA now gives scientific evidence for what ICF proponents have known, but have been unable to quantify. Wall assemblies were tested under ASTM C-1363.
Project Profile: The Pinnacle
This zero-energy, off-grid capable home in Ontario, Canada, is incredibly efficient, and features a number of innovative technologies including radiant heat and steel pan decking.
ICFs and the Passive House Movement
The number of certified passive buildings in North America has increased dramatically. This story looks at how ICFs fit into that trend, and spotlights two examples.
Case Study: Morehead House
The result of a decade of research, this Minnesota passive house features ICF walls.
Case Study: The Iowa Nest
By Carl Sterner
This earth-sheltered home in Iowa uses only two percent of the energy a normal house would consume. ICF walls and roof were a key component to achieving passive house standards.
Project Profile: Jennings Creek Elementary
The latest ICF school in Kentucky is also the most efficient, surpassing the standard set a few years ago by the net-zero Richardsville Elementary. With both schools, ICFs are a major part of that success.
Departments
As I See It: Verifiably Green
ICF News Roundup
From the ICFMA
Design Perspectives 
By Ariel Petty
New Products
Tremco Inc., which owns Nudura and Dryvit, restructured the company in April. Nudura is a leading brand of insulated concrete form. Dryvit is a popular brand of exterior finishes.The reorganization combines several of Tremco Inc.'s construction-related product...
read more
The first time I met builder Heather Hering, I was standing in the stunning kitchen of her 2017 award-winning home, The Toronto. A part of the Parade of Homes, I remember the spacious room to be bustling with prospective build clients, curious neighbors, and general...
Like what you read?
Yearly Subscriptions Starting @ $30