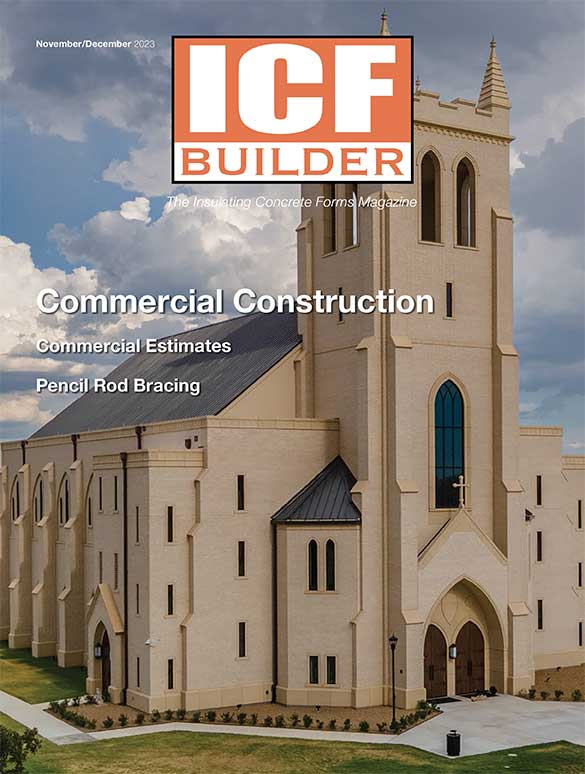 2023 ICF Product Directory
Get the most up to date products in the ICF industry in one place!
Like what you read?
Yearly Subscriptions Starting @ $30
FEATURES
---
As I See It: Insights for Institutional Projects
From the ICFMA: The Other ICF Advantages
Commercial and institutional markets have discovered the sustainable and innovative advantages of ICFs from thousands of proven projects over the last few decades.
How To: Develop a Commercial Estimate
By Tom Patton
Estimating issues may arise when the bid documents and specifications require three competitive ICF manufacturers for bid submissions.
Engineer's Corner: ICF Construction For Commercial & Industrial Projects
By Dave Gowers
Traditionally, commercial and industrial projects have been built using other structural systems. These might include steel frame, wood frame, CMU, and conventional formed concrete, to name a few. In many cases, an ICF structural system beats these other systems on cost alone, but there are many other advantages which should be taken into consideration.
ICF Tips: Reinforcing with Pencil Rod Bracing
By Dan McCullough
Using pencil rod bracing is a method to reinforce or restore the ability of ICF forms to handle the pressure exerted on the forms. In certain situations, when the integrity of the ICF forms has been compromised, pencil rods may be a good method of bracing.
AI in the Construction Industry
By Vanessa Salvia
Artificial intelligence (AI) is now in use in the construction industry in ways that may surprise you but that may also make your workload easier and more organized. We outline how ChatGPT and AI tools can be used to easily sort and find information and provide real-time info about worksites.
Project Profile: St. Philip The Apostle Catholic Church
This 26,000-square-feet church is the tallest ICF project in Texas, with the tower ICF wall plate at 106 foot elevation. During tower construction, ICF bundles were ferried up from the outside via a configured pulley system.
Project Profile: The Centre National de Cyclisme de Bromont
The CNCB houses the original velodrome track used in the 1996 Olympics held in Atlanta, Georgia. The strength and durability along with the reduced operating costs from using ICFs will provide a world-class building to the sporting community now and for future generations.
Project Profile: MHA Interpretive Center
This building houses some of the most sacred objects and artifacts of the Mandan, Hidatsa, and Arikara Nation. In keeping with the tribes' values, the project achieved both a stunning visual look and net zero energy to embrace sustainability and emphasize respect to the earth.

By Vanessa SalviaYou can use Togal to highlight 2-D blueprints to automatically identify, classify, and extract object data.Images courtesy of Togal.aiHow many of you remember taking an iPad to the construction site and using FaceTime to show real-time images of the...
Like what you read?
Yearly Subscriptions Starting @ $30