Warren County, Ky., is growing rapidly; the school district averages 200 to 300 new students every year. To address that issue, Warren County Public Schools has built at least seven new schools over the last decade or so, most of which have been built with ICF.
Among the most notable is South Warren High School and Middle School, an immense facility with more than 320,000 sq. ft. under one roof. That makes it the largest school in Kentucky and the largest insulated concrete form (ICF) building in the nation to date. This project pioneered the all-ICF concept that has since appeared elsewhere, and set a benchmark for construction and efficiency that few others have matched.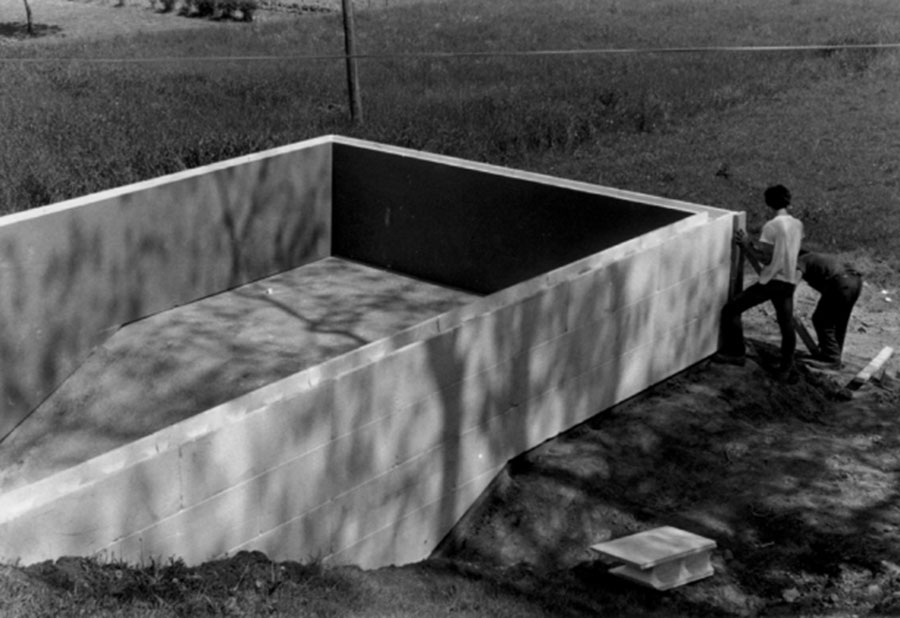 ICFs have been used from swimming pools since the very beginning of the industry. This pool was poured with panelized ICF sections in June 1970.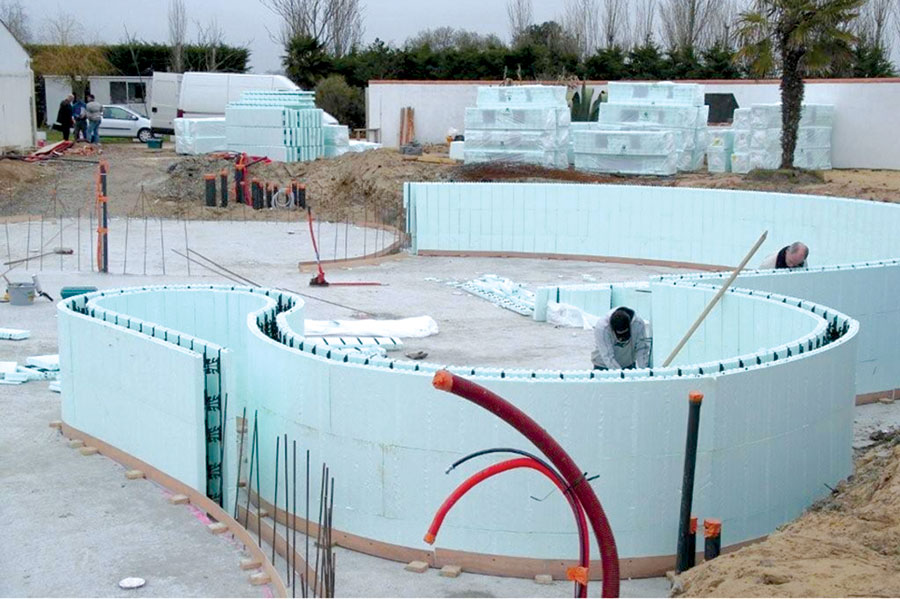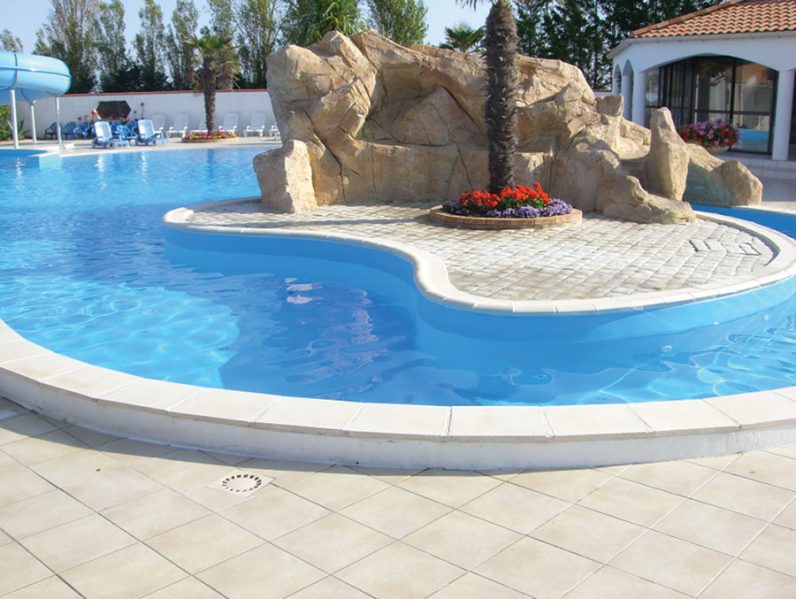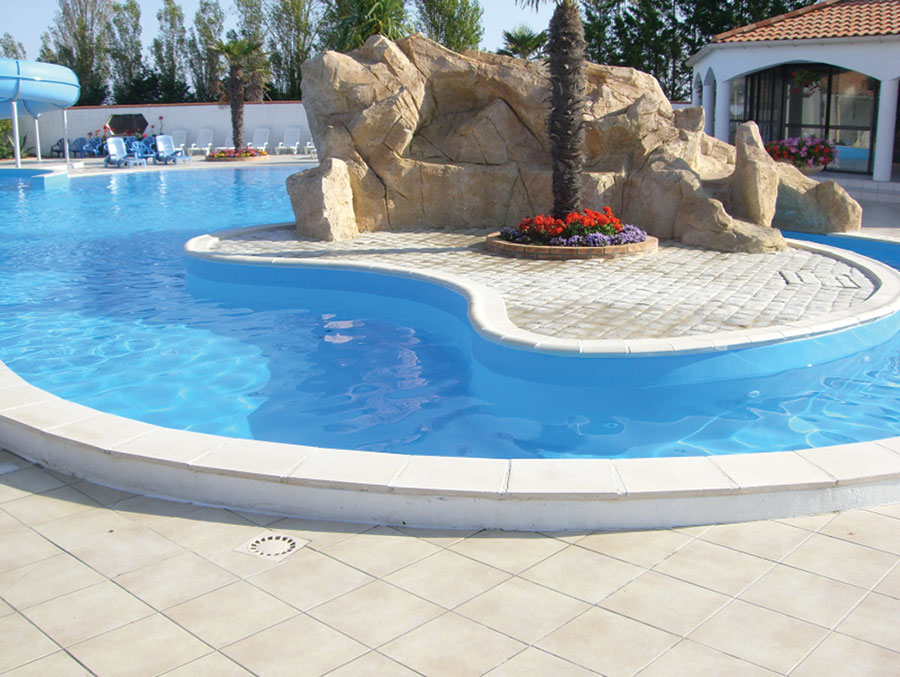 These before-and-after shots of a pool built with NUDURA ICFs demonstrate how easily ICFs can create curved and radiused walls.
Why ICF
Most residential swimming pools are built in conjunction with high-end custom homes, and frequently, when the owners choose to build with ICFs for longevity and reduced energy costs, they'll choose an ICF pool for the same reason.
An increasing number of builders are using panel ICF systems to insulate the bottom of the pool slab in addition to the walls.
Quad-Lock Building Systems has received enough inquiries about pool construction that they've drawn up engineering details and full-color cutaway drawings to explain how they're built. "This is not an insulation layer applied to a swimming pool once the pool shell has been traditionally constructed," the drawings reminds us. "[ICF] forms an integral part of the swimming pool's construction – it most definitely is not a costly addition!"
The greatest cost savings, though, are long-term. Experts calculate that up to 80% of a pool's heat is lost through the sides and bottom of the pool, due to the fact that the ground conducts heat far more efficiently than air does. Considering the surface areas involved, continuous insulation is the best choice.
In addition to convenience, longevity, and construction cost savings, ICFs offer a number of advantages: The speed of build is typically faster than other poured-in-place methods. The lightweight, modular panels are easy to handle, and no heavy equipment is required for delivery, lifting or cutting. That can be a huge plus for a difficult-to-access backyard. Finally, ICFs adapt to curved and radiused walls more easily than most other methods.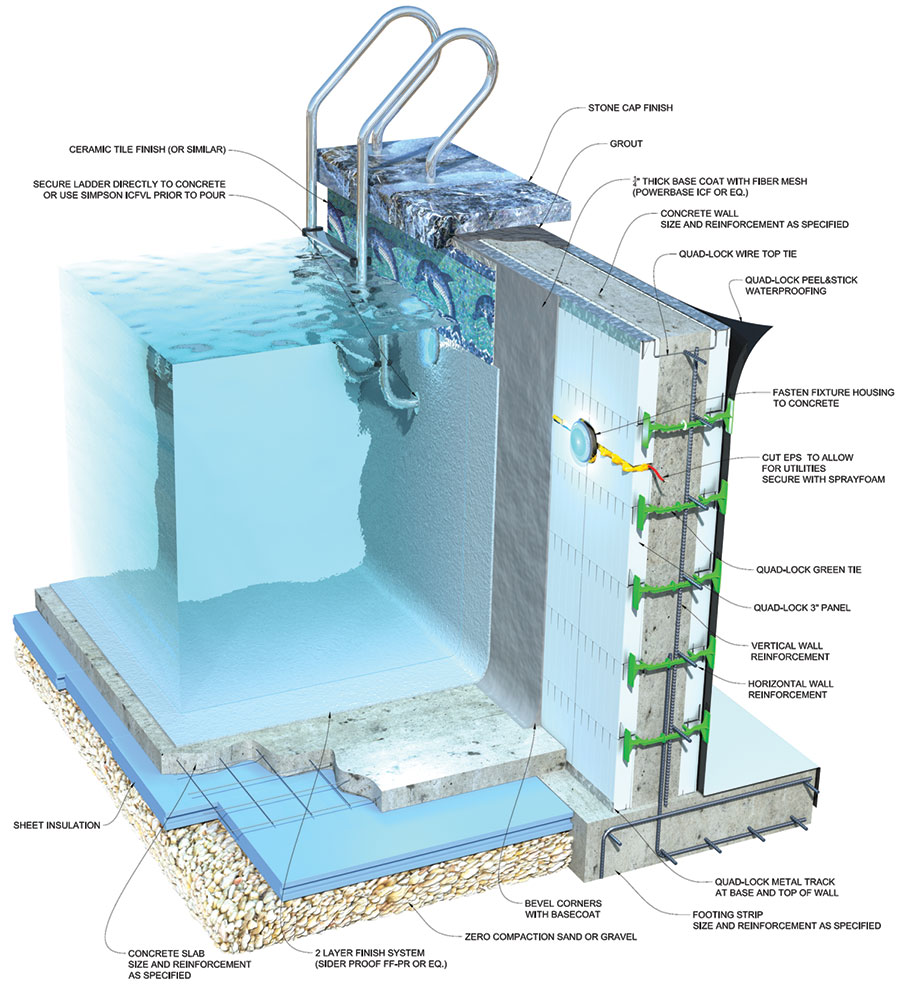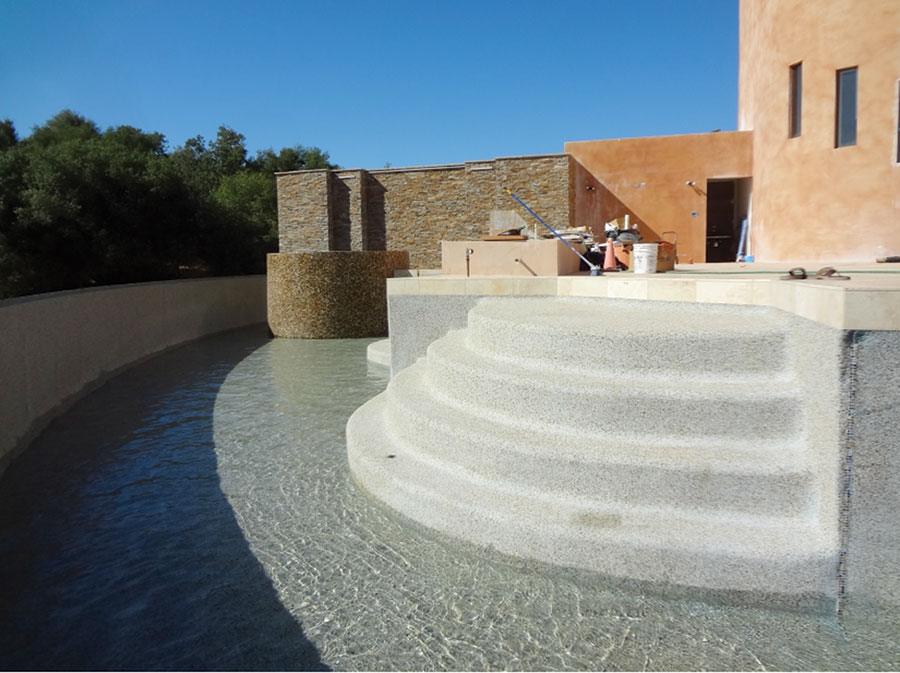 This massive radius edge pool uses ICF for everything, including stairs, hot tub, swim-up bar, and waterfalls.  Ingenious engineering, combined with the strength of ICFs, made it possible to suspend the entire assembly over a below-ground cistern.
Typical Construction
Pool construction is fairly similar to other ICF stem wall construction. After excavation, footings are poured and the ICF walls are stacked. Steel reinforcement and bracing is added per the engineer's specifications.
The pool bottom typically starts with smooth, non-compacting fill—usually sand—topped with an underslab moisture barrier and adequate insulation. Some builders that use panel ICF systems use forms for this. Others use rigid sheet foam, while others use an two-in-one product like Insultarp or The Barrier that combine waterproofing and insulation in a single product. Finally, the reinforced concrete slab is placed to complete the structural shell.
Many pools vary in depth. The most common approach is to pour the two horizontal slabs first, then pour the sloped section using the finished horizontal sections as guides.
Many contractors use spray-applied concrete (gunnite or shotcrete) as the final pool finish. If this is the case, they typically take care of creating the concrete floor of the pool at the same time they're shooting the finish on the wall. They'll also create the fillet (the radius at the floor/wall joint) in the same process. Metal lath is mechanically fastened to the wall to eliminate movement, and the shotcrete is frequently enhanced with fiber reinforcement to provide increased crack resistance. All of the leading ICF brands will withstand shotcrete application without damage if the lath is in place. Typically, a final plaster-like finish is applied in a second separate operation.
A few contractors forego the shotcrete, using a vinyl pool liner instead. Liners must be mechanically fastened at the top of the wall, and usually last for a decade or more.
Finish Options
A few state-of-the-art products make it possible to skip the shotcrete and the vinyl liners. These beautiful, durable, waterproof pool finishes can be applied directly to the ICF foam.
Perhaps the most well-known is Sider-Plast, a cement-based polymer designed specifically for ICF swimming pools by Sider-Crete, Inc. It's a two coat system, and application is similar to
acrylic stucco.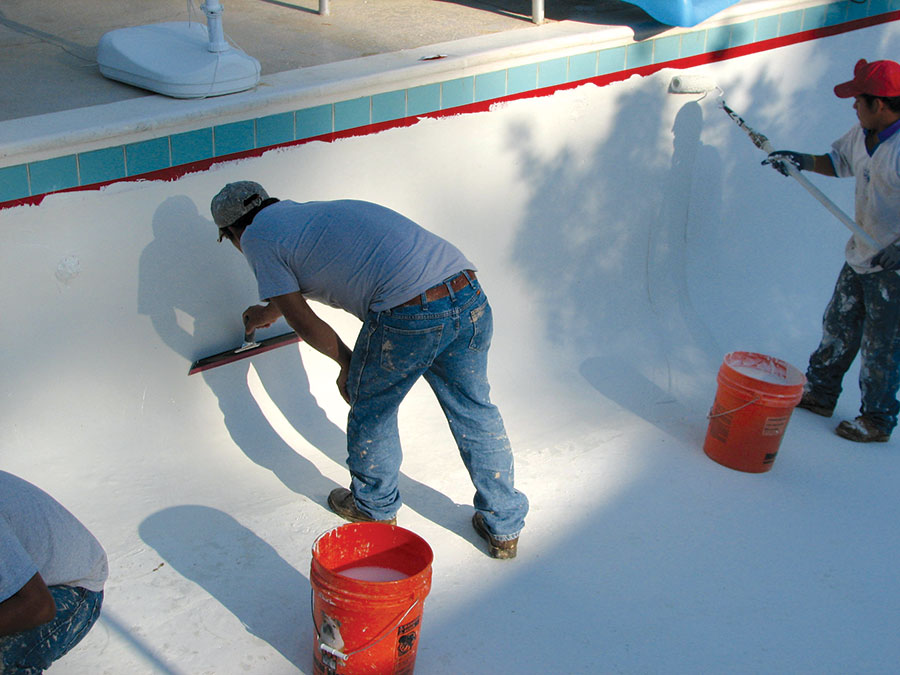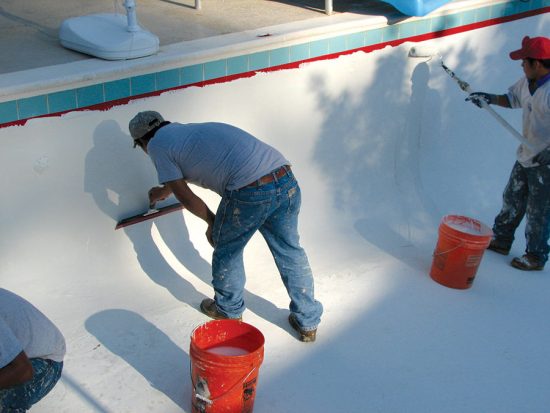 The basecoat, Powerbase ICF, is troweled on to a consistent thickness of ¼" over a standard 4.5 oz. fiberglass mesh. The floor/wall joint will still need to be filleted, which can be done with Powerbase, or by using a custom-cut foam piece. The color coat, called Sider-Proof FF-PR, is applied with a roller, then smoothed with a squeegee. The manufacturer specifies two coats to achieve the desired thickness. If tile is applied above the waterline, it's rolled on after the Powerbase but before the final plaster is rolled on.
"Our ICF swimming pool finish has been very successful," reports Ivan Burgand, director of sales at Sider-Crete. "Contractors appreciate the speed of installation and the reasonable cost. Owners appreciate how durable and impact resistant the coating is. With this system there's never any worry about whether the foam substrate will be damaged."
Another finish option is Perma-Crete. Company president George Henderson developed it in the early 1990s for his personal pool, which required a much stronger surface than what was available on the market at the time. Application is similar to acrylic stucco: a basecoat troweled over fiberglass mesh, followed by a troweled finish coat available in a wide range of colors. Perma-Crete is one of a handful of products that's approved for both horizontal and vertical applications, so it can be used on the pool deck as well as the pool itself.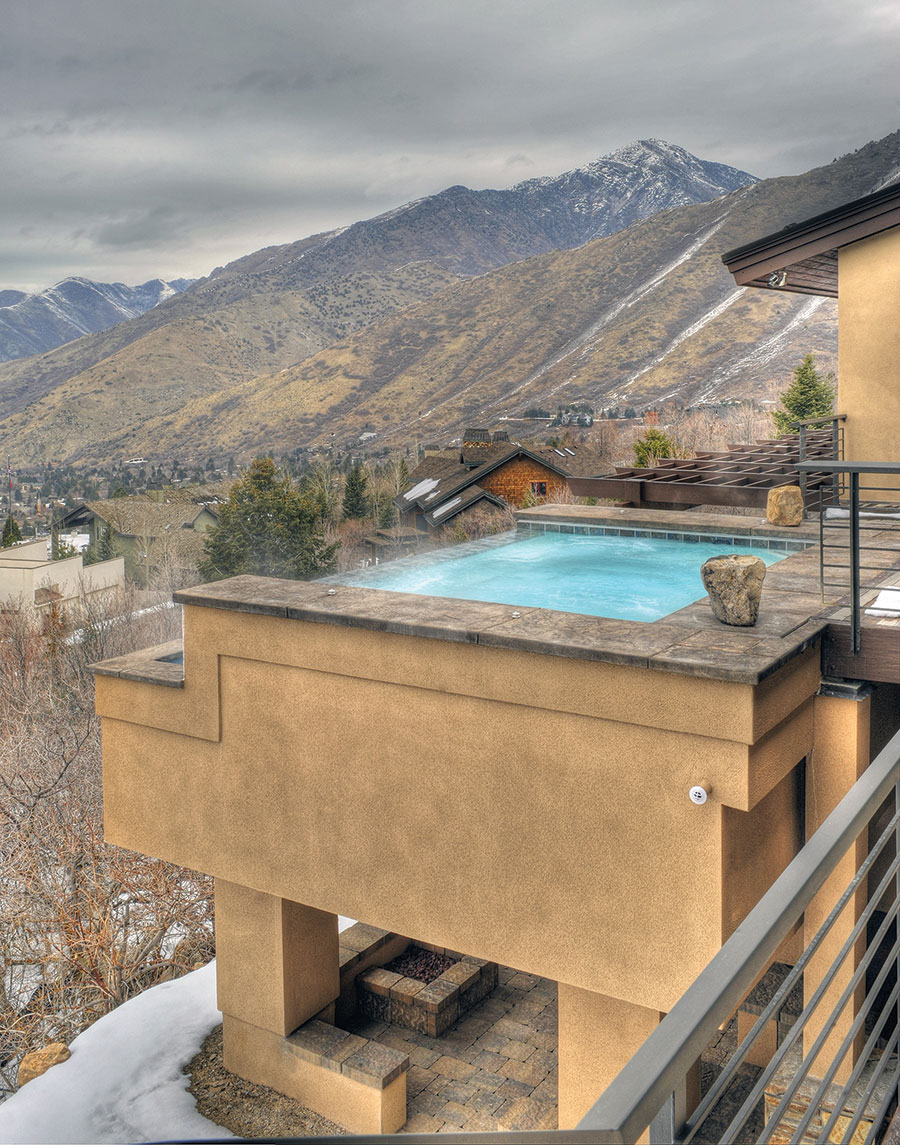 Perched on columns to take advantage of the view, this hot tub still maintains its heat efficiently thanks to the insulating properties of ICF. 
Two Examples
Two recent examples demonstrate what's possible with ICF pools. The first is an infinity-edge hot tub built into the side of a mountain overlooking Salt Lake City. The homeowner wanted a pool that took advantage of the stunning vista, but with a backyard slope exceeding 45 degrees, construction would be tricky to say the least.
Dan McCullough, the local Logix distributor, has been involved with half a dozen other ICF pools, but none as complex as this one. "It's basically an ICF water tower, the way it's perched on columns like that," he says. While excavating the footings, the builders encountered a jumble of boulders ranging from three to ten feet in diameter. Unable to remove them, they used the rocks as footings. "Infinity edge pool installations are always exacting," says McCullough. "They have to be level within 1/16 of an inch to get the water to flow correctly, and where it was built on stilts anchored in boulders, there was some concern."
The final result, though, proves the skill of the installer and the strength of ICFs. Completed last year, the owner and his guests now enjoy the pool with a view year round.
ICFs can also create pools that are far more massive. The pool at Casa Bella Verde, a private home in Northern California, stretches more than 100 feet in length, and uses ICFs in every conceivable application. The circular spa, two waterfalls, entry steps, swim-up bar, radiused exterior walls, and catch basin are all made with ICFs. Even more mind-boggling is the fact that the massive pool, which averages 4 ½ feet deep, is suspended over another room holding a rainwater cistern.
Installation of the IntegraSpec ICFs was supervised by Nicholas Nikiforuk. The radius infinity edge wall, which runs for nearly 250 linear feet on a 50' radius, is within 1/8" of level over the entire distance. Shotcrete was used to create the fillet at the floor/wall joint and to add impact resistance. After being troweled smooth, a
waterproofing membrane was rolled on, followed by the
final Pebble-Tech finish.