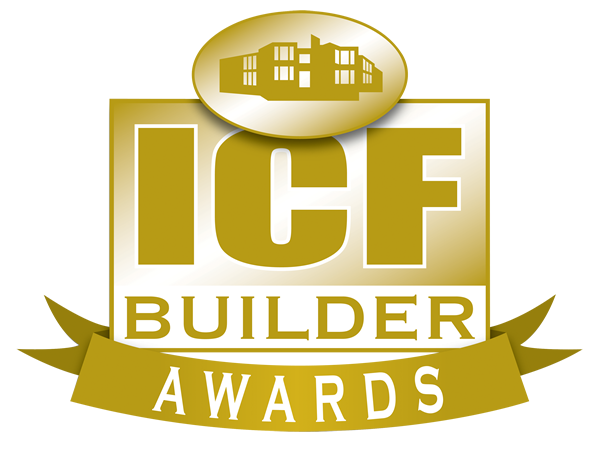 2014 Heavy Commercial 2nd Runner-Up
Cabela's is a sporting goods store in the original sense of the word. Catering to hunting, fishing, and other outdoor pursuits, it sees itself as "the world's foremost outfitter," dedicated to providing products of exceptional quality to their customers.
When the company began planning a retail outlet in Barrie, Ontario, Canada, their construction choices mirrored their overall approach to business: a structural shell of exceptional quality and durability at a reasonable cost built with energy-efficient, disaster-resistant insulated concrete forms (ICF). It was put out to bid, with Elite Building Group getting the nod as ICF installer and Fox Blocks as the ICF of choice.
Ken Williams, of North River Distributing, describes the project as "a 75,000-sq.-ft. sporting goods big box retail center with 1,100 linear feet of walls, some extending up to 29 feet above grade, and frost walls up to 12 feet deep."
He says, "The entire building from footings to rooftop is built with ICFs. Energy savings are expected to be in the thousands each year. Additionally, the exterior front entrance walls, the posts and columns, the barrier walls and even landscape retaining walls were all formed with Fox Blocks."
The all-ICF design reduced costs by 15%.
Based on previous experience, the general contractor scheduled the ICF install to take place over 22 weeks. But Elite's experienced crews figured they could stack the 42,000 sq. ft. of block in no more than 16 weeks, and the schedule was adjusted accordingly. In fact, the job went so smoothly that they soon found themselves considerably ahead of schedule, despite the inclement weather. Blocks were covered each day to keep snow out of the 8-inch cavity. More than eight feet of snow fell during the 12 weeks of ICF construction. The ICF portion wrapped up in only 60 working days.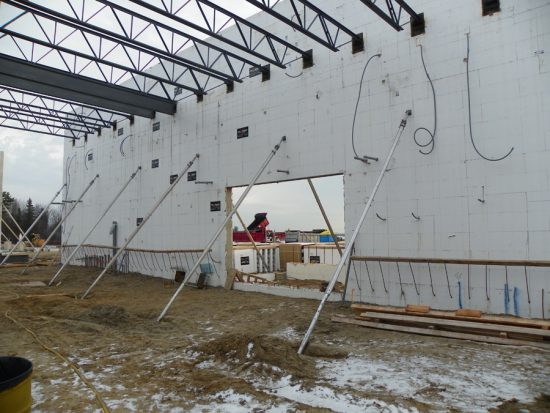 This remarkable pace was assisted by a versatile bracing system from Giraffe that seamlessly managed walls from 10 to 29 feet high.
The roof and mezzanine are supported by open web steel trusses, which were attached to the ICF walls via 280 steel weld plates, each measuring 26″x16″. Plates were supported during concrete placement with wood strapping.
This Cabela's is remarkable for the
variety of exterior finishes used, and the ICFs are remarkable for the ease with which these finishes were installed. Log siding and wood siding were easily attached to the ICF webs. The cultured stone and acrylic stucco was applied directly to the foam forms.
Total construction time was about eight months—on time and on budget, in spite of the severe winter—opening in the spring of 2014.
Williams says, "The success of this project, in keeping costs in place and speeding up the build schedule, ensured that future Cabela's stores will also use ICF's." In fact, a few months after the Barrie store was completed, another store was already out to bid. When the winning GC asked to replace the specc'ed ICF envelope with a red iron and panelized system, the proposal was refused based on the success of this project.
Location: Barrie, Ontario
Type: Retail Store
Size: 75,000 sq. ft. (floor)
ICF Use: 42,000 sq. ft.
Cost: $17 million
Total Construction: 8 months
ICF Installation time: 60 working days
Owner: Cabela's Retail, Inc.
General Contractor: PCL
ICF Installer: Elite Building Group
Architect: CAL Architecture
Form Distributor: North River Distributing
ICF System: 8″ Fox Blocks
Reduced overall cost by 15%
Wide variety of finishes
Walls 29′ above grade and 12′ below grade
Extensive rebar
Eight feet of snow fell during 12 week ICF construction period
Owner now insists some buildings be built with ICF
Like what you read?
Yearly Subscriptions Starting @ $30