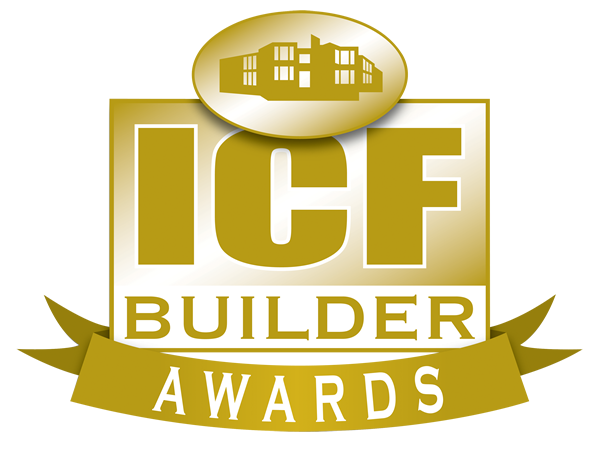 2020 Unlimited Residential
1st Runner-Up
Built on a hillside overlooking a beautiful Texas lake, this four-story custom home is an example of how beautiful, strong, energy efficient homes can be built to withstand extreme weather events without compromising on lifestyle or budget.
Lake Travis is the most popular spot for water-based recreation near Austin. The client had owned a lot on the lake with a pair of older, smaller cabins, for more than a decade, but as their four sons married and the number of grandkids grew to more than a dozen, it became clear that perhaps a new vacation home was in order. He invited Steve Duncan of Touchstone Builders over for dinner to discuss options. 
While eating barbeque and listening to the owner's vision, the builder drew a rough sketch on a piece of butcher paper. The back corners consisted of two 12-sided turrets, with a 36-foot-wide balcony on the upper floors stretching between them to provide spectacular lake views. Duncan says, " I wanted them to be able to take full advantage of the beautiful views of the lake and hill country from up high and provide a more comfortable weekend retreat for their large family."
Footings for the house were calculated at 700 feet above sea level, but the FEMA flood plain for the lake is at 723 feet. That means that half of the entire home could be underwater at some point in the future. To create a flood-resistant structure, Duncan recommended Amvic ICF for the exterior walls, a wind resistant hipped roof, and galvanized metal joists from iSpan for the intermediate floors and decking. This lightweight composite floor system provides clear spans up to 28 feet, and is topped with a dovetailed metal deck and four-inch concrete slab. Window and door materials were carefully selected for flood resistance.
Because the lower two stories were required to comply with FEMA flood zone requirements, most of the living space had to be designed into the upper two floors, and the owner wanted accommodations for up to 25 people, mostly to host get-togethers for his 15 grandchildren.
To provide the needed square footage, the builder designed the upper floors with a cantilever overhang of 10 feet. Duncan says, "This is not something lumber-framed walls could achieve."
Once the concept was finalized, it was submitted to an architect and engineer to generate detailed construction plans, and a few weeks later, Duncan returned with a final layout of all four floors including two garages, three balconies, an elevator shaft (also designed with ICF) and the cantilevered upper stories. The interior partition walls reflect the polygonal shape of the exterior. Due to the many unusual angles, the design evolved to look like a small European castle. 
Due to flood requirements, the mechanical equipment had to be installed 30 feet above ground. A metal cantilever deck was suspended off the exterior ICF walls to provide a platform for the A/C and other equipment.
Duncan has worked with ICF for more than a decade, and he brought on an experienced ICF subcontractor to do the installation as well. Coincidentally, it was the same crew from ICF Constructors that built the Hurricane Harvey home featured on p. 22 of this issue. 
With a tight lot and a timeline of only 18 months, work began with demolishing the existing buildings, decommissioning the old well and septic system, and putting in the footings for the new home. Duncan reports some difficulty in finding and hiring trades willing to take on a complicated build during a time when "there was more work available than there were trades to perform it."
Work proceeded smoothly, despite the challenges. With limited space to maneuver during construction, most materials were stored off site and brought in when needed. Preserving the large trees on site presented another challenge, requiring everyone to be creative moving heavy equipment, and pumping concrete. The ICF walls reach 48 feet above grade, with dozens of unusual custom-cut angles.
Just as the home was nearing completion, torrential rains raised the water levels in the lake to flood stage. The first floor of the home filled with five feet of water. Duncan reports damage was superficial. "We simply power washed the interior and exterior after the flood and were able to continue to final construction with no damage at all."
The owners moved in shortly thereafter, and are thrilled with the house. "The homeowners are extremely happy to have made the choice to build with ICF and iSpan" says Duncan. "They expect this home will be enjoyed by their family for many generations to come and are not at all worried of damage from any flood event in the future. The neighbors admire the home and say it is fitting for the neighborhood." 
Project Statistics 
---
Location: Lake Travis, Texas
Type: Custom Home
Size: 12,000 sq. ft. (floor)
ICF Use: 13,500 sq. ft. 
Total Construction: 73 weeks
ICF Installation Time: 40 days
Construction Team 
---
Owner: Private
General Contractor: Touchstone Builders 
ICF Installer: ICF Constructors
Form Distributor: Amvic, Inc.
Architect: U&R Design
ICF System: Amvic
Fast Facts 
---
Exterior Walls 48 Feet Tall
Panoramic Lake Views
Flood-resistant Design
Like what you read?
Yearly Subscriptions Starting @ $30