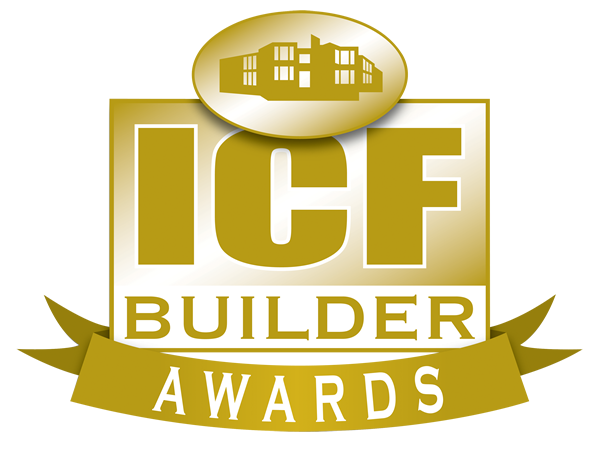 2018 Unlimited Residential
2nd Runner-Up
Casa Tres Playas is a beautiful 9,000-sq.-ft. home built directly on the beach a few miles northeast of Corpus Christi, Texas. The residence experienced the full fury of Hurricane Harvey last fall. Yet the home sustained practically no damage at all, largely because it was built with disaster-resistant ICFs.
The home is designed in the Mexican Modern style, patterned after architecture found in the Punta Mita resort area of Nayarit, Mexico. In fact, the house was designed by Mexico City architect José Vigil, whose main challenge was balancing the contemporary Mexican architecture with local conditions, including wind requirements. The owners also wanted to maximize openness to the bay while maintaining a high degree of privacy.
Vigil drew up the plans in metric dimensions, which forced the construction crew to carefully and diligently cross-check each measurement. Al Johnson, the general contractor, optimistically says this resulted in "a great cross check mechanism."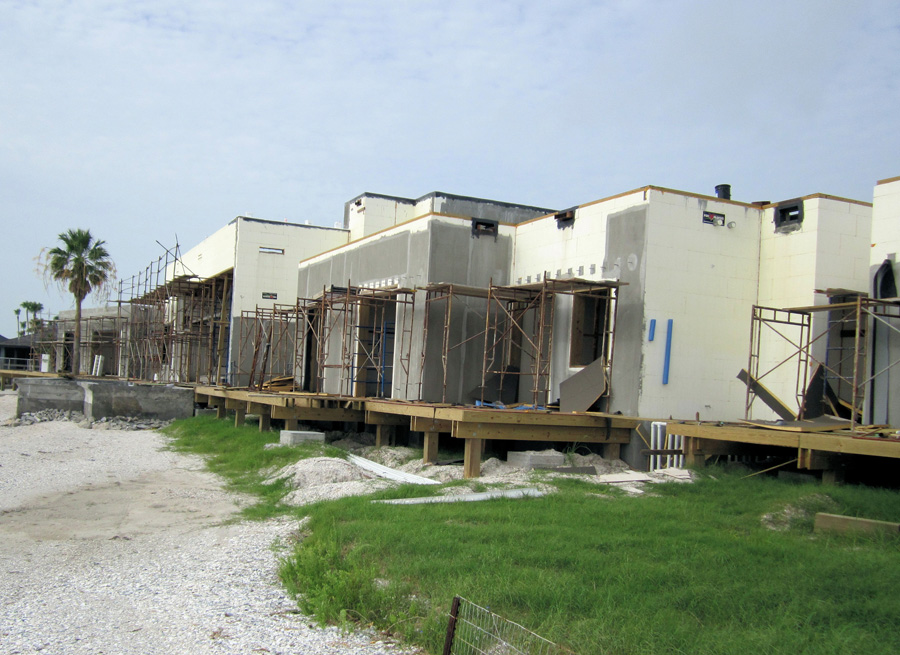 Johnson was already familiar with ICF technology, having built his personal home with Fox Blocks in 2010. Fox Block was chosen again for this project, based on Johnson's experience and confidence in the block, as well as strong local support from the distributor, Malcolm Matthews of ICF Texas.
Matthews says, "This was an extremely difficult project. All who were involved are proud of their individual contributions."
The first challenge was getting the foundation into place. The site is literally beach sand, with the back of the house sitting just a few feet from the high tide mark. To stabilize the foundation, more than 400 wooden piers were driven 20 feet deep and tied together with 42-inch grade beams, with the slab height 66 inches above the average high water mark.
The home is so long that each end of the building was rotated off square in order to follow the curvature of the shoreline; 10 degrees at the north end and 17 degrees on the south.
Because of the irregular shape and length of the project, the slab was poured in three sections. Johnson says the foundation portion of the project alone contains 375 cubic yards of concrete.
The ICF installation was subcontracted to Matt Zetlmeisl and his crew at ICF Constructors. It's a complex design, with 49 corners per course, and seven different wall heights ranging from 11 to 24 feet. Eight interior ICF walls run front to back, segmenting and strengthening the structure. Walls used a mix of six- and eight-inch core ICF. The roof used commercial-style metal joists and embed plates. Zetlmeisl says, "Walls in each section were poured in one day, up to the parapet height. Trusses were later lowered in between the walls. There was no instance across the entire project where walls within a section, or between sections, required adjustment for truss mounts."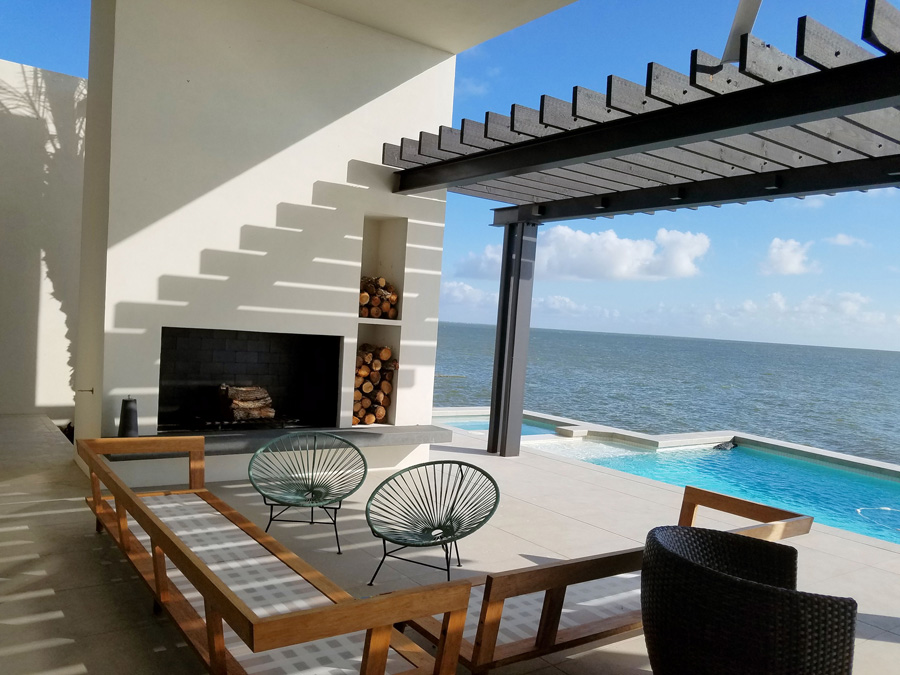 Project coordinator Steven Haynes notes that the sheer scale of the home presented many challenges. It incorporated more than 1,100 linear feet of ICF wall, 12 different wall heights, and 15,000 sq. ft. of forms. As another difficulty, a huge industrial project booked up the entire daytime capacity of the local ready-mix concrete plant, forcing several concrete pours for this home to be moved to 4:30 a.m. As another challenge, an enormous lintel spanning 44 feet supports a retractable glass wall between the patio and main living area.
The final result, though, is stunning. Hayes says, "From end to end, front to rear, and top to bottom there is complete linearity, including sections where dissimilar materials have been integrated." As one of the largest homes in the area, it attracted a significant amount of attention throughout the construction phase, and walkers would often stop by with questions. The builder reports that as of last fall, he had already landed two additional projects because of this, with inquiries for several more, including several municipal projects.
The owners moved into their home, which they dubbed Casa Tres Playas, in April of 2017. Four months later, Hurricane Harvey struck the Texas coast as a Category 4 storm with sustained winds of 135 mph. The eye passed directly over the neighborhood, with crashing seas and gusts topping of 160 mph. Damage to nearby homes was extensive; several were totally destroyed. In fact, of the 750 homes in the Rockport community of Key Allegro, 300 were total losses.
In comparison, Casa Tres Playas fared extremely well. It was one of very few beachfront homes that survived intact. There was minor cosmetic damage caused by flying debris, but zero structural damage to this house. Windows and doors survived intact, and other than a small puddle that leaked in around the giant glass door that flexed at the height of the storm, there was no water intrusion. The family was able to return home as soon as power was restored to the area.
Electricity bills for this 9,000-sq.-ft. home have ranged from $250 to $300 per month, despite the heat of the Texas summer. Part of that is due to Vigil's clever design, which allows any section of the home to be closed off or opened to the sea breeze independently.
Matthews says, "The owner is thrilled at the efficiency, strength and durability of the home. Involved throughout the construction project, he was party to all decisions, major and minor, as well as maintaining an eye on the bottom line. While there were budget overruns, he feels he has been left with a home that more than met his expectations."
Project Statistics
---
Location: Rockport, Texas
Type: Private Residence
Size: 9,000 sq. ft. (floor)
ICF Use: 15,135 sq. ft.
Cost: $4.5 million
Total Construction: 116 weeks
ICF Installation Time: 120 days
Construction Team
---
Owner: Todd and Jennifer Caspary
General Contractor: Al Johnson
ICF Installer: ICF Constructors
Form Distributor: ICF Texas
Architect: Jose Vigil Architects
Engineer: Aran + Franklin Engineering
ICF System: Fox Blocks
Fast Facts
---
Sustained only superficial damage in direct hit from Hurricane Harvey
Longest free span 44'
Foundation on 405 piers drilled 20' deep
49 corners per course
Like what you read?
Yearly Subscriptions Starting @ $30