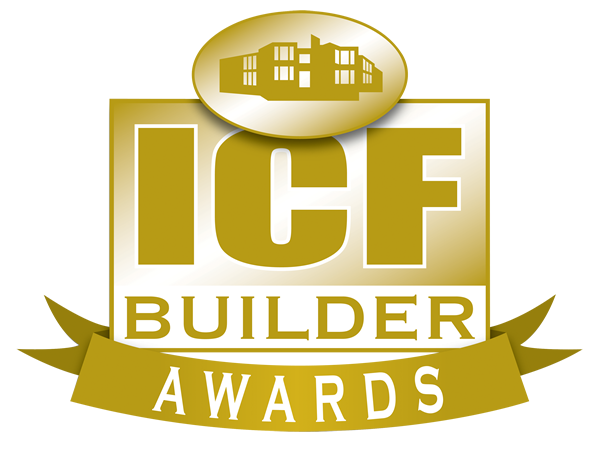 2020 Large Residential
Winner
The Afton Home is a great example of "safe, sustainable, and beautiful;" a phrase that is also the tagline for ICF Homes of Virginia. The company was the general contractor for the construction of this 4,500-sq.-ft. custom home built in the Blue Ridge Mountains south of Shenandoah National Park in Virginia.
The owner wanted his home to be as efficient as possible, both with energy costs and material utilization. In searching for an ICF builder who was also willing to help them design their dream home and push the limits of what is possible, they found David Phelps and ICF Homes of Virginia, which has 15 years of experience with projects of this type. Phelps has a background in physics, and the owners felt his team could optimize the strength and thermal dynamic designs. Based on the contractor's recommendations, they chose Fox Blocks.
"Their end goal is to be off the grid and 100% self-sustaining, with water reclamation, energy use, heating and cooling, says Phelps.
The floors—including the attic floor—are all concrete, with integral radiant heat in the basement and ground floors. The steel pan decking system is supported by Metwood Tuff Beams, which allowed the builder to run electrical chases, plumbing and A/C trunk lines through the beams. There's no need for bulkheads or a dropped ceiling. The floors and walls are strong enough to create upper and lower stacked garages, which this home has. 
The exterior decks are also concrete, but are thermally isolated from the ICF wall core and interior concrete.  Metwood was used for these, too. It allowed for long spans between support columns to ensure uninterrupted views from the windows.
The flat concrete ceiling is insulated with closed-cell spray foam to obtain R-49 insulation and capped with a sloped wood-frame roof.
The home actually has three separate heating and cooling systems: a 200 Seer variable speed heat pump with energy recovery ventilator (ERV) and zoned variable speed air handler, a 95% efficient propane boiler for radiant floor and hot water, and a 6,000-pound soapstone wood-burning stove. The strength of the ICF walls and Metwood floor made it fairly easy to ensure the floor could handle that weight. Phelps adds, "We installed an HVAC return in the ceiling where the stove is located to help circulate the heat around the house, including the basement."
The home is also wired to accommodate three separate power systems: electrical power form the local utility, on-site generators, and solar backup with batteries.
In total, the home used three miles of rebar and 315 yards of concrete. An additional 90 yards of concrete were used in retaining wall and landscaping.
During construction, the owners lived less than 100 feet away, and visited the site frequently. Floors are stained polished concrete, and the craftsmanship is impeccable. The shower surround, for instance, features bookmatched marble panels.
Readers can take a video tour of the home under construction via the ICF Homes of Virginia YouTube channel.
Phelps reports, "The owners are thrilled with their home. We have used their home to tour potential clients and the owners take the lead on showing their home. That's the best reference a builder could ask for." 
Project Statistics 
---
Location: Afton, Virginia
Type: Custom Home
Size: 4,500 sq. ft. (floor)
ICF Use: 7,950 sq. ft. 
Total Construction: 52 weeks
ICF Installation Time: 20 days
Construction Team 
---
Owner: Private
General Contractor: ICF Homes of Virginia, LLC
ICF Installer: Oliff Construction
Form Distributor: Creative Building Products
Architect: Precision Drafting Services, LLC
ICF System: Fox Blocks
Fast Facts 
---
Stained Concrete Floors
Upper and Lower Stacked Garages
Off-grid Capable
Like what you read?
Yearly Subscriptions Starting @ $30