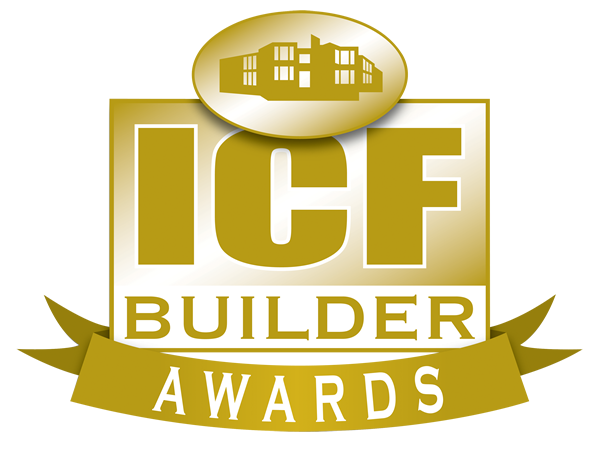 2019 Heavy Commercial
Finalist
Ward's Ridge is an office park in New Castle, Pennsylvania, midway between Pittsburg and Cleveland. Of the three buildings on site, two were built with ICF while the third was stick-framed, providing an excellent cost and schedule comparison.
Isaiah Werner, marketing director at BuildBlock ICF, says, "To my knowledge these are the only commercial ICF buildings developed so far in the county's history. There have been two, maybe three, other ICF projects in the region that I know of." He continues, "This was Wish Development's first ICF project and due to the scope of the buildings and deadlines, it did present a challenge. However, the ICF builder was able to make the process much smoother by answering questions and staying ahead of any potential mistakes."
Tony Borelli, director of design and marketing at Wish Development, explains, "As a developer, we look at how to maximize efficiency in order to keep our utility expense to a minimum. In some leases, we are required to pay the utilities while others, we are not. Because the leases in the ICF buildings are long-term and require us to pay the utilities, we wanted to be as efficient as possible."
In the preconstruction phase, the general contractor, Shiderly Construction, recommended looking into ICF, and the wall system was changed for two of the three buildings. BuildBlock was chosen based on the contractor's recommendation.
Construction was fairly straightforward and didn't offer any dramatic challenges. Werner says the ICF installer and crew were professionals all around and did an excellent job of sticking to the plan and delivering exceptional work. Floors were built using an open web steel joist system. 
 "The height of the walls on each structure was a challenge but the team handled it beautifully," Werner says. "The 14-foot walls were all poured in one day without any issues. The most complex part of the larger building was the two sets of four-way intersecting walls, which extended 36 feet above grade. These were field cut and fabricated on site. The team applied adequate bracing and strapping and took extra care when pouring these areas. The owner was amazed by how versatile the ICF forms are. Using concrete in these tricky areas gave the building the strength needed to support the roof and parapets." 
Borelli says, "We had lots of people stopping by and asking about the buildings. The sustainability, quiet, and efficiency was also a huge selling point for our current tenants."
The development received a Lawrence County Chamber of Commerce Impact Award and has been featured in the paper multiple times. It was also a finalist in the ICF Builder Awards, an international competition that recognizes the very best in ICF construction worldwide. 
Project Statistics 
---
Location: New Castle, Pennsylvania 
Type: Offices
Size: 28,000 sq. ft. (floor)
ICF Use: 23,000 sq. ft. 
Cost: $5.5 million
Total Construction: 72 weeks
ICF Installation Time: 42 days
Construction Team 
---
Owner: Wish Development
General Contractor: Ken Shiderly Construction
ICF Installer: Ken Shiderly Construction
Form Distributor: Hauck ICF Construction
Architect: Wish Development
Engineer: R-3 Design
ICF System: BuildBlock 
Fast Facts 
---
Three Buildings; Two ICF with one Stick-Frame
First Time ICF Project
Significant Local Publicity
Like what you read?
Yearly Subscriptions Starting @ $30