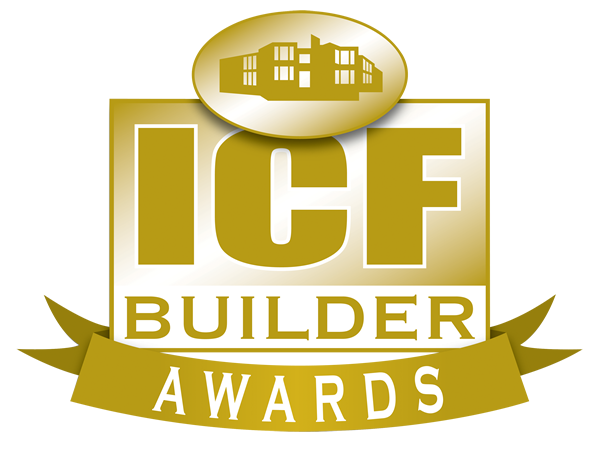 2010 Unlimited Residential
1st Runner-Up
Designed as a show home in one of the city's most prestigious neighborhoods, the Mothership is much larger than a typical green home. Completed in 2000, the house has served as an effective ambassador for more than ten years, demonstrating that ICFs are the best choice for green construction.
The house has a HERS rating of 34; when combined with the 5kW rooftop solar panel system, a high-efficiency and solar energy credits of about $2,925 annually, the monthly net energy cost is $-15.46 per month. Other "green" features include geothermal heating and cooling, tankless hot water, reclaimed wood, and a gray water recycling system.
All walls, floors, and roof are made from ICFs. The 11-inch-thick ARXX Steel walls are sheathed in brick, and topped by an imitation slate roof made from recycled tires. The shell is guaranteed to withstand 110-mph, hurricane-force winds.
The unique combination of traditional architecture and cutting-edge green technology makes it extremely popular every time the home is opened to visitors. During the Tidewater Builder's Association (TBA) Homearama, some 80,000 people toured the home. Air cannon demonstrations were performed at the show, with the Mayor of Virginia Beach pulling the trigger. Attendees included engineers, architects, realtors, and the media. The HBA named the property, "best craftsmanship," "reader's choice," and "favorite home," and Green Builder magazine named it "home of the year."
We're pleased to turn the spotlight back onto this outstanding project again by awarding it 1st Runner Up in the 2010  ICF Builder Awards, Unlimited Residential division.
Project Statistics
---
Location: Virginia Beach, Va.
Type: Private Residence-Custom Home
Size: 6,900 sq. ft. (floor)
ICF Use: 8,000 sq. ft. (all exterior walls) plus 915 sq. ft. ICF safe room with EPS decking
Cost: 1.5 million
Construction Team
---
Owner: Undisclosed
Architect: Retnauer Design Assoc.
General Contractor: Miller Custom Homes
ICF Installer: Dominion Building Group
ICF Distributor: Ervin Architectural Products
ICF System: Arxx Steel
Like what you read?
Yearly Subscriptions Starting @ $30