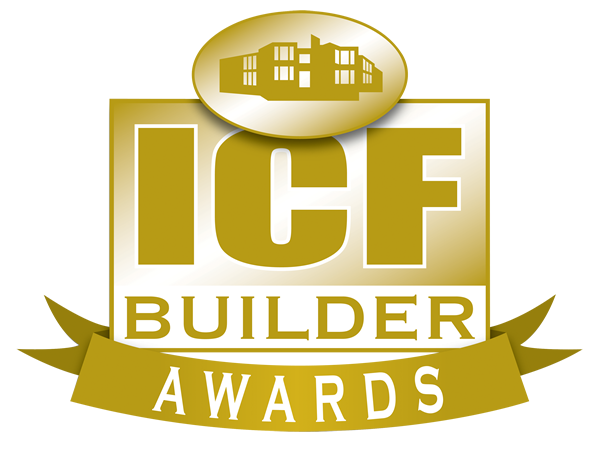 2019 Heavy Commercial 
1st Runner-Up
Dominion Springs Plaza is a high-end retail development consisting of five separate buildings covering more than 53,000 sq. ft. Built in an affluent suburb of San Antonio, it's the first development of its kind in the region. It's already attracting high-end tenants and becoming an attractive shopping and dining destination. Two of the five buildings do not face the street, but look towards nearby Leon Creek, which back the property. 
Shawn Franke, of Lundy & Franke Engineering, says that the narrow lot was one of the reasons ICFs were selected. "The tight front-to-back of the site prevented the use of conventional tilt-up panels," he says. "The multi-building concept with phased construction was perfect for ICF construction." Additionally, Texas recently adopted the 2015 version of the International Energy Conservation Code (IECC). ICFs provide the insulation required with no additional labor. Additionally, they accommodate virtually any interior finish, which was important as the tenants would be finishing out their space in a wide variety of styles. 
This was the architect and engineer's first use of ICF. Fox Blocks had made presentations to them in the past, so—due to the pre-existing relationship and the responsiveness of Fox's regional sales and business development managers—that brand was selected as the basis of design and ultimately used for construction.
Energy-efficient ICF walls are combined with high performance windows, further protected by shaded arcades and awnings. The project is currently being considered for an energy rebate from the local utility because it exceeds the energy conservation code requirements for efficiency.
D. Wilson Construction served as general contractor. Richard Weldon, the company's central Texas regional manager, says, "The owners intended for this complex to be the finest retail strip in the area. Alamo Architects did a fantastic job of designing the complex with beautiful tile lined arches, soaring towers with tile roofing, [and] a combination of salt finished concrete sidewalks with paver bands and accents." The clean lines, stucco finish, and covered parkades convey a hint of Mission and Southwestern design heritage. The design also includes many outdoor spaces for tenants, and come equipped with shady trellises and airy atriums. These exterior areas are further enhanced by exceptional landscape design. 
Those unique architectural features, though, created some challenges for the ICF installation crew. Wall heights topped 24 feet without intervening floors. The parkade required dozens of arched ICF openings. Each end of the development is anchored by a southwest-style tower, while the central entrance is flanked by two octagonal turrets.
Randy Daniels, Fox Blocks' business development manager, says, "The multi-directional radius arches at each corner entry area increased the overall complexity of the project [and] radius arches were also used across the entire front length of the buildings. The storefront openings required the use of lintel beams."
Mo Humble, D. Wilson's project superintendent recalls, "The combination of 24-foot wall heights, along with multiple large arches, made accurate set-up and completion of the ICF walls a significant challenge. The octagon tower shapes were constructed from 45-degree forms, with 8-inch, 10-inch, and 12-inch core blocks creating a stair stepping design element."
In total, the project used about 43,000 sq. ft. of insulated formwork.
Building such a complex project with an installer and GC that were fairly new to ICF presented its own difficulties. Fox Block provided an exceptional level of installation and technical support to ensure the job went smoothly. Humble confirms, "The greatest challenge was the training and coordination required to execute a high-quality product with a new and unfamiliar system. The technical data and training support provided by Fox Blocks made it possible to meet this challenge." For instance, they arranged for the craftsmen to construct two small ICF structures as a learning experience prior to installing forms at Dominion Springs.
In the end, Humble says, "The level of ICF workmanship displayed was exceptional." He continues, "The attention to quality craftsmanship and the investment of the hands-on time to properly set-up, brace, and place the concrete has resulted in the highest quality product."
The project attracted a significant amount of attention. It was built on a high-visibility 10-acre parcel with easy access to Interstate 10, and was seen by thousands every day. Franke, the engineer, reports, "The structures have been visited by numerous architects, engineers, owners, and developers; many of which have now made a commitment to build using ICF."
Site tours have led to multiple other retail plaza opportunities, and the project has successfully generated ICF specifications in other commercial applications as well. The project was featured prominently in the San Antonio Construction News as well as several other publications. Because of the success of Dominion Springs, two additional retail plazas of similar scope in the San Antonio area are currently being bid on.
Daniels, the Fox Blox rep, concludes, "This project demonstrates that ICF construction can compete in areas that once perceived it to be too tough on the shell cost. With this project leading the way, warm shell, tenant finish out, retail plazas of tilt or steel stud construction can now be converted to ICF. The developer of Dominion Springs reported that they will be considering ICF for all new construction projects."
Weldon, says "This has been an extraordinary collaboration of owner, developer, design team, construction manager, suppliers and subcontractors. We are very proud of how well all parties worked so closely together to ensure the owners would be pleased with the final results. This has truly been a collaboration of talent from across many fields." 
Project Statistics 
---
Location: San Antonio, Texas 
Type: Retail and Dining Space 
Size: 53,665 sq. ft. (floor) 
ICF Use: 43,000 sq. ft. 
Cost: $11.5 million 
Total Construction: 48 weeks 
ICF Installation Time: 45 days (per building) 
Construction Team 
---
Owner: Leon Creek Limited Trust 
General Contractor: D. Wilson 
ICF Installer: Urban Concrete Contractors, Ltd. 
Form Distributor: Fox Blocks 
Architect: Alamo Architects 
Engineer: Lundy and Franke Engineering 
ICF System: Fox Blocks 
Fast Facts
---
Five Separate Buildings
Phased Construction
Octagonal Towers, Wall Heights to 24 feet.
Site Tours and Significant Local Publicity
Like what you read?
Yearly Subscriptions Starting @ $30