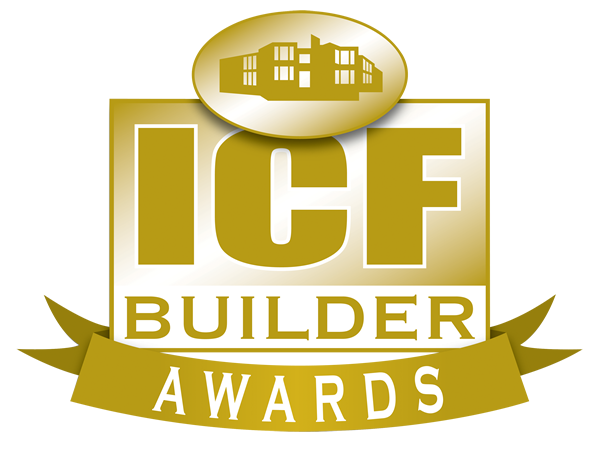 2007 Best
Heavy Commercial
The Grande Caribbean, a 6-story, 150,000-sq.-ft. condominium complex in Orange Beach, Ala., is proving that ICF construction is a perfect choice for multi-family construction. The project took top honors in the heavy commercial category of the 2006 ICF Builder Awards.
Built just yards off the Alabama beachfront, this project is most notable for  its innovative use of ICFs. Not only were the foam forms used for all interior and exterior walls, but they were also used to create all the corbels, columns, and cornices.
Lindsey says that the exterior look of the building is a testament to the flexibility of ICFs. "One of the things that we were trying to prove is that you can do delicate ornamental work using the formwork itself," says David Lindsey, project architect.
"I can step out a horizontal band by using a thicker block. Or I can make a cornice by stepping up the core size from 8 to 10 to 12 inches and crown it with brickledges. It's all solid, monolithic concrete, but it doesn't look bulky. It looks like a light Victorian hotel."
The property has withstood two major hurricanes since it was completed in early 2003 with minimal damage.
"We were ground zero for Ivan," Lindsey says. The storm completely destroyed nearly all the wood frame buildings on the coast while Grande Caribbean suffered zero structural damage. 
"The only thing we lost were just a few pieces of Hardie-plank siding due to installation problems," says Lindsey. "The roof also suffered minor damage for the same reasons… We went through two days after the storm and certified that it was safe to live in."
Despite ICFs durability, Lindsey claims the owners are most pleased with the low energy bills, soundproof walls, and maintenance-free units.
"I went to an owners group meeting about a year after it was finished, and most said their bills were about $25 a month. But that wasn't what impressed them. What they wanted to talk about was how quiet it was." Owners of units that sit less than 50 feet from a 6-lane highway say they can't hear the noise once the door shuts.
ICFs construction was a major reason for the project's success. "It helped with the initial sales; it helped with the resales," confirms Lindsey. The building was 100% pre-sold before it was completed.
An in-depth feature of this building appeared in the Oct. '06 issue. The story, along with additional photos, can be viewed at www.builderawards.com. 
Project Statistics 
---
Location: Orange Beach, Ala. 
Bldg Size: 160,000 sq. ft
Cost: $7.9 million 
Project Start-to-Finish Time: 12 months
ICF Form: IntegraSpec
Construction Team 
---
Owner:Grande Caribbean, LLC
Architect:David Lindsey
General Contractor: Coastal Builders, Inc.
ICF Installer: Coastal Builders, Inc.
Like what you read?
Yearly Subscriptions Starting @ $30