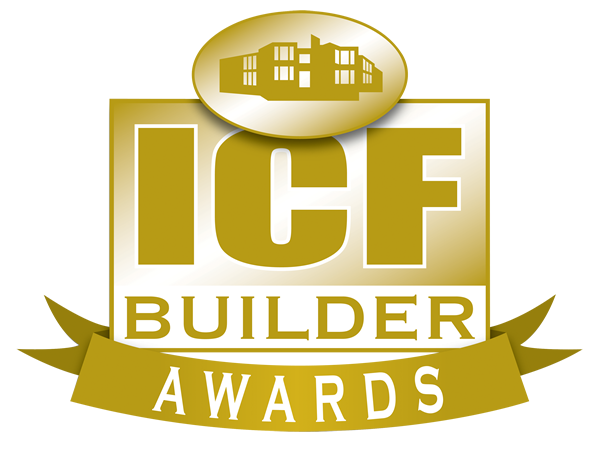 2019 Small Residential 
Winner 
Living Stone Lodge House is unique. Built on an Indian reservation in Twin Buttes, North Dakota, the polygonal house has sixteen wall segments, joined at 22.5 degree angles. Each block was custom cut onsite using a homemade jig, and assembled using old-school ICF craftsmanship. 
It is the first ICF project for developer and general contractor Geordan Traver, who hopes to see several hundred similar homes built across the United States to meet the need for quality, affordable Native American housing.
Traver says, "This project is built using modern technology but still carries the tradition of Native American living. The unique shape of the home gives the public a perspective that ICF is able to build any type of structure, and doesn't compromise design."
He continues, "The round structure was driven by a cultural concept of living, culturally connected to this type of structure. It is also the most energy efficient structure for a building envelope and provides the best interior air flow for better indoor air quality." 
Work began in mid-October, and the walls went up fairly quickly, even with the custom-cut corners. Traver says, "The wall height is 12 feet, which is a bit higher than conventional. It allowed us to get enough elevation for a large loft inside and also allowed us to create an earth berm three feet high against the outside wall of the structure to simulate a Native American earth lodge." 
They used Amvic's 3.30 block. Traver explains, "We wanted a higher R-Value block and Amvic had the R-30-plus block available. No one else had the 3.25-inch sidewalls we were looking for." 
Rob Swanson at Insulated Concrete Structures did the ICF install, which took only a few days. Traver reports, "The craftsmanship on the ICF was excellent. There were no concrete leaks. The walls were true and straight. The pour went flawlessly."
Winter weather in North Dakota is brutal, so when blizzards and bone-chilling cold caught up to the crews, construction was put on hold for three months until the worst of the weather had passed.
The home features an in-slab geothermal radiant heating system to provide winter heat and summer cooling. The connection between the floor slab and the underlying land inspired the name "Living Stone Lodge."
The center section of the home, with two bathrooms and mechanical room was assembled off-site and constructed to a standard that certifies it as a class 4 tornado shelter. The prebuilt module was then craned into place and anchored down. 
The roof is made from pre-fabricated Structurally Insulated Panels (SIPs), supported by sixteen glue-lam beams running from a massive steel tension ring at the center of the home to cast-in-place beam pockets in the ICF walls. The tension ring also supports a five-foot diameter, triple-pane skylight, allowing natural sunlight into the middle of the home.
Traver says, "The home also features 5'x5′ windows throughout the home, which will allow passive solar gain to warm the slab and contribute to winter heating."
The ICF walls, SIP roof, and geothermal radiant heating system add up to a home that is projected to be 80% more efficient than 2×6 frame construction.
The circular 2,500-sq.-ft. home understandably generated a significant amount of attention. Traver states that the home hosted many tours and visitors, including the state's lieutenant governor, who visited during the home's grand opening and was reportedly very impressed.
Traver adds, "The owner is the Twin Buttes, South Segment Community Development Corporation. Phase one of the project the model home has been deemed a success and five additional Living Stone Lodge homes are slated for construction for 2019-2020. The new construction will take place in Twin Buttes with goals in mind to build more affordably by building several homes in one area and the same time. Other tribal councilmen have visited the home and shown interest in this type of construction for their regions which may create a rapid demand for these type of homes." 
Project Statistics 
---
Location: Twin Buttes, North Dakota 
Type: Private Residence 
Size:  2,500 sq. ft. (floor) 
ICF Use: 1,920 sq. ft. 
Total Construction: 36 weeks 
ICF Installation Time: 5 days 
Construction Team 
---
General Contractor: Traver Industries 
ICF Installer: Insulated Concrete Structures 
Form Distributor: Insulated Concrete Structures 
ICF System: Amvic 3.30 
Fast Facts
---
Combines Modern Technology with Native American Traditions
12 Foot Walls with 16 Unusual Corners
80% More Efficient than 2×6 Frame Construction
Many Tours and Visitors, including Lt. Governor
Like what you read?
Yearly Subscriptions Starting @ $30