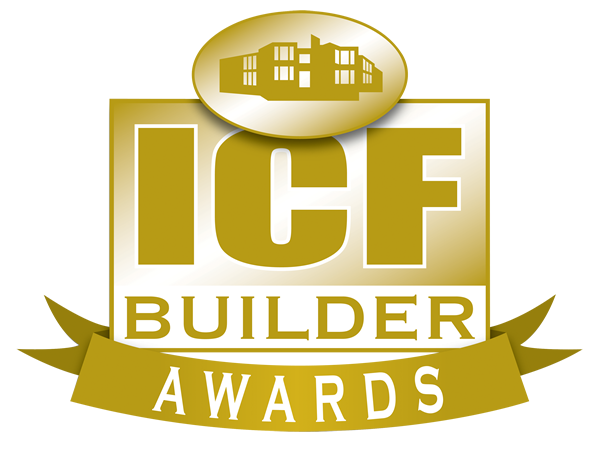 2007 Heavy Commercial
1st Runner Up
Seaside Condominiums, built just yards from the Oregon Coast, is a great example of why insulating concrete forms are taking the commercial construction sector by storm. The project was awarded first runner up in the 2007 ICF Builder Awards. 
Designers originally chose ICFs because they needed a building envelope that could resist the highly corrosive wind-blown saltwater. But they also appreciated the material's strength, ease of use, and speed of construction. 
The eight-story, horseshoe shaped building is just over 400,000 sq. ft., and was the largest building under construction in Oregon while it was being built. The concrete post-and-beam building used 142,000 sq. ft. of ICFs as infill
walls. Until 2006, the project was the largest ICF structure ever built, a position now held by another Reward project. (See "Biggest ICF Project Ever" in the Aug. 2006 issue.)
Because of seismic conditions, the walls are designed to rack independently of ceilings, and filling the forms when the ceilings were already in place presented difficulties. Swinerton Builders, who served as general contractor and ICF installer on the project created a specialized pour sleeve that resolved the challenge. 
The entire project was completed in about 18 months. 
Project Statistics 
---
Project Name: Seaside Condominiums
Location: Seaside, Oregon
Footprint: 460,000 sq. ft
Size: 142,000 sq. ft. of ICF walls
Completion Date: 2002
Project Start-to-Finish Time: 540 days
Construction Team 
---
Owner: Undisclosed
General Contractor: Swinerton Builders
ICF Installer: Swinerton
ICF Distributor: Reward Walls
Engineer: Cary Kopczynski & Co.
Architect: Ankrom Moisan
Like what you read?
Yearly Subscriptions Starting @ $30