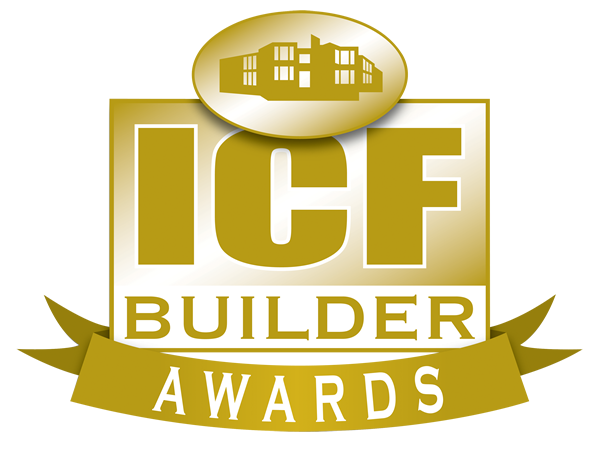 2019 Unlimited Residential 
Winner
One of the most stunning homes built anywhere in the world in recent years is the Chateau Nectar in Vaughan, Ontario. Located on a secluded lot in the suburbs north of Toronto, the home is a spectacular combination of modern technology and timeless architecture. Among the many awards and honors given the home is "Best Unlimited Residential" entry at the 2019 ICF Builder Awards. The category is open to single family residences with more than 6,000 sq. ft., and this was one of the larger homes in the category with 18, 240 sq. ft. of conditioned space.
The architecture was inspired by the classic French chateaus of the Old World, and like them, this is intended look pristine and perform well for generations into
the future. 
The owner was initially unfamiliar with ICF, but as Will Gonell of Gonell Homes, who served as general contractor, explained its advantages, the owner became increasingly enthusiastic. After doing his own independent research, he instructed the team to use Logix Platinum Series ICF, a form made with graphite-enhanced foam that offers better insulating values per inch of material compared to regular EPS.
Gonell outlines the scope of the project and its challenges. "This project was designed to display the grandness of a French Chateau. This meant integrating high ceilings—as high as 26 feet in some areas—long spans to allow for open spaces, and heavy-duty roof joists in some areas to accommodate rooftop gardens and snow loads." ICF walls were vital in order to have sufficient strength to carry these loads, and eliminated some of the steel support beams that would otherwise be necessary. In certain sections, ICF beams were formed to carry some of the loads, and ICFs were also used as supporting walls for the elevator shaft which ran from the foundation up to the second floor. All window wells were also made out of ICFs which were then clad with marble and incorporated a green roof system to soften the view.
No expense was spared. Windows were imported from Poland, and the clips used to support the marble façade were ordered from Spain. Due to the complexity and magnitude of the build, scheduling was a special concern. 
Gonell says, "Due to the size of the project we had to endure the building process through two winters. A knowledgeable ICF installer and sub-trades were pivotal in completion of the project." 
Window bucks were made on site out of dimensioned lumber and wrapped in poly. They were carefully braced, as the windows were coming from Poland and required an exacting fit. 
Giraffe Brace was used throughout to ensure the ICF walls were perfectly plumb. The system was especially useful when bracing and pouring tall walls that exceeded 20 feet without intermediate floors. A combination of levels and string-lines were constantly used to assure the straightness of the walls.
Gonell says, "The open spaces of this project and its high ceilings would've made this house very costly to operate without the use of ICFs." Instead, it's remarkable efficient. Radiant heat on all floors, subdivided into many individual heating zones keeps the heat where the occupants are. Rooftop solar panels generate $400 per month in energy credits. Air handlers, humidity control, and a gas-powered heating and cooling system from the German company Robur is all controlled electronically using software from Crestron System. Green roof technology on the roof and in the window wells reduces storm runoff and creates the ambiance of stately European estates. The marble-clad façade is complemented with copper eaves and downspouts all connected to a rainwater harvesting irrigation system.
Grant Litwin, the regional manager at Logix ICF involved with the project, says, "As a large home in a severe North American climate zone, Chateau Nectar serves as a testament of efficiency and durability. Its classic design maintained the integrity of the architecture in the neighborhood and its surroundings. The cost difference versus conventional framing was the same after taking into consideration all the steel that was eliminated by using ICFs."
Completed in February of 2017, the home has been featured in several magazines including a cover story in Renovation Contractor and Canadian Contractor. The Canadian Home Builder Association (CHBA) named it best custom home over 6,000 sq. ft., and it also won Gold at the Best in American Living Awards in the international category.
Gonell concludes, "Large openings, high ceilings, with an elegant touch of traditional feel, radiates the feeling of walking through an old castle. This project is nothing short of an architectural masterpiece." 
Project Statistics 
---
Location: Vaughan, Ontario, Canada 
Type: Private Residence 
Size: 18,240 sq. ft. (floor) 
ICF Use: 23,700 sq. ft.  
Cost: $6 million 
Total Construction: 120 weeks 
ICF Installation Time: 12 weeks 
Construction Team 
---
Owner: Arif Mohammed Ali 
General Contractor: Gonell Homes 
ICF Installer: Authentic Construction 
Form Distributor: Logix/Penner Building Center 
Architect: A2K Design 
Engineer: Paul Kocsis 
ICF System: Logix Platinum Series 
Fast Facts
---
Design Inspired by French Chateaus
Featured in Multiple Magazines
Multiple Awards from Canadian HBA and Best in Living
Like what you read?
Yearly Subscriptions Starting @ $30