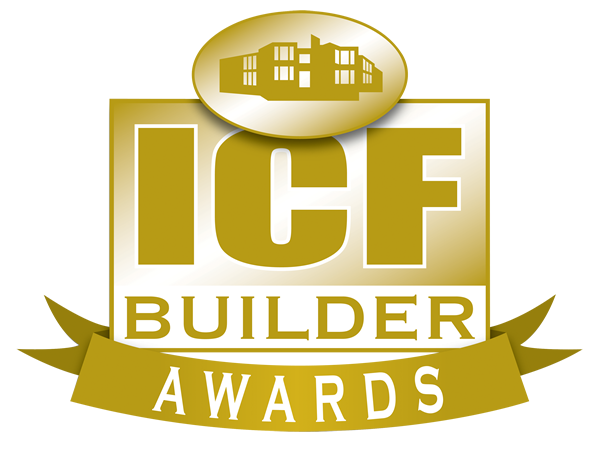 2007 Heavy Commercial
2nd Runner-Up
The largest ICF project completed to date, the Megaplex 20 theater in South Jordan, Utah, has more than 350,000 sq. ft of ICF walls. Some reach 52 feet high without intermediate floors.
It was challenging for other reasons as well: Developers were on a tight time schedule, and the large wall surfaces—hundreds of feet long and more than 50 feet tall in places—needed to be completely straight. Designers also wanted maximum soundproofing and minimal energy bills.
Sahara Construction, working with IMS Masonry as the ICF installer, solved these problems using ICF construction. Construction went rapidly, too. IMS stacked and poured all the walls in just over 5 months. In total, the project used about 35,000 blocks.
For their outstanding work, they were awarded 2nd runner up in the heavy commercial category of the ICF Builder Awards.
"Our overall experience was very good," says Heath Holdaway, vice president of IMS Masonry. "The size and height of the walls was a challenge, but they went up smoothly."
Alan Johnson, President of IMS Masonry, says the biggest challenge was making sure they had enough bracing and scaffolding to keep the walls perfectly straight. "You're dealing with a foam block that wants to move around," he says, "and the taller you go, the tougher it gets." 
To complicate matters, they needed enough bracing and scaffolding to work on seven theaters at a time. 
"With a project this big, the volume and amount of equipment you need is extreme," says Johnson "We used every bit of scaffolding we had, and then rented quite a bit more." In the end, IMS used over 1600 linear feet of crank-up scaffolding, coupled with hundreds of the regular turnbuckle bracing units. 
The end result, he says, is far above the industry standard. He claims part of the credit is due to the block manufacturer. "Reward was fantastic on the tech support," he says. 
Sahara and IMS Masonry have teamed up again to build a slightly smaller 100,000 sq. ft. ICF movie theater in Ogden, about 50 miles to the north. 
The state-of-the-art construction is matched by the cutting edge furnishings: The theater is one of the first in the country equipped with digital projectors, and has 70,000 to 150,000 watts of THX-certifiable surround sound in every theater. In between shows, the 5,400 guests can dine at one of eight separate restaurants in the central lobby, or relax on the stylish mezzanine that overlooks the eating area.
It's possible that a bigger ICF project will eventually be built. But the Megaplex 20 will continue to enjoy the benefits of ICFs for decades: noise-free theaters, low maintenance, and minimal heating and cooling costs.
This project was spotlighted in a feature-length profile that appeared in the Aug. '06 issue of this magazine. The story and additional photos can be viewed online at www.builderawards.com. 
Project Statistics 
---
Location: South Jordan, Utah 
Total Bldg Size: 206,000 sq. ft. (350,000 sq. ft of ICF walls)
Cost: $24 million 
Project Start-to-Finish Time: 13 months
ICF System Used: iForm by Reward
Construction Team 
---
Owner:Larry H. Miller Theater Inc.
Architect:FFKR Architects
General Contractor: Sahara Construction
ICF Installer:IMS Masonry
Like what you read?
Yearly Subscriptions Starting @ $30