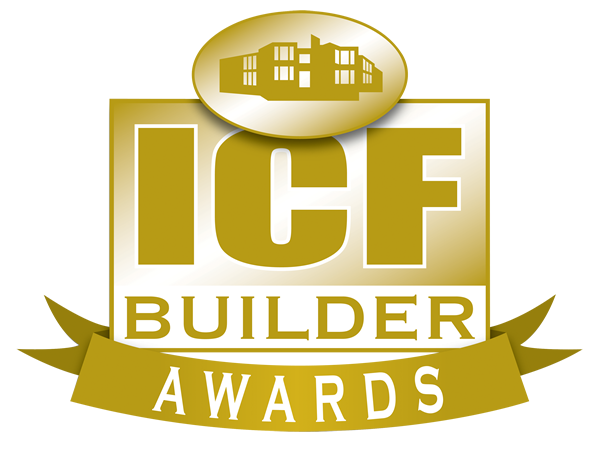 2014 Large Residential Winner
With just less than 6,000 sq. ft. of floor space and a typical brick-and-stucco finish, this Houston-area home looks unassuming. But in truth, it's one of the most innovative homes in the country. It's been the subject of unprecedented media attention—from both scholars and the press—and so far is the only "triple-certified" home in the U.S. The three certifications—LEED-Platinum from the U.S. Green Building Council, a Fortified rating from the Institute for Business and Home Safety, and Zero Energy Ready from the U.S. Dept. of Energy—testify to its strengths. It looks and functions like any other home on the street, but was sustainably built, provides much of its own electricity and hot water and should withstand most disaster scenarios as well.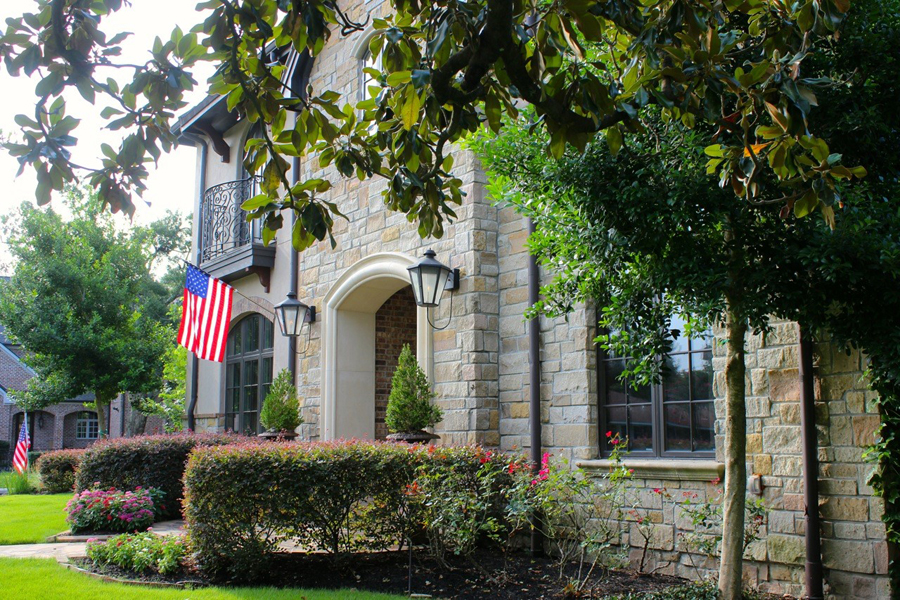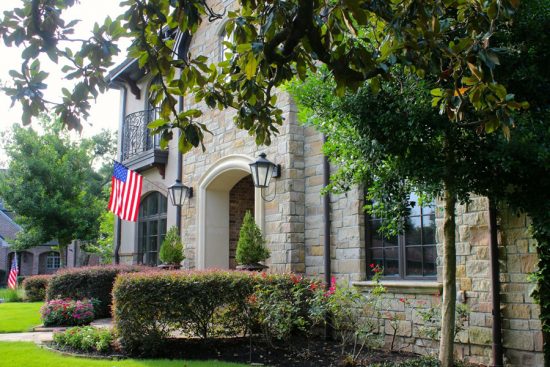 Ker Thomson, who owns the home and also did much of the construction and preliminary design work, says, "We started with the environment of the U.S. Gulf Coast and in a 14-month-long process examined, in remarkable detail, all the different ways to build a home and roughly 300 different products and technologies from which a house can be constructed." He consulted with the experts at Texas A&M University's Energy Systems Laboratory, and discussed with their engineers on how to best build a structure to stand up to the challenges of the Gulf Coast climate, including termites, humidity, rodents, mold, mildew, heat, cold, rain, bugs, roaches, and, of course, the occasional tropical storm and/or full blown hurricane.
Thomson says, "We studied no fewer than seven different wall systems, and in the end, chose ICF." BuildBlock got the nod as the brand of choice.
Design
From the street, the house is visually appealing, with an attractive mix of corners, arched windows, and high-end finishes such as stucco, brick and stone.
In back, a massive live oak tree provides shady areas to play and entertain, while naturally protecting the home from solar energy gain.
Inside, this house was intended to be functional and family-friendly, so rather than planning the layout around the mechanical systems, it was designed with modern family living patterns in mind. The main floor has 12-foot ceilings throughout, with arched elements between the rooms. A highly functional great room becomes a natural gathering place. The kitchen has an ample breakfast bar and is designed with day-to-day family cooking in mind. The entertainment areas are particularly attractive, with a bar sitting under a groin-vaulted ceiling. "It becomes the entertainment hub of the festivities, not a choke point," says Thomson.
Upstairs, the bedrooms have walk-in closets and adjacent baths. The spacious master suite offers the feeling of a luxurious retreat, with a whirlpool bath and arched windows that let in the dappled light that filters though the live oak directly outside.
Thomson says, "We worked hard to decide how to treat the attic and this became a long conversation between the design team at Texas A&M, the architectural designer and the chief systems designer/contractor. To spare the reader from three or four months of research and debate, we settled on a design which is wood-framed and hurricane strapped and then bolted into the cement core of the ICF. Under the roof deck is seven inches of open cell foam, completing the sealed attic. While not ICF, this is as well constructed and massively insulated as the wall system that transforms this third level into useable space."
This added 1,800 sq. ft. of useable space to the home, part of which is used as a large game room. In keeping with sustainable design principles, it features sound dampening cork floors. Large closets offer considerable storage. Thomson says, "Under normal conditions, such a space would top out at 140 degrees in the summer, but with a sealed attic and open cell foam under the roof deck, this attic space is within three degrees of the living space all year long. Thus, what would have been dusty, hot, ventilated and unusable becomes highly desirable, and easily accessible."
He points out that this put the HVAC ducting, the air handlers, the water heater, electrical and water lines in a semi-conditioned environment. "While not a highly attractive architectural feature, what this does for the longevity and serviceability of all these expensive systems cannot be overstated," he notes.
Resilience and Sustainability
As already noted, the home is designed to have outstanding resistance to all the maladies that plague the Gulf Coast. It's also designed to be sustainable and self-sustaining.
"We built this house in an effort to protect a family, my family," he says. "We looked at short- and long-term costs of ownership. We considered maintenance, insurance, power and water costs, storm damage, replacement costs (both major like a roof and less major like the appliances). We wanted to awaken after the hurricane, come downstairs, cook breakfast, watch TV; then shower and open our air-conditioned house to our powerless, waterless, comfortless neighbors."
The windows and doors are zone 1 hurricane-rated. With steel pinions that go up, down and across, there are not stronger windows commercially applicable to residential home construction. Doors, like the windows, combine best-in-class insulation with dramatically improved levels of home security.
The roof members are reinforced and strapped into the core of the ICF.
The house is so strong that the insurance industry agreed to give this home, and ones like it, a 40-70% reduction in homeowners insurance through its Fortified program. Fortified… for Safer Living is a rating awarded by the insurance trade association, the Institute for Business and Home Safety (IBHS) for homes that are exceptionally strong. IBHS made periodic site visits and inspections during the course of construction to ensure the house was built to their stringent standards.
Both the U.S. Green Building Council (USGBC) and Dept. of Energy (DOE) agree this is one of the most sustainably built homes they have ever rated. The LEED-Platinum rating is the highest level awarded by the USGBC.
Thomson says, "During construction, we recycled everything we could. We even recycled the ICF and wood scraps. We were careful to use the shorts and left over framing elements in the later construction of the house wherever possible. We never had a dumpster on site."
The home has a small bank of 18 solar panels on the back (south facing) roof. These provide most of the energy used during daylight hours and 30-40% of the electricity used in the overall. Solar hot water panels combined with a hybrid/tankless hot water heater ensure ultra-high efficiency hot water throughout the home.
A typical house of this size would need 12 tons of air conditioning, separated into 4-5 zones to stay cool in Houston's long, sultry summer months Because of the thermal mass of the ICF and sealed attic, they were able to reduce the number of zones to two and used a pair of four-ton hybrid water-refrigerant-evaporative HVAC systems.
Energy Recovery Ventilators (ERVs) beside each HVAC unit provide a continual supply of fresh air. Most of the lighting is high-efficiency LED. In case of emergency, a "smart" generator will power most of the house, including the kitchen, refrigerators, HVAC, water system, and TV.
Gutters are directed to a cistern for rainwater harvesting. While this is usually used for irrigation, it can be re-directed through a state-of-the art water filter to provide every faucet and appliance in the house with a six-week supply of "bottled water" quality water. Thomson says, "In the event of a hurricane, when the rest of the city doesn't have water, or is asked to boil drinking water; this house, with its own water, pump, and electricity, won't even know the difference."
Construction
He continues, "Essentially the house as a system stands on the shoulders of the ICF."
Much of the complexity that might have been faced was designed out of the project. Framing was done during the cooler months, and the site topography was flat. Instead of using wood for the 30-plus arched openings between rooms, light gauge steel was used. The arches were fabricated off site, and went up in less than a day. The ICF portion took 20 days out of the total 330-day construction schedule.
The biggest challenge was installing a foundation in the swampy, "gumbo-like" clay soil that underlies most of Houston. They installed 62 belled 15' piers and 10" void boxes in the foundation, tied together with grade beams that ranged between 36″ and 48".
"Budget constraints seem like an issue when choosing ICF," Thomson admits. "It is more expensive than wood framing, but when you look beyond the myopic view of pure construction you find ways it actually creates savings." He reports that ICF goes up nearly as fast as wood frame, but yields a truly square house. The drywall crew called it "the easiest house to sheet rock" they'd ever dealt with," and Thomson actually received a rebate from them as the work was so much easier and faster to complete than expected. In total, Thomson estimates ICF added $30,000—about 2.5% of the total cost—to construction bill. The utility and insurance savings, though, make up for difference.
"While we pay somewhat more for our mortgage" he says, "our [overall] monthly and long term cost to own is far less in this house than a traditionally built pine-framed, fiberglass-insulated, ventilated attic, asphalt-shingled house. There really is no comparison."
Impact
Houston is growing by about 1,000 people per week and the housing market is exploding. Since the home's completion in 2012, Thomson has gone to significant lengths to bring the public's attention to ICF. This article has already mentioned the home's unique "triple-certified" status. In addition, it has been featured in segments on two nightly newscasts, and was the cover house of "The Best Of Houston" citywide home tour. The following year, it was part of the Houston Solar Tour, and was the subject of an 11,000-word feature article in the Journal of Green Building. (By comparison, this article runs just over 2,000 words.) The Journal of Green Building is a quarterly peer-reviewed academic journal covering research on green buildings, applications, techniques, and processes.
It has been the feature of 22 one-hour radio shows, and has been the location of two (USGBC) open houses. One of these was a "Behind the Sheetrock" tour when the ICFs were visible. The other took place in October 2014 when it hosted a USGBC presentation ceremony, open house, and public green building tour. That led to an article in the Houston Chronicle and several real estate magazines.
The researchers at Texas A&M haven't forgotten about the home, either. One scientist is writing his PhD thesis around this house, logging roughly 125 different points of measurement—everything from humidity to temperature, to energy movement, water, and electrical usage.
Perhaps most importantly, Thomson considers it a success. "I live in this house," he says. "I love it. I saw my son's asthma symptoms diminish by 90% the week we moved in. My own allergies have virtually gone away. I love the quiet. I often have to look outside to see when it's raining, because I can't hear it. We entertain a great deal. The house never fails to impress. It can handle 100 people easily and maintains its 'cool'. We feel safe here. You cannot kick in my door or throw a rock through my windows. It has tremendous fire resistance and air quality."
"We designed around air quality, comfort, usability, entertainment, and beauty," he continues. "We thought we were going to 'change the world' with the way we built. We haven't yet, but we keep trying."
Location: Houston, Texas
Type: Custom Home
Size: 5,946 sq. ft. (floor)
ICF Use: 8,140 sq. ft.
Cost: $1,250,000
Total Construction: 11 months
ICF Installation time: 20 days
Owner: K. Thomson
General Contractor, ICF Installer, + Form Distributor: Durable Residential Builders
Architect: Rice Residential Designs
ICF System: BuildBlock Building Systems
Green construction and design
Rainwater harvesting, LED lighting
Solar panels provide 30-40% of electrical needs
Sealed, 9″ spray-foam insulated attics allow use as living space
Hurricane-rated windows and doors, IHBS "Fortified" rating
Multiple ICF arches and interior ICF walls
Extensive press, ratings, and awards
Like what you read?
Yearly Subscriptions Starting @ $30