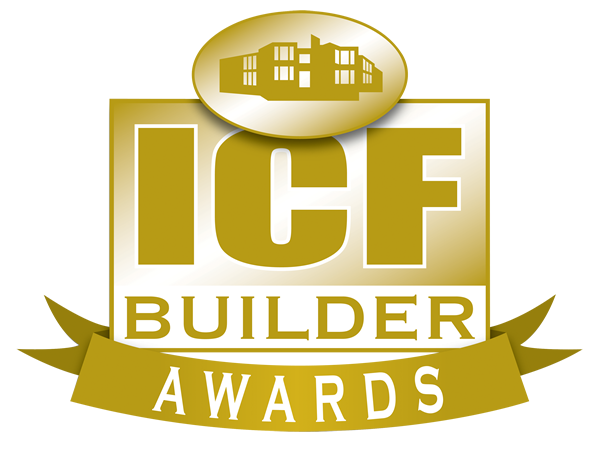 2019 Large Residential 
2nd Runner-Up
This private residence affectionately dubbed "The Battery," literally sits atop a genuine piece of American history.
The name is derived from the foundation portion of the structure, which a century ago was known as "Battery Brumby," part of a coastal defense network built in 1896. The massive gun emplacement, with concrete walls that measure more than ten feet thick in some areas, was decommissioned after World War I.
Located about one hundred yards from the Atlantic shoreline near Savannah, Georgia, the hulking concrete shell fell into neglect for decades. Eventually, portions of the structure passed into private hands. The current owners purchased The Battery a few years ago, realizing that the structure would make the perfect foundation on which they could build their dream home. 
Rick Kranglewitz, owner of Paramount ICF and builder of the home says, "The owners were adamant about the type of house that they wanted: something designed to look like it belonged there and hoping in time that it would age and weather to fit right in with its surroundings."
Systems and finishes were chosen to be practical, sensible, durable, and maintenance-free. "The owners are responsible for coming up with most of the features factored into the project," Kranglewitz states. Energy efficiency and disaster resistance were top priorities, so an ICF wall system was a perfect choice. Amvic was selected as the brand of choice, with Amdeck's foam and concrete floor system being used as well.
Kranglewitz began with a careful survey of the 125-year-old concrete. He says, "I was amazed to find that the concrete was level where it needed to be, pitched perfectly where necessary to divert water, and that the radius walls were calculated flawlessly." 
The ICF work began on the top of the gun battery, 22 feet above grade. The crew from Paramount started with the ICF radius wall, matching the curvature of the new wall to the century-old existing concrete to create a perfect radius exterior walkway between the two.
The 4,575-sq.-ft. home used a total of 5,400 sq. ft. of Amvic wall forms, plus more than 10,000 sq. ft. of Amdeck used in the roof, decks, and floors. From the very beginning, finding space to stage all of the materials was a major concern, as the gigantic fort took up most of the lot. Luckily, crews found that several rooms in the old fort still had functional doors, so the old ammo lockers were repurposed for storing tools and other valuable materials, with less secure areas used for storing the ICFs and steel. 
Both the floor and roof incorporated cantilevered areas, concrete beams, and steel columns. Multiple interior walls were built out of ICF to help support the floor and roof system. The remainder were framed with light-gauge steel for durability and protection from termites and fire. 
In total, the home used approximately 450 yards of concrete. Kranglewitz reports that the Amvic walls and floor system performed flawlessly. "On any project with as much concrete as was poured on this one, it's important that you can forget about form failure and keep focused on concrete consolidation and straightening walls as you pump concrete. The strength of the forms also allows you to pump at a higher slump that in turn allows for better concrete flow and eases the chore of consolidation. We were able to achieve full consolidation effortlessly through standard vibrating. We encountered no voids and were very pleased with the results at critical points such as window and door openings, concrete beams and bearing points."
He continues, "Almost every challenge that an ICF installer could face was there. This project was a once-in-a-lifetime opportunity. From the very beginning I thought of it as a showpiece; something to be proud of."
The owners wanted their new residence to be as efficient with water and energy as possible. ICF walls and floor were a logical choice for these components. Photovoltaic solar panels provide much of the electrical power for the house, and also charge a battery bank that serves as a rechargeable power supply during power outages. In-floor radiant hydronic heat runs throughout all the living space. Heat for the hydronic system and for potable hot water, is supplied in part by solar hot water panels for even greater energy savings. 
Rainwater is collected and used for irrigation and toilets, but is also fed by municipal water supply if graywater is not available.
The Georgia coast is at risk for hurricanes, and this home is built to withstand this threat. The concrete shell is matched with windows and doors that are energy efficient and rated to withstand wind and projectiles. Off-grid water and power systems are in place. Low maintenance, disaster resistant finishes were chosen for both the interior and exterior. Outside, the home is finished with a cement stucco. Inside, they used cement board rather than gypsum. 
"Everything has been constructed to be practical, sensible, durable and maintenance free," says Kranglewitz. "This house is as close to 'hose it down inside and out' as you can get." 
Project Statistics 
---
Location: Near Savannah, Georgia 
Type: Private Residence 
Size: 4,575 sq. ft. (floor) 
ICF Use: 5,400 sq. ft. 
Total Construction: 72 weeks 
ICF Installation Time: 300 days 
Construction Team 
---
Owner: Private 
General Contractor & ICF Installer: Paramount ICF and Construction 
ICF System: Amvic and AmDeck 
Fast Facts
---
Built on top of Historic Coastal Defense Installation
Many Curved Walls
Foam Decking System with Radiant In-Floor Heat
Like what you read?
Yearly Subscriptions Starting @ $30