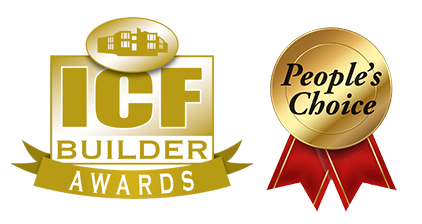 2022 Large Residential
2nd Runner-Up
(People's Choice Winner)
The Endymion Guesthouse in Ontario, Canada, is a large guesthouse that is part of a country family estate that accommodates the owners' visiting family, friends and guests, allowing numerous configurations of visitor accommodations. It can function as a large single-family home, four separate family suites, or any combination in between. The house was designed by Kearns Mancini Architects Inc.(KMAI) for Spike Capital Corporation using Fox Blocks. KMAI is a Toronto-based firm with passive house experience. The Endymion Guesthouse is the second in a series of Passive House and Health (PH+H) laboratory projects for KMAI and Spike Capital. Once certified, it will become the first new-build certified passive house in Prince Edward County.
The project was completed in September 2020 and is a total of 3,700 square feet. 100% of the exterior walls were built with ICFs for a total ICF usage of 5,747 square feet. ICFs were used to create two lavender drying sheds and a parapet wall. In addition, the project used 1,539 square feet of 10-inch Legalett GEO Passive Slab with an R value of R40, and 2,787 square feet of EPS Deck floor slabs, and 1,227 square feet of EPS deck for a flat roof. Six inches of EPS insulation adds to the 8-inch concrete wall assembly. Its 73-foot recessed window filled wall allows it to be easily heated and shaded by the sun.
The Overall Plan
Although the shape is a rectangle measuring 20 x 73 feet, the overall house is anything but simple. The house has three floor levels. The upper two floors face south over the lavender gardens and the lowest floors face east and west to private courtyards. A large 20-foot double-height space in the middle of the house made working at upper levels more difficult and necessitated a lot of scaffolding inside while building. The south-facing orientation provides plenty of sunlight in winter, with recessed, triple-glazed windows that are shaded in summer. Since it is designed to passive house principles, it is highly energy efficient. Endymion will use approximately 90% less thermal energy than a conventional Ontario Building Code compliant residence.
Sustainable measures were implemented where possible through the project, such as the use of natural and local materials. Natural stone excavated from the ground during construction was used to clad ancillary sheds and retaining walls and locally manufactured concrete was used for the structure. Floors are polished concrete and all kitchen and bathroom millwork and appliances were supplied and installed by a local hardware store. 
The flat roof provides rainwater harvesting and permits the installation of photovoltaic panels to harvest energy for the building. The windows and doors are triple-glazed with fiberglass frame profiles, while the house is ventilated by two Energy Recovery Ventilators. The radiant air heated floor is heated by a hydronic coil from the heat pump hot water heater. Earth tubes have been installed to capture additional moderating geothermal energy to temper the incoming air. Additional heating or cooling, if, and when required, is provided by two mini-split heat pump systems and for added comfort in the winter, by two 1500w electric fireplaces.
A major challenge of the design was in figuring out how to attach the large format Laminam cladding panels (3.28 feet x 9.8 feet) to the exterior of the ICF and over the additional layer of 6-inch of EPS insulation. "The method that was engineered was to embed horizontal 18-gauge 'C' channels in the 6-inch additional insulation and fasten them to the concrete wall," says Jennifer Sljoka, marketing and business development manager for KMAI. "Vertical aluminum girths were then fastened to the exterior of the 6-inch EPS and fastened to the 'C' channels. The 1.4-inch-thick Laminam porcelain ceramic tile was then adhered to the aluminum girths. By this method, we achieved a ventilated rainscreen wall and avoided having any thermal bridging."
The Result
The architect made the decision to work with ICFs. The Fox Blocks supplier recommended the ICF contractor, and the Fox Blocks supplier became known to the architect through several encounters at sustainability/construction conferences.
The owners love the house. "The house changes each day with the seasons and the weather, meaning we never tire of it, continuing to adapt ourselves to the house," they say. "It educates us about nature, climate, and weather, making us very aware while living in it. It feels like a machine, a vessel, an earth ship, a nature ship! As a result, we adjust and 'trim the sails' regularly to maintain the best conditions for comfort, such as opening and closing certain windows and doors or adjusting the blinds. It has become part of our daily routine, a second nature. We are one with the machine." 
Project Statistics 
---
Location: Ontario, Canada
Type: Guesthouse
Size: 3,700 sq. ft. 
ICF Use: 10,361 sq.ft. 
Cost: Approx. $1.2 million
Total Construction: 156 weeks
ICF Installation Time: 364 days
Construction Team 
---
Owner/Developer: Spike Capital Corp.
General Contractor: Bonwest Ltd.
ICF Installer: Legalett Canada Inc.
Architect: Kearns Mancini Architects Inc.
Mechanical and Electrical Engineer: Integral Engineering
ICF System: Fox Blocks and Legalett
Fast Facts 
---
4 bedrooms, 2 convertible dens, multi-adaptable, multi-generational guesthouse
Built to passive house standards
Designed as an all-concrete structure for maximum efficiency 
Can be occupied by up to four different families
R-100 roof, R-52 wall, R-40 under slab insulation 
Whole house air seal tested to 0.3 ACH
Cavity window ports for max solar energy capture
Like what you read?
Yearly Subscriptions Starting @ $30