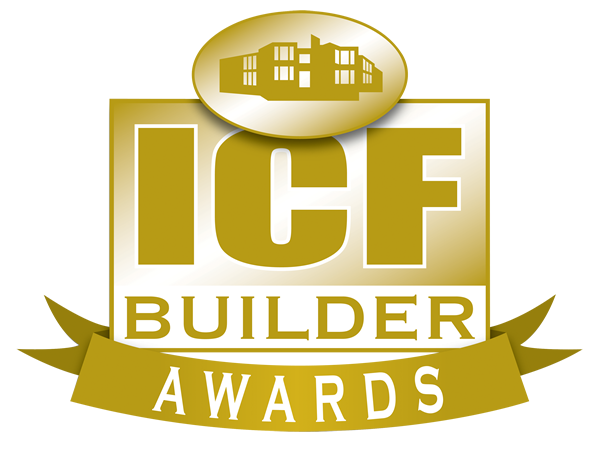 2014 Unlimited Residential 1st Runner-Up
The Hanawalt family of Waverley, Iowa, wanted a high quality, energy-efficient home. They also wanted it to be safe and comfortable, as the area is prone to fires, high winds, floods, hot summer heat, and extreme cold. When the design was still in the preliminary stages, the interior designer suggested meeting with Darin Dietz, a local builder known for outstanding workmanship. Dietz, in turn, introduced them to insulated concrete forms (ICFs), and explained ICF technology could provide unrivaled efficiency and security while maintaining design flexibility and staying within budget. After visiting a few of his previous projects, they were convinced.
Dietz says, "The design process considered every aspect of science and technology that could be used to complement the principles of green building. We wanted to demonstrate how to build a house that is green, sustainable, energy efficient, that will resist the natural disasters, have an architecturally unique design, with the ability to achieve a net zero status and still be affordable."
ICFs played a critical role in achieving those goals. The house has just less than 7,700 sq. ft of conditioned living space, plus a three-car garage, bringing the total square footage under roof to about 9,000 sq. ft. Yet the home used an incredible 23,000 sq. ft of foam forms. Just over 10,000 sq. ft. of IntegraSpec ICFs were used for the exterior walls, with an additional 5,000 sq. ft used for interior walls. These interior walls provide insulation, sound dampening, and additional strength. (Partition walls that were not load bearing were constructed out of steel studs.) Rigid EPS foam was used as underslab insulation (7,600 sq. ft.) and an equal amount of Insul-Deck was used to create the foam-and-concrete floor system. Insul-Deck was also used to create the elevated patio.
Dietz served as general contractor and ICF installer, and had the forms stacked and poured within 90 days. It was a fairly complex design: a three story home with a walkout basement, each floor having nineteen 90-degree corners and four 45-degree corners.
The walls thicknesses vary, with 12-, 8-, and 6-inch concrete cores. The IntegraSpec system transitioned between the various sizes easily by simply using a different web spacer. At grade level, an ICF brickledge form was used to support the heavy brick and stone facade. A similar brickledge was installed on the interior face of the ICF wall to support the suspended ICF concrete floor system. The independent panel design made it fairly straightforward to create an outer skirt beam for the ICF flooring.
The showers were designed in the walk-in curbless style. It was simple to contour the foam subfloor system to the drains.
The project used hundreds of yards of concrete. It was a 4000-psi "green mix" with 25% fly ash and an additional plasticizer to give it a nine-inch-slump. The IntegraSpec forms and WASS bracing were robust enough to allow for 10- and 12-foot lifts, saving time and money.
To reduce the amount of time spent setting window and door bucks, Dielz developed a "build through" technique where the bucks are slid into the wall cavity and fastened into place, yet the wall panels are built over the opening. After the pour cures, a handsaw is used to cut the panels and expose the opening. Dietz says, "This was a huge time saver, eliminating all the strapping, bracing and labor to remove it." The cut panels can then be reused in other areas.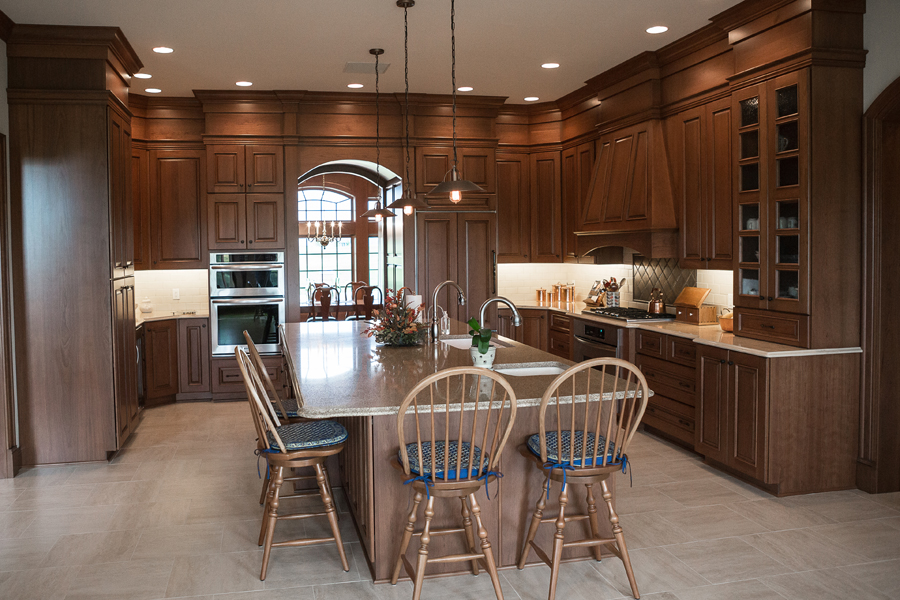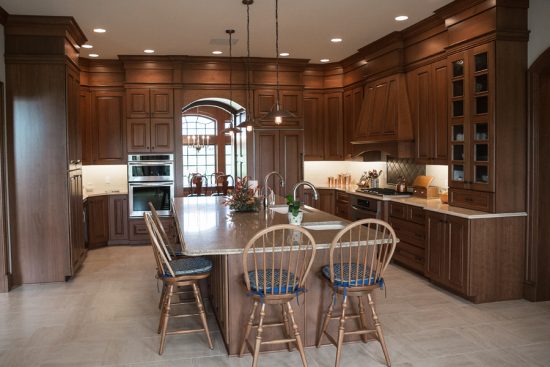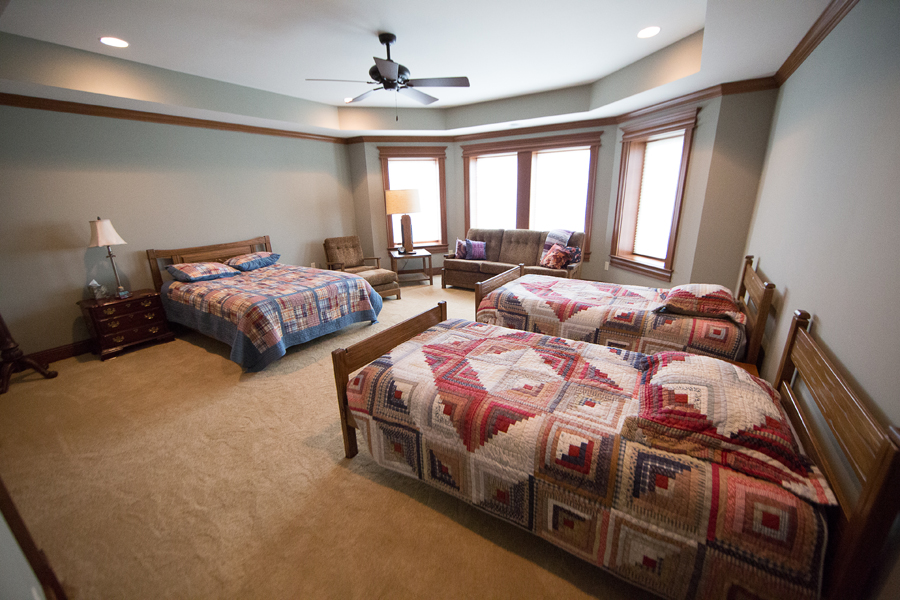 He adds, "The other huge advantage during cold months is the windows and doors are left closed in until you are ready for window installation. This keeps the internal working temperature comfortable without any draft."
All the elements of the building envelope were upgraded to match the strength and efficiency of the ICF walls. Anderson triple-glaze glass windows were used throughout. The roof is insulated
to R-70.
The building envelope has a HERS rating of 30, indicating is uses only 30% of the energy a typical home of this size would consume. It's heated and cooled by a geothermal exchange system, which would normally be sized at 25 tons, but was downsized to 12 tons largely because of the ICF walls. Remarkably, the homeowners report they keep the home comfortable using just a single six ton unit. This is one-fourth the traditional sizing requirements.
To date, they've been able to heat and cool the 8,000 sq. ft. of conditioned space for less than $100 per month.
Dietz says, " The entire course of construction dealt with new techniques and methods of construction. It was a daily challenge to find solutions and methods to make the installation efficient. This was difficult but all worth it as the results were truly amazing."
He continues, "All of the subs left this project with new installation techniques and an appreciation of the value of ICF technology to the industry. They enjoyed working with the product and realize they can be more efficient and competitive than conventional construction."
More than green, the home is also exceptionally robust. The exterior façade of natural stone and brick adds character and strength to the building. The Insul-Deck provides "safe room level" security throughout both of the lower two levels. All the handrails and window trims are cast concrete, made possible by the strength of the ICF wall core.
Despite the unmatched strength, it avoids a bunker-like atmosphere. The interior of the Hanawalt home is inviting, open, light, and airy. The décor is anchored in the 4,800 board feet of solid cherry woodwork, which is used in the custom curved staircase, bookcases, cabinets, trimwork, and wainscoting.
The project has garnered considerable media attention, including an eight-page cover feature in Concrete Homes magazine. Dietz has given lectures and seminars to building inspectors, county engineers, concrete manufactures, contractors and material suppliers as well as exhibiting at trade shows.
Dietz reports that the Hanawalts are extremely happy with the results of the project. "Building with ICFs has allowed them to realize their lifelong dream of building a completely unique and innovative green home with outstanding architectural features that would receive worldwide recognition," he says. "From an architectural and sustainable standpoint, they could have never achieved this level of complexity and sophistication with any other building product."
Location: Waverly, Iowa
Type: Custom Home
Size: 9,000 sq. ft. (floor)
ICF Use: 23,000 sq. ft.
Cost: Not public
Total Construction: 17 months
ICF Installation Time: 90 days
Owner: M. & B. Hanawalt
General Contractor, ICF Installer + Form Distributor: Dietz Construction
Engineer: Dave Gowers Engineering
Architect: Midwest Drafting and Design
ICF System: IntegraSpec ICF
Designed for disaster resistance and efficiency
R-50 walls, R-70 roof insulation
Triple-pane windows, HERS rating of 30
8,000 sq. ft. of conditioned space for less than $100 per month
All interior and exterior walls are ICF
ICF wine cellar, and suspended ICF patio
Built during the coldest winter in Iowa history
Like what you read?
Yearly Subscriptions Starting @ $30