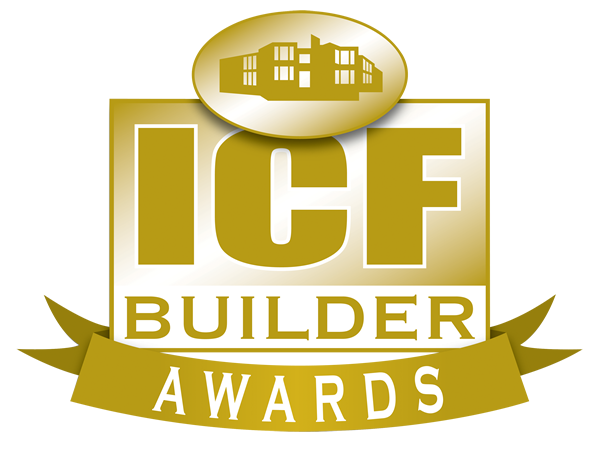 2013 Small Residential 1st Runner-Up
This striking home in Sedona, Arizona marries Frank Lloyd Wright's Prairie School architecture with the local southwestern architectural aesthetic, creating a residence that offers excellent views, an open floor plan, and unmatched sustainability.
The residence was intended from the beginning to be a net-zero energy home, and ICFs were a major part of the strategy.
Kris Husa, the ICF installer and general contractor, says, "the anchor of sustainability in this project is the ICF walls." Spray polyurethane foam in the roof deck, combined with high performance windows and doors complete the energy envelope.
LED lighting and energy-star rated appliances, together with high performance mechanical equipment and water heater reduce energy use further. In total, the home uses only 23% of the energy of a similar home built to code minimums. Photovoltaic panels on the roof generate enough power that, over the course of a year, the net energy use from the grid is zero. The solar panels are placed on the building's flat roof, which doubles as a rooftop living space. Says Husa, "you can either buy a house and pay utility bills forever, or have a net zero house where the bills are nil, and it's completely environmentally responsible."
Extensive floor-to-ceiling windows allow unrivaled views of the red rock paradise that has attracted generations of artists to the region. Interior finishes are either reclaimed or certified sustainable, and the builder was recognized by city for creating "almost zero waste" on the project.
The project was carefully value-engineered to keep costs down. The simplicity of ICF construction and the simple roof design were major factors.
Husa says, "The practical approach taken by the design and construction team allows this to be affordable, built at about the same cost as competitors are building less efficient, less permanent conventional construction."
He continues, "This is the first net zero home in the area, and shows clients that a 'green' house can also be very cool architecturally. It's proof that the future is now."
Location: Sedona, Arizona
Type: Private Net-Zero Residence
Size: 2,300 sq. ft.
ICF Use: 3,400 sq. ft. + retaining walls
Cost: Undisclosed
Total Construction: 5 months
ICF Installation time: 15 days
Owner/Form Distributor: NRG Build Pros
General Contractor and ICF Installer: NRG Building Specialists
Architect: CATE Design
Interior Design: Pandora Harris/Allied ASID
ICF System: Fox Blocks
Intended as a net-zero energy home
Saves 73% on energy (HERS Rating of 23)
LED lighting, photovoltaic panels, reclaimed/sustainable finishes
Extensive floor-to-ceiling glass, rooftop living space
Builder recognized by city for "almost zero waste" on project
Like what you read?
Yearly Subscriptions Starting @ $30