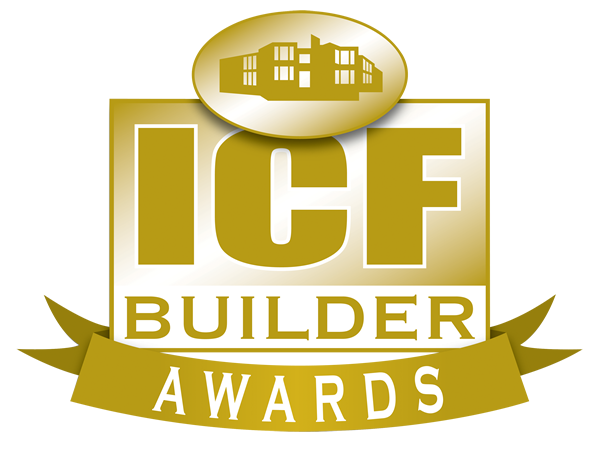 2013 Small Residential Winner
Located in Otonobee Township, near Peterborough, Ontario about 50 miles east of Toronto, this home shows that ICFs are just as well-suited for smaller spec homes as they are for large custom residences.
This residence was built by Randy Smith of R&M Smith Contracting, who was voted "Green Builder of the Year" in 2012 by the local home building association.
The lot has a significant slope—about 14 vertical feet from the front of the house to the rear—so one of the first steps was building up a foundation wall to level the building footprint. Smith reports it took 75 loads of gravel, compacted in lifts over two days, to reach a level basement floor.
He adds, "One of the nice things about ICF is that construction can proceed in abnormal conditions. Several days we were faced with rain, but we were able to move forward without losing any time on the project."
The home is a combination of beauty, durability and energy efficiency. It has a Energy Star rating of 82, due largely to the continuous insulation, thermal mass, and airtight nature of ICFs. The combination of foam and concrete is used in other areas as well. Under the basement, two inches of rigid EPS foam (Amvic Silverboard) keep the floor slab warm. The R-27 ICF walls stretch from the footers to the top of the gables with no thermal breaks at the floor level. Even the garage is made of ICF. The garage floor is a suspended insulated slab made from Amdeck, which creates an ultra-secure storage area beneath it. Above the garage, a recording studio takes advantage of sound-absorbing qualities of ICF. (Many of the interior walls are also built with ICF for this reason.) In total, the 2,900-sq.-ft. project used more than 7,000 sq. ft. of ICF and 185 yards of concrete.
Smith says, "The new standard building code in Ontario requires R-24 insulation as a minimum. This puts ICF in the lead, as it saves time and money while creating an eco-friendly build that helps preserve the environment."
Architecturally, the home is quite complex, with 14 corners and 10 different and challenging 12/12 pitch roof lines. The front window is set into a half-round radius wall. In the back, installers had to buck out a nine-foot-by-twelve-foot opening under a gable, where they later installed an enormous one-piece window unit that brings the beauty of the surroundings inside.
Two gables reach 24 feet above grade with a beam pocket at the apex, where crews installed an enormous 45-foot-long 2×6 glue-lam ridgeboard that free spans the length of the house. It measures a full 36 inches high.
Outside, stone and natural wood siding in complementary colors make the home blend seamlessly into the landscaping.
"The complexity of this home far exceeds the standard build," says Smith. To ensure construction goes smoothly, Smith has a minimum of two certified installers on every site.
He says, "Many of our past and future clients watched this project grow on a daily basis. Several other general contractors that do not use ICF stopped by and have expressed interest in our company doing the ICF portion of their projects for customers who are wanting ICF.
And the new owner writes, "We can't thank you enough for the simply amazing and wonderful home you have built for us. The ICF application was the best thing we could ask for. I know our family will look forward to a lifetime of enjoyment in our new home."
Location: Otonobee, Ontario, Canada
Type: Private Residence-Spec Home
Size: 2,930 sq. ft.
ICF Use: 7,224 sq. ft.
Cost: $630,000
Total Construction: 250 days
ICF Installation time: 30 days
Owner: C. & D. Smith
General Contractor: C. & D. Smith
ICF Installer: R&M Smith Contracting
Architect: Kevan
Form Distributor: Kingdom Timber Mart
ICF System: Amvic
ICF Walls to 24' gables, Radius wall with multiple windows
All floors and most interior walls are ICF
Energy Star Rating of 82
Nominated for regional and national awards
Project used 185 cu. meters of concrete
Like what you read?
Yearly Subscriptions Starting @ $30