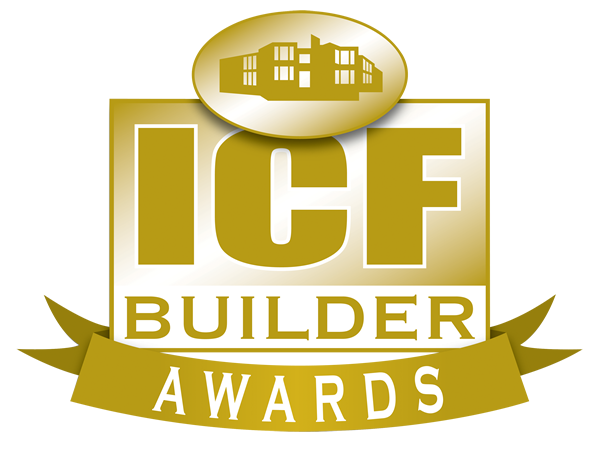 2016 Small Residential Winner
When Mark Shade and his family moved to the San Francisco area from Spain, he wanted his new home to offer the style and permanence he'd found in Europe. There, homes are made to last centuries.
He spent the next two years researching Insulated Concrete Forms (ICFs) and attended the World of Concrete trade show in Las Vegas specifically to visit the various form manufacturers. IntegraSpec—a panel-type ICF system—got the nod.
The building lot was in an older neighborhood of Corte Madera, a small community just north of the Golden Gate Bridge, with a beautiful view overlooking the bay. It had sat vacant for
years, probably due to the twisty, narrow access road and the steepness of the lot. Nicholas Nikiforuk, who supplied the ICFs for the project, estimates the site has a 45-degree slope.
Kim Jessop, a local Marin County architect, converted Shade's dream into a beautiful, four-level Spanish-style structure adapted to the steep site. With spacious decks and large windows that take in the view, it feels light and airy despite being built well enough to last centuries.
"The Shade Residence is a complete ICF structure," Nikiforuk states. "All exterior and interior walls are ICF, with ICF floors and an ICF concrete roof." Even the decks are concrete. They were formed with Insul-Deck, and EPS decking material, and finished with a decorative stained concrete finish. Interior floors received a similar treatment.
Built from reinforced concrete, the Shade Residence can withstand earthquakes, tornadoes, fire, termite infestation, water penetration and will not support mold or mildew. Nikiforuk says, "This is a millennium home among century homes".
To resist the pressure of the hillside above it and support the weight of the concrete floors and decks, several exterior walls have a 10″ ICF core. The remainder use 8″ and 6″ cores, while interior walls have a 4″ concrete cavity. Coordinating all these core sizes could have been a challenge, but the panel system easily adapted.
The biggest challenge was material handling. Concrete and delivery trucks had to back up the dead-end street as there was no room to turn around. And pour days had to be coordinated with the city, as the pump truck blocked access.
Allen Winters, who served as ICF installer and GC, specified a concrete mix with a 9″ slump that used 25% fly ash. Xypex crystalline admixture was added to the roof and deck concrete to improve water resistance.
There are other green construction features as well. There was virtually no waste on the project.
Radiant floor heating and LED lighting ensure efficiency, while skylights and operable double-pane windows supply lots of natural light and fresh air. Inside, a direct-applied interior finish eliminated the need for drywall. ("Just Gigacrete PlasterMax and StuccoMax directly on the ICF foam," says Winters.) The owners report that energy costs have averaged less than $100 per month. According to Nikiforuk, California codes are moving towards requiring all buildings to be designed as net zero by 2020.
As might be expected, home
construction attracted significant attention. Nikiforuk says there were "constant
tours during construction." He reports real estate brokers and developers are now approaching Winters with clients and opportunities for fire rebuilds and LEED
certified buildings.
Finished slightly more than a year ago, the home blends into the neighborhood as if it had been there for years. It has the durability and sustainability to be there for centuries to come.
Project Statistics
---
Location: Corte Madera, Calif.
Type: Custom Home
Size: 2,750 sq. ft. (floor)
ICF Use: 14,500 sq. ft. (walls) plus 7,000 sq. ft. ICF decking)
Cost: $850,000
Total Construction: 10 months
ICF Installation Time: 120 days
Construction Team
---
General Contractor + ICF Installer: Allen Winters Construction
Architect: Kimberly Jessop
Form Distributor: IntegraSpec
ICF System: IntegraSpec ICF & Insul-Deck
Fast Facts
---
Steep lot with four-level house
Direct-applied interior finish
Fifteen corners
Narrow one-way street required careful coordination on pour days
R-50 Walls, R-70 Roof
Like what you read?
Yearly Subscriptions Starting @ $30