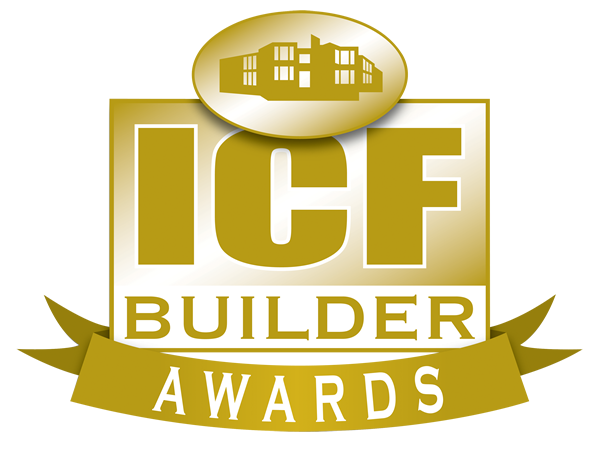 2013 Small Residential 2nd Runner-Up
This cozy building adjacent to the owner's home in Santa Rosa, California, was built as an artist studio, sculpture gallery, and performance space.
Arlette Cummings, owner of an architectural design firm, drew up the plans for her father. She says ICFs were by far the best choice for the project, considering the main purpose of the build "was to combine green building with limitless design capabilities." The exterior walls consist primarily of free-flowing curves that mirror the site contours and Cummings' sculptures displayed inside. In fact, this building has only one 90-degree corner; the others are intersections of various curved walls. A variety of wall heights—up to 18 feet— and sloped, radiused sill plates added to the challenge.
This project is the first of three structures that have been approved by the county to be built on the site, all with curved walls and rooflines.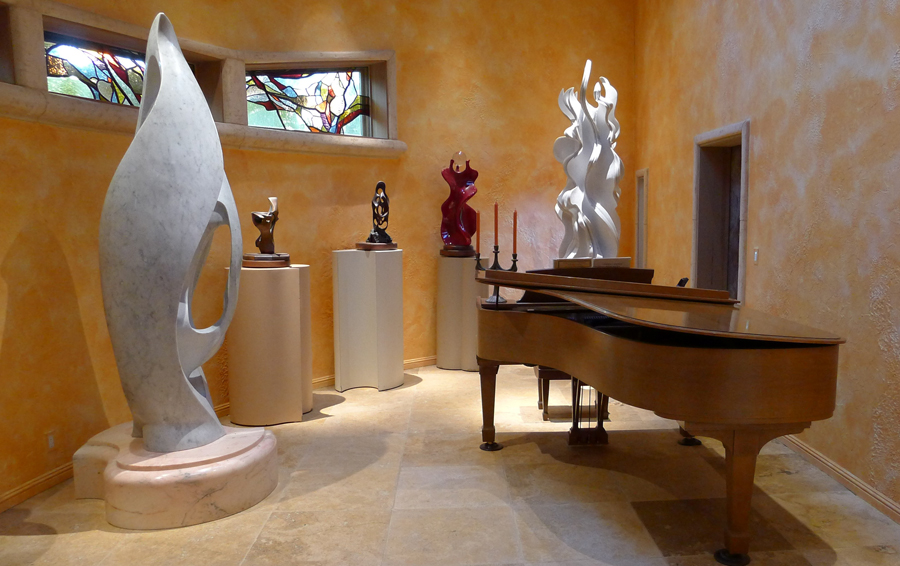 Obviously Ken Adkins of Neotech Builders, who served as ICF installer and general contractor, faced some significant challenges. He says, "No building system other than ICF was even close to practical to complete this design. Using custom-shaped laminated wood or steel beams would have more than doubled its cost and in this seismic zone been almost impossible. In fact, we were able to show a substantial savings by using ICF."
Given the building's use as a gallery and music recording studio, sound attenuation and insulation were also factors, making ICF construction an even more obvious choice. In fact, all of the interior walls are also built with ICF. The 900-sq.-ft. structure used more than 2,000 sq. ft. of ICF forms.
Adkins and his crew completed the project in Nov. 2011 without any significant problems. He reports, "Each corner had to be individually mitered by hand. Additionally, the intersecting walls met on a radius so that they had to be custom cut as well. Bracing was also challenging, as alignment had to be maintained along the radius with wall heights of just over 18 feet to accommodate some of the larger sculptures. Finally, the top plates were compound curves with both a radius around the wall as well as sweeping upward."
Radiant hydronic heating was installed in each room, and eight operating skylights were placed in both galleries. Walls were finished with faux Italian plaster. Extensive stained glass sheds a rainbow of light on the hand-hammered interior copper ceiling tiles, an echo of the copper roof and gutters outside.
Cummings is thrilled with the final outcome, saying that when he records in the studio or plays piano in the gallery, the sound that resonates "is incredible" yet cannot be heard from the outside.
Adkins says, "When this project got sent through the County of Sonoma, every person in the building department came to view it because the design was so different and blended in with the natural surroundings so well. Custom building anywhere in the USA is challenging but here in California we have the additional constraints of a relatively high cost of construction and the toughest of strength requirements. This often adds up to a certain conventionality in the designs we get to build. However, this project proves we are only limited by our imaginations."
Location: Santa Rosa, CA
Type: Artist Gallery and Recording Studio
Size: 922 sq. ft. (floor)
ICF Use: 2,140 sq. ft.
Cost: $400,000
Total Construction: 16 Months
ICF Installation time: 30 days
Owner: A. Cummings
General Contractor: Neotech Builders
ICF Installer: Neotech Builders
Architect: AYC Design
Form Distributor: Performance Wall Systems
ICF System: Fox Blocks
Like what you read?
Yearly Subscriptions Starting @ $30