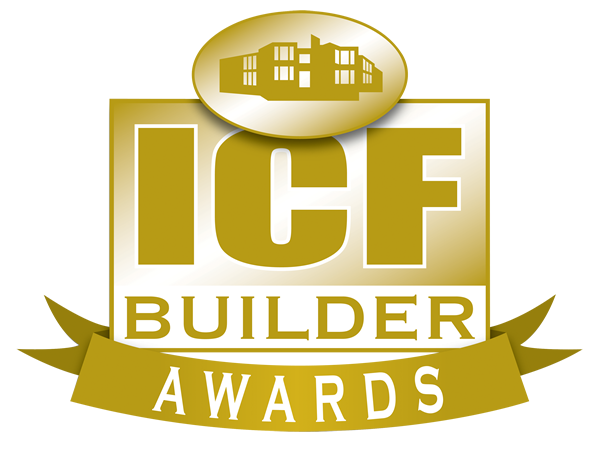 2009 Small Residential
1st Runner-Up
The Primrose looks very much like the others in the neighborhood, but it is truly unique. Not only was it built as a spec home, but it was built to LEED Platinum standards. Completed in May 2009, it is one of the first ICF homes to receive the coveted LEED Platinum rating.
With a HERS Rating of 56, it saves $2,276 in energy and 100,000 gal of water annually.
Making the achievement even more remarkable is the tight parameters the developer had to work with. Built in a gated community, he was limited to a choice of four house plans. The plan selected had many 45 degree corners and differing wall heights. The developer/GC had never built with ICFs before, but working closely with the trades and their suppliers, they completed this landmark project with very few problems.
Determined to maximize the exposure of this landmark project, they offered tours for HBA members and neighborhood residents. The house was profiled in four local newspapers and on three local television stations, and received national coverage in two magazines. 
Project Statistics
---
Location: Wilmington, NC
Type: Private Residence-Spec Home
Size: 2,777 sq. ft. (floor)
ICF Use: 2,394 sq. ft. (exterior walls)
Cost: $470,000
Total Construction: 250 days
ICF Start-to-Finish Time: 8 days
Construction Team
---
Owner: Mark Johnson Custom Homes
General Contractor: Mark Johnson Custom Homes
ICF Installer: Aztec Masonry
Form Distributor: ProBuild East, LLC
Energy Consultant: Above and Beyond Energy
ICF System: Logix ICF
Like what you read?
Yearly Subscriptions Starting @ $30