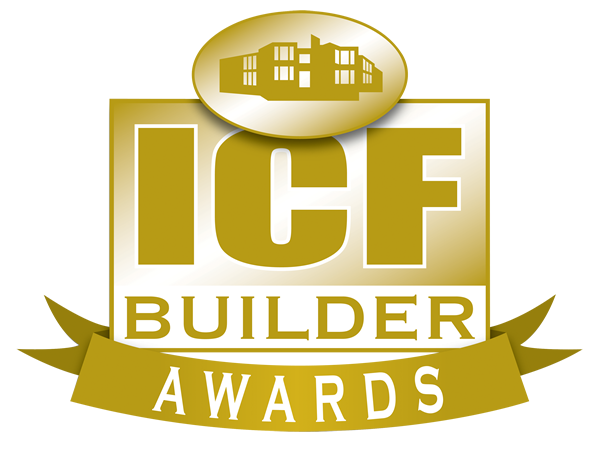 2013 Unlimited Residential 2nd Runner-Up
This project began when the owners of a lakeside cottage wanted an addition, but the structural engineer said the walls and footings weren't strong enough. On one visit to the property, they noticed that in spite of harsh winds and weather, the 60-year-old decorative concrete fence still looked like it could have been built yesterday. So it was natural that they chose a concrete building system to build their dream cottage.
The new home and boathouse integrates multiple cutting-edge construction materials, including ICFs, SIPs, timber-frame, pneumatically heated floor slabs, and even an ICF green roof . It fell to Gordon Toms of Toms Contracting to make the dreams a reality.
The building sits on an ICF foundation made by Legalett. Technically termed a Frost Protected Shallow Foundation (FPSF), the EPS foam protects the concrete from freezing temperatures. It also allows the in-floor heater/fan units to circulate warm air through the concrete slab to efficiently heat the building.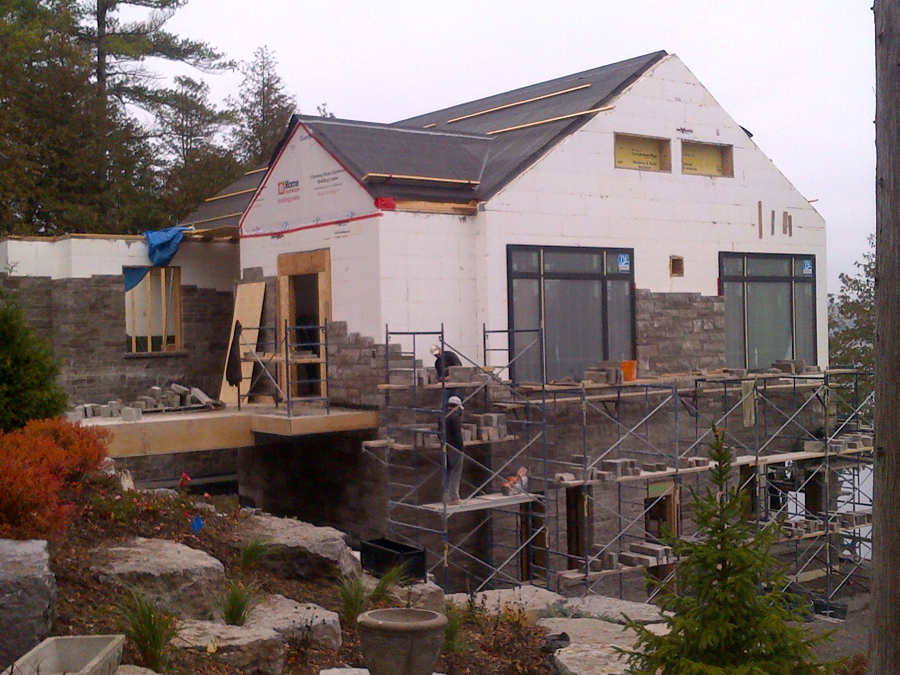 Fox Blocks ICFs were used to construct the exterior walls, which extend to the gable tops more than 32 feet above the footings. The combination of ICFs and EPS floor decking was also used to build the adjacent boathouse, built into the cliffs that line the lakeshore.
"We blasted 28 feet out of the rock
in order to build the boathouse," says Toms. After excavation, the walls and roof deck were stacked, braced and poured.
The retaining walls at the side of the boathouse and the parapet wall that retains the green roof were also built with ICF. Set at ground level, the deck was topped
with 24 inches of soil and integrated into the landscaping.
"From the cottage, the boathouse looks like it's just grass, but from the water you can see that it's a boathouse," says Toms. Both buildings were finished with natural stone that match the limestone cliffs.
The four-bedroom cottage has two levels of 2,613 sq. ft. each, with a walk-out basement on the lower level. The upper level is accessed via a bridgeway. This saved thousands of dollars in engineering and backfill expense, but also provides an interesting and welcoming front entrance.
The roof is supported by massive timber-frame trusses. In addition to creating a feeling of rustic grandeur, they also allow 32-foot clear spans over the living areas. The engineered SIP roof is rated at R-60. Thanks to careful construction by Toms and his crew, integration of the three systems went smoothly.
"The marriage of timber-frame roof beams, ICF walls and SIPs panels was a challenge," Toms admits, "but all went well." He points out that this project paves the path for other builders to adapt these systems to other ICF jobs. "This job has added two more advocates for ICF," he says. "Where ICFs may have been previously seen as a competing industry they now see an opportunity for additional sales."
The owners are extremely pleased with their new home, which will now last at least as long as the original concrete fence, which still lines the path leading to the boathouse.
Project Statistics
---
Location: Lakefield, Ontario, Canada
Type: Private Residence and Boathouse
Size: 6,100 sq. ft. (conditioned)
ICF Use: 6,000+ sq. ft. (all exterior walls, plus interior and landscaping and EPS flooring)
Cost: $2 million
Total Construction: 12 months
ICF installation time: 22 days
Construction Team
---
Owner: Undisclosed
General Contractor: Toms Contracting
ICF Installer: Toms Contracting
ICF Distributor: Apsley Home Hardware
Designer: Walker and Associates
Engineer: Ksander and Assoc.
ICF System: Walls by Fox Blocks/Floors by Legalett
Fast Facts
---
Vegetated Green Roof on Boathouse
ICFs used for retaining walls and seawalls
Air-heated radiant floor slab
Exceeds EnerGuide 80 standards (0.89 ACH)
Tall Walls to 20', Extremely challenging building site
SIPs roof on spectacular timber frame ceiling
Profiled in local homes magazine
Like what you read?
Yearly Subscriptions Starting @ $30