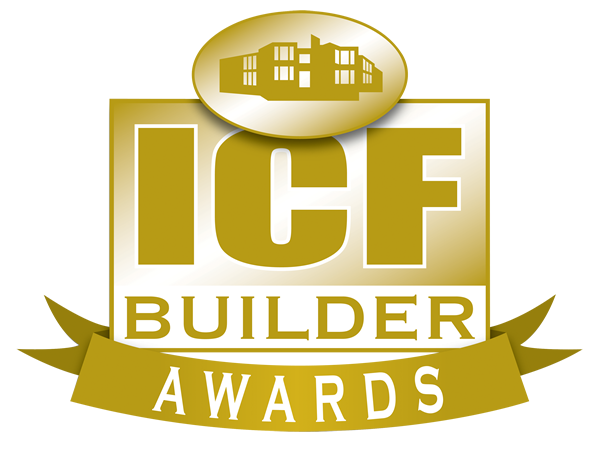 2022 Unlimited Residential
Winner
Once in a while, a home comes along that has a remarkable set of qualities and characteristics. Te Toka is one of those homes. From its stunning location to its equally appealing design, to the many "firsts" and remarkable achievements it represents, this home was definitely deserving of the ICF Builder Award for the Unlimited Residential category. Unlimited residential homes are those that are more than 6,000 square feet. This one is 8,826 square feet and yet is capable of remaining off-grid for up to 6 months. 
One hundred percent of the 4,306 square feet of exterior walls are ICF, for a total of 10,549 square feet of ICF used. It took only six weeks to complete this ICF installation out of a total project construction time of 83 weeks. The builders estimate that they saved 16 weeks of construction time by choosing ICFs. 
Another remarkable feature of this home is the fact that it is the largest ICF house constructed in the Southern Hemisphere. It is located in Central Otago, on the southern tip of New Zealand's southernmost island. It needed to be quiet, earthquake resistant, and be able to withstand harsh winds — the roof is designed to resist winds of more than 155 miles per hour. The highly engineered wall system was designed to a standard approximating the earthquake resistance of public buildings and the panelized roof system was installed in six days. The cantilevered soffit structure was built on a steel backbone nearly 131 feet (40 meters) long to perfect alignment. "The project was zero tolerance detailed with negative detailing and flush fit windows and floors, with a warm floor over the structural slab," explained Dennis Dowling, director of construction for Dowling Construction and Development. "The home has been awarded the New Zealand Engineering Design award for its roof structure and was completed six months ahead of a traditional build format. The 14 feet (4.25 meter) high walls were poured in a single pour with three pumps and utilized a specialized mix design which has become the ICF standard mix for Central Otago." The home was constructed for $9 million dollars and was completed in November 2020.
Constructed on Rock and Designed to be Rock Solid
The name, Te Toka, means "the rock" in the Maori language. With the site founded completely on rock, Dowling says they had to turn the excavation into a quarry site. "We excavated over 1,000 tons of rock, which was used for cladding, retaining walls, decorative stones, and the base for the 1,970-foot (600 meters) driveway," he says. "The site is in a very high wind zone, and the client required a quiet interior which was done with the use of ICF and triple glazed European joinery, which was designed to the maximum span tables of the German window manufacturer."
All windows were built to a 0.157-inch (4 mm) tolerance on the sides and top. The walls were within a 0.197-inch (5 mm) tolerance over 13 feet, 9 inches (4.2 meters). Even though the house is large, external soffits integrate the project into the landscape and reduce the overall bulk. The cantilevered depth of the soffit ensures that overheating is drastically reduced. "The internal negative detail makes the entire home appear as one unbroken piece of architecture with every facet of the home being to the same standard from kitchen to mechanical room," explains Dowling. 
Sustainability and Significance
This home has so many sustainable features that there are almost no sustainable features that it actually doesn't have. Wells that tap into underground aquifers provide a 24-hour source of running water, but water had to be captured and diverted into a wet weather pond. More than 0.62 miles (1 kilometer) of underground drainage was incorporated into the site to ensure long-term water diversion and to redirect water away from plants, walls, and foundations. Run-off and roof water was diverted to increase the nearby wetlands area. A septic system aerates waste to return it to the aquifer.
A 16 kW (20 kva) solar array helps enable the home to be off-grid for more than six months at a time. PHPP software modeling (Passive House Planning Package) developed the requirements for shading and sliding shade screens. In summer, the home sends more power to the grid than it consumes, making up for its winter consumption. With all these features, heating and cooling costs are forecast to be less than $1,500 per year. 
The home has received a lot of media attention and won numerous awards including the Master Builder Southern Region Supreme House of the Year, and awards for bathrooms, interiors, and craftsmanship. The home has been written about in Otago Daily Times, Mountain Scene, Abode Magazine, and Style Magazine, with more features coming to include House and Garden. 
"The project scale for a single-level project is unprecedented for this region," says Dowling. "This project has made ICF use in New Zealand mainstream and viable for homes which have typically been constructed with steel, timber, precast, and post tension concrete. The integration of thermal performance, clean air ventilation, and redundant power systems and water, simply shows a no-compromise outcome for ICF in New Zealand." 
Project Statistics 
---
Location: Queenstown, Otago, New Zealand
Type: Residence
Size: 8,826 sq. ft. 
ICF Use: 10,549 sq. ft. 
Cost: $9,000,000
Total Construction: 83 weeks
ICF Installation Time: 6 weeks
Construction Team 
---
General Contractor: Dowling Construction and Development Ltd.
ICF Installer: Polyblock Ltd. trading as PhD Building
Form Distributor: Polyblock Ltd. trading as PhD Building
Architect: Rafe Maclean Architects
ICF System: Nudura
Fast Facts 
---
Largest ICF house in the Southern Hemisphere
5.91 inch-thick schist cladding and 400 tons of stone was quarried from site
2,691 sq. ft. of decking from recycled plastic-based boards
The 8,826 sq. ft. home is efficient and airtight
Triple-glazed windows
The roof is designed to resist winds of more than 155 mph
Capable of being off-grid for more than 6 months at a time
Like what you read?
Yearly Subscriptions Starting @ $30