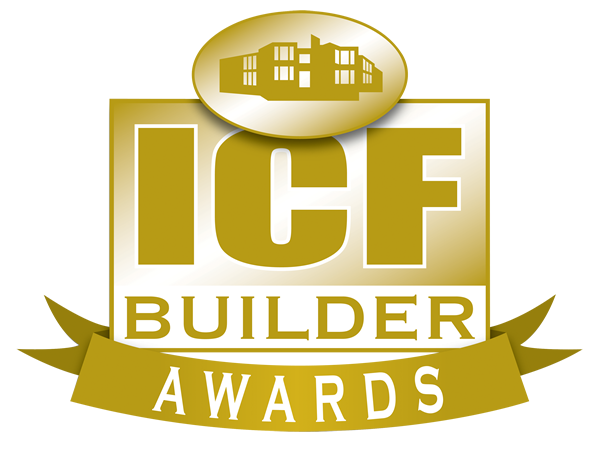 2011 Unlimited Residential
Runner-Up
Dewey Beach, Del., is a prime vacation destination for those in nearby Washington D.C., Baltimore and Philadelphia. But the ocean views and quiet streets also present significant construction challenges—especially when the project is a massive 7,800 sq. ft. show home.
Dave Eppes, owner of Turnstone Builders, built the home on spec. He was well aware of the risks of coastal building—hurricanes, flooding, strong winds, moisture, mold, rot—and chose to avoid all of them by building with insulated concrete forms.
In addition to the ICF walls, the home features a foam-and-concrete roof deck, assuring that construction is virtually hurricane-proof. For additional peace of mind, the floor plan places all the living space on the second and third floors, well above any possible storm surge.
As with many coastal building sites, the soil was less than ideal. Construction began by driving 74 piles more than 20 feet deep. These were mechanically fastened into a grid of 3'x3' reinforced concrete beams, which formed the footings.
Then the ICF work could begin.
Construction schedules were tight. The homeowners association allows no construction during vacation season (May through Sept.), and the piles were driven in early March. Eppes had a little less than three months to stack 5,000 sq. ft. of Quad-Lock ICF, install the roof deck, and get the shell enclosed.
Harvey Ryan, the project manager, says, "We stacked the ICFs 10 feet at a time, doing one story about every week and a half." The exterior wall layout on each of the three floors is unique, which required some creative bracing, as well as a few permanent steel beams and columns. The Quad-Deck roof is 36 feet above grade. Surrounded with an ICF parapet, walls top out at 41 feet.
Harvey says, "The deck is topped with two inches of concrete, which is tied into the 12 inch I-beams created by the Quad Deck. The roof is tied into the walls and the walls are tied into the grade beams and the grade beams are tied to the pilings, creating an extremely durable structure."
From the street, however, the house looks like anything but a bunker. Ample windows are shaded by an enormous main level porch with wrap-around decks. On the third floor, at least three private decks lead off the master suite. And from the rooftop, there's a spectacular, legally-protected view of the ocean. (Starting on the other side of the street, building codes limit roof heights to less than 35 feet.)
Inside, the home boasts five bedrooms, four full baths, two half-baths, a media room, 2,200 sq. ft. of deck space and 1,900 sq. ft. of living space on the main level that can be finished to the owner's whim.
It's one of the largest ICF homes on the coast, but it's surprisingly efficient. The combination of ICF walls and roof led to a 40% reduction in cooling needs, with utility bills of about $500/month. As might be expected, the home generated significant interest in the local building and real-estate communities, as well as national trade publications.
Eppes says, "ICFs bring so many advantages to building in coastal areas. "For this area, it really is the new standard for coastal living."
Project Statistics
---
Location: Dewey Beach, Delaware
Type: Private Residence-Custom Home
Size: 7,200 sq. ft. (floor)
ICF Use: 5,200 sq. ft. (all exterior walls)
Cost: 1.8 million
Total Construction: 382 days
ICF installation time: 95 days
Construction Team
---
Owner: Dave Eppes
General Contractor/ICF Installer: Turnstone Builders, LLC
ICF System: Quad-Lock
Fast Facts
---
"Hurricane-proof" construction with concrete roof
ICF deck tops out 40 feet above grade
Angled walls; unstacked walls supported with steel beams and columns
40% reduction in cooling needs
Featured in concrete construction magazine
Generated significant interest in local building and real-estate communities
Like what you read?
Yearly Subscriptions Starting @ $30