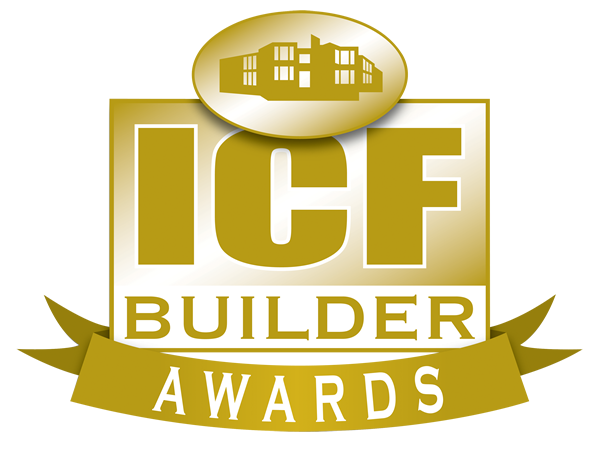 2009 Unlimited Residential
1st Runner-Up
The Hegdahl home is one of the most innovative ICF projects this judging panel has ever seen. Designed for a remote mountain lot north of Denver, lot setbacks pushed the home to the very edge of a sizable cliff.
Dynamiting a level foundation was out
of the question, and the granite refused to yield to jackhammers. Running out of options,
they devised a system of concrete columns and ICF walls. It required starting in three separate areas, floating ICF beams across open space to the columns in several places.
In others areas, the ICF walls were custom cut to match the bedrock beneath them, a task the installer called his "arts and crafts" project. The walls were more than 10 feet high before the builder could ensure the foundation was going to be level. 
The extreme topography required safety equipment for the form installers, and by the time they reached the gable ends, the ICFs stood 56 feet above the adjacent grade. The site was so far from the nearest ready-mix plant that all the ingredients were hauled dry and mixed onsite with a volumetric mixer. That's 220 yards of concrete mixed a few yards at a time.
As an additional challenge, the project extended into winter months, and howling winds occasionally caused uplift problems with the forms. Once completed, though, the house has stood firm through the worst Mother Nature can deal out. 
"Constructed of concrete over a solid rock foundation, this structure should last indefinitely," notes the builder. "This project demonstrates the adaptability of the ICF to extreme conditions, and the can-do attitude of the contractor." 
Project Statistics
---
Location: Jefferson City, Colorado
Type: Private Residence-Custom Home
Size: 8400 sq. ft. (ICF section only)
ICF Use: 6,748 sq. ft. 
Cost: $1 million
Total Construction: 480 days
ICF Start-to-Finish Time: 150 days
Construction Team
---
Owner: M. Hegdahl
Architect: M. Hegdahl
Structural Engineer: Crown Jade Design/Mark Benjamin
General Contractor: M. Hegdahl
ICF Installer: Advantage Exteriors
ICF Distributor: Energywise Sustainable Products
ICF System: Quad-Lock
Like what you read?
Yearly Subscriptions Starting @ $30