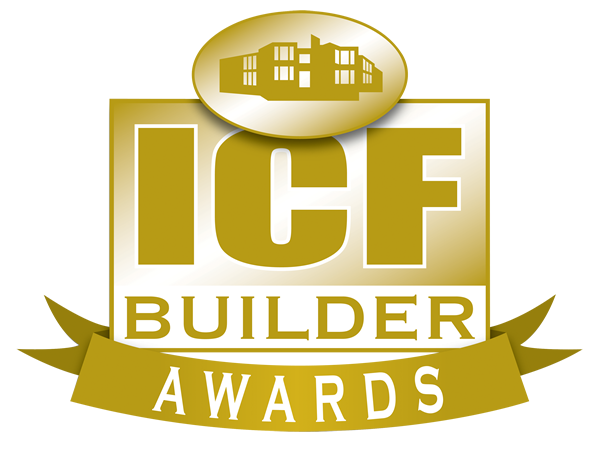 2006 Light Commercial 
Winner
Located adjacent to a busy airport runway, and with a mandate to build "green," the Boulder County Parks and Open Space Administration Building faced a long list of design challenges. Additionally, a new wing needed to be added to the project before the original building was completed.
Fortunately, the county chose to build with insulating concrete forms, which absorb noise well, are extremely energy efficient, and quite easy to work with. This last quality should not be overlooked, as the entire project was designed, engineered and built by Boulder County employees, most of whom had no previous experience with ICFs.
Despite the challenges, the final result is so impressive that judges at the 2006 ICF Builder Awards awarded it best project in the light commercial division. 
Colorado is one of the leading "green building" states, so energy efficiency was a major concern. In the end, the county chose Arxx ICFs because they are a partially recycled product.
"In the initial design, a steel frame was considered for this project," writes Mark Schneider, a former marketing manager at Arxx. "However, a building framed from steel could not provide the benefits of sound isolation and long-term energy savings desired by Boulder County." Schneider notes that during the construction phase, steel prices skyrocketed, while ICF pricing remained stable.
Schneider also points out that the building's design is quite complex, with walls on the second story supported by huge steel lintels. 
In addition to design and engineering assistance, Arxx provided on-site training for the installation crew, which soon became quite proficient.
While the main building was still under construction, county officials realized it would not be large enough to house the rapidly growing department, so an ICF addition was started on the building in January 2006. The now-experienced crew was able to stack those walls without any problems. 
The Boulder County Parks building incorporates several other innovative "green building" technologies. For instance, the building is heated by a boiler that burns waste wood chips. The heated water is circulated by variable-speed pumps that reduce energy costs while improving occupant comfort. 
The roof insulation has an R-value of 30, and deep roof overhangs shade windows made of one-inch-thick tinted glass. Inside, occupancy sensors, dimming switches, T-8 bulbs, and electronic ballasts reduce lighting energy costs. 
Project Statistics 
---
Project Name: Boulder County Parks and Open Space Administration Building 
Location: Longmont, Colo. 
Total Bldg Size: 21,000 sq. ft.
Cost: $3.9 million 
Project Start-to-Finish Time: 570 days
ICF System Used: Arxx
Construction Team 
---
Owner: Boulder County
Architect: Boulder County
General Contractor: Boulder County
ICF Installer: Boulder County
Like what you read?
Yearly Subscriptions Starting @ $30