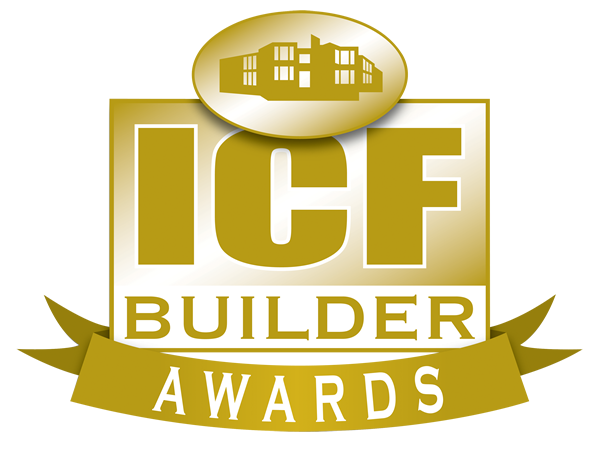 2020 Large Residential
2nd Runner-Up
When Hurricane Harvey roared ashore in August of 2017 as a Category 4 storm, it hit the Texas Gulf coast with wind speeds in excess of 130 mph. Days later, it flooded Houston with catastrophic amounts of rain. Causing more than $100 billion in damages, it is one of America's costliest natural disasters. Among the thousands left homeless after the storm were Bill and El Gibbens. They had lost more than a structure. They lost the touchstone for family gatherings for nearly two decades, and it was a devastating loss.
They resolved to rebuild a stronger, safer, stormproof home, and early in their research discovered ICF. The new lot was beachfront, and rather remote, located about 10 miles northeast of Corpus Christi, Texas. They reached out to Malcolm Matthews of ICF Texas to determine the feasibility of building with ICF right on the coast. He assured them that this was possible, and soon a team was assembled to make the plan a reality. 
Matthews says, "The homeowners designed this home. They relied on a draftsman to translate their thoughts to a plan set… Family and friends all had input, resulting in a truly beautiful, functional, strong and comfortable home."
Matthews recommended Matt Zetlmeisl and the crew from ICF Constructors as the ICF subcontractor, and Dennison Custom Homes to be the general contractor. Both companies are headquartered more than 150 miles away, but agreed to take on the work. Given that Matthews is a Fox Block distributor, the brand of ICF was easily selected. 
"Matt was already our go-to guy for challenging projects. It was a good mix from the start and we began the project with a high level of confidence," Matthews says.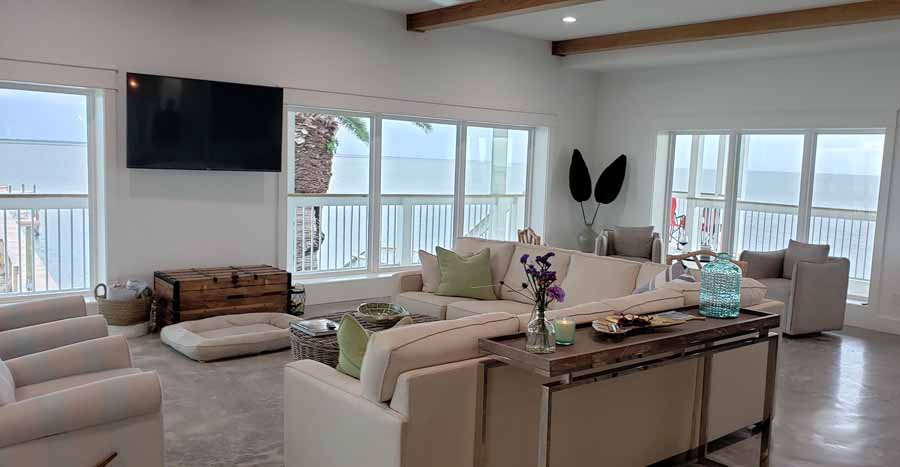 Rebuilding a home destroyed by a hurricane comes with many unique complexities. Since the devastation of Harvey, coastal building codes have been strengthened, requiring elevated living spaces and significantly stronger construction techniques. In this case, that meant a floor elevation 14' above mean flood level, and a structure that could withstand Cat-Five hurricane winds and a 10′ tidal surge. 
A major part of the solution was to use ICF for all exterior walls, as well as the suspended floor slab.
The main 4,375-sq.-ft. living space is elevated ten feet above ground level, supported by more than 40 poured-in-place concrete columns extending 12 feet down through the sand to stable soils.
The suspended floor was formed using Insul-Deck, which uses the same foam-and-concrete technology as ICF. The Fox Block walls were stacked to a sill plate height of nine feet, with an intricate wood-framed hip roof system on top of that. All of the structural components were tied together from roof framing to the bottom of the piers. In total, the home used 300 cubic yards of concrete and 26,000 pounds of reinforcing steel.
"We learned a lot about dealing with tricky soils and suspended decks with this project," says Zetlmeisl. "It is evident that this is the first of many similar homes that will be built with ICF." 
There were other challenges to be overcome as well. The remote location, shortage of sub-contractors and labor, and significant weather delays pushed the project well past the expected completion date. After the hurricane, reliable skilled labor was in short supply due the massive rebuilding and repair work. Constant rains resulted in heavy equipment becoming stuck, and a high water table forced each piling to be drilled and poured on the same day, which created additional delays. 
Fortunately, close coordination and continuous involvement with the owners resulted in very few misunderstandings, and the finished level of craftsmanship is outstanding: straight walls, strong foundations, and an absence of voids, with a design that accommodates new building codes and safety regulations.
Due to the efficiency of the design, the HVAC cost was halved. Insurance rates were reduced by 30%, a discount Texas Windstorm Insurance (TWI) offers for concrete construction.
Matthews concludes, "This home represents several 'firsts' in the region, including elevating a concrete structure of this size in compliance with new coastal design regulations. Because we were in uncharted territory, constant communication was required for mutual support as the project moved forward. This is a model for hurricane resistant homes in coastal zones."
Finished last fall, the owners are reportedly thrilled with their new home, calling it solid and "crazy strong." It has once again become a destination for the extended family and groups of friends. Wraparound decks offer ample space for entertaining, and a gazebo on the southwest corner of the deck provides an unobstructed view of spectacular sunsets while protecting against prevailing winds. 
"We feel so safe in this house," they say. "We've recently experienced two wind storms with winds approaching 70 mph and the house did not shake or move like our old one did." 
Project Statistics 
---
Location: Rockport, Texas
Type: Custom Home
Size: 4,400 sq. ft. (floor)
ICF Use: 6,700 sq. ft. 
Cost: $900,000
Total Construction: 68 weeks
ICF Installation Time: 25 days
Construction Team 
---
Owner: Gibbens Family
General Contractor: Dennison Custom Homes
ICF Installer: ICF Constructors
Form Distributor: ICF Texas
Engineer: Aran+Franklin Engineering
ICF System: Fox Blocks and InsulDeck
Fast Facts 
---
Replacement for Home Destroyed by Hurricane
Floor Slab 10 Feet Above Grade
Designed to Withstand Category 5 Storm
Like what you read?
Yearly Subscriptions Starting @ $30