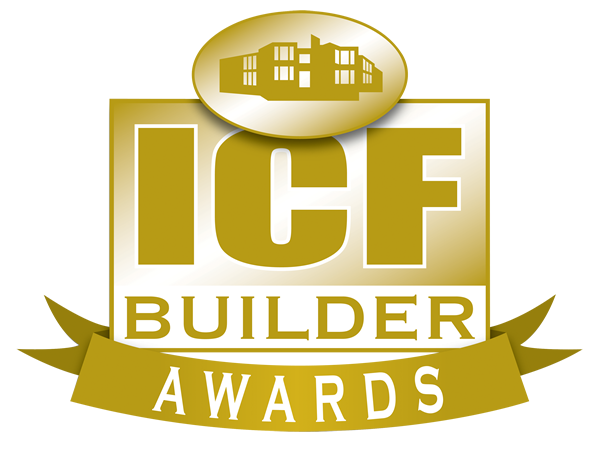 2009 Unlimited Residential
2nd Runner-Up
This was a first-time ICF project for everyone; the ICF installer, the architect, and the owner. Built on a site just yards from the ocean at Cape Cod, ICFs provide the wind resistance required by local codes. The architect, pleased that they provided no design restraints, drew up a plan with thirty 90-degree corners, two round towers, and several other unusual features. Plans also called for multiple green elements such as solar hot water.
As an additional complication, the oceanside lot offered accessibility from one side only. 
"You would never know that the crew that built this home had only eight classroom hours and eight hours of field experience," says the form distributor. He also notes that this home has sparked a number of other ICF projects nearby.
"Architects, contractors and inspectors are attending our classes in triple the numbers of past years," he writes. "They want
to make sure they're educated and not left behind when the transition from wood-frame houses to ICF homes becomes a reality in New England." 
Project Statistics
---
Location: Florence, SC
Type: Private Residence
Size: 17,880 sq. ft. (footprint)
ICF Use: 20,000 sq. ft. (ext walls)
Cost: $3 million plus
Total Construction: 425 days
ICF Start-to-Finish Time: 45 days
Construction Team
---
Owner: Private
Architect: Robert Lowrey, AIA
General Contractor: Carrell Homes
ICF Installer: ICF Builders
ICF Distributor: CK Supply
ICF System: Arxx
Like what you read?
Yearly Subscriptions Starting @ $30