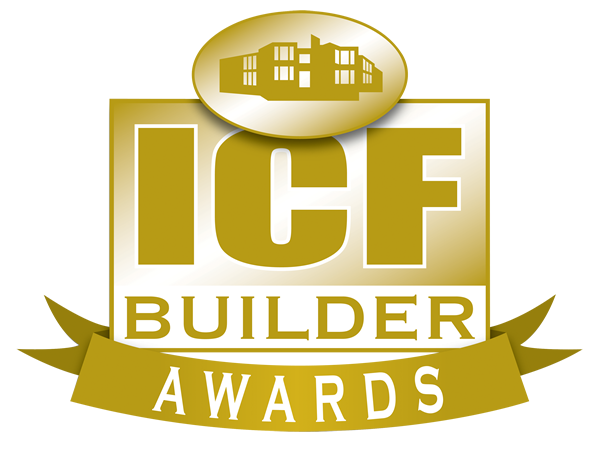 2007 Winner
Large Residential
The New Southern Home, which was featured on the cover of the Dec. 2007 issue, has been selected as the winner of the Large Residential category of this year's ICF Builder Awards. (See Home, Solid Home on pp. 36-38 of that issue for more information about the project.)
The home, built as a show home for the South East Builders Conference (SEBC), had an extremely tight schedule. Further, the decision to switch to ICF construction was not made until two weeks prior to the groundbreaking.
Greenblock Worldwide, which supplied the almost 15,000 sq. ft. of ICFs used for the project, recommended bringing in an experienced ICF installation crew to stack, brace and pour the walls. Insulated Concrete Walls, which works on large ICF projects nationwide, got the nod.
They immediately set to work, and the crew of 15 had the ICF portion built in 3 weeks. It was poured to a height of 16' in a single day, using two pump trucks who placed the 380 cubic yards of concrete in series of 4' lifts.
The home has a considerable number of corners, jogs, bay windows, and other features that needed careful attention during the build and pour, but thanks to ICW's skill, there were no problems.
Some have balked at giving an ICF award to a home that used frame construction for portions of the second level, but the truth is that even with the framing, the home still used more ICFs than any other home entered this year, and judges also gave the home high marks for raising the industry profile.
Roland "Jim" Krantz, the general contractor on the project, gets most of the credit for promotional efforts. He knew the home would be seen by thousands at SEBC, toured by the media, and toured again during the International Builder Show. In order to help the visitors understand what went into the home, he arranged for the manufacturer to provide an on-site rep to answer questions during tour hours. He also left a portion of one wall unfinished, and even stripped off an area of foam so visitors can see how the concrete, foam, and furring strips work together to create a wall assembly. 
He also created an 80 sq. ft. mock-up of an ICF wall illustrating how mechanical assemblies, wall coverings, and framing integrate with ICFs.
The home has received extensive media coverage, including the Orlando Sentinel, Concrete Homes, Florida Homebuilder, Smart Homeowner, Builder/Architect, and this magazine, as well as local TV and radio.
Because this project has done so much, to educate so many on the ease and benefits of ICF construction, the ICF Builder Awards are pleased to name New Southern Home as the 2007 Large Residential Home of the Year. 
Project Statistics 
---
Project Name: New Southern Home 
Location: Orlando, Florida 
Size: 12,200 sq. ft (18,200 under roof)
Size of ICF Walls: 14,000 sq. ft
Completion Date: July 2007
Project Start-to-Finish Time: 7 months
Cost: $3.6 Million
ICF Brand: Greenblock
Construction Team 
---
Developer/ GC: James M. Krantz Construction
ICF Installer: Insulated Concrete Walls
Architect: Gooden Design
ICF Distributor: Greenblock Worldwide Corp.
Fast Facts 
---
• Largest Home Entered 
• Changed to ICF 2 weeks prior to start
• ICF portion built in Three Weeks
• Toured by Tens of Thousands
Like what you read?
Yearly Subscriptions Starting @ $30