Large Residential - 1st Runner Up
From the outside, the French-Mediterranean-styled Kuebitz Residence resembles many others in Southern California, with wide porches, tiled roofline, and a stucco exterior accented at the corners with cut stone. Inside, the home has a Middle-Eastern flair, with a central courtyard flanked with arches and a Moroccan-style fountain in the center, finished with elaborate tilework. It's a stunning design with top quality finishes inside and out.
But the most remarkable aspect of the home is within the walls. The house is built entirely of reinforced concrete, sandwiched between thick panels of insulating rigid foam. Building with these insulated concrete forms, called ICF, is one of the energy-efficient and disaster-resistant construction technologies available.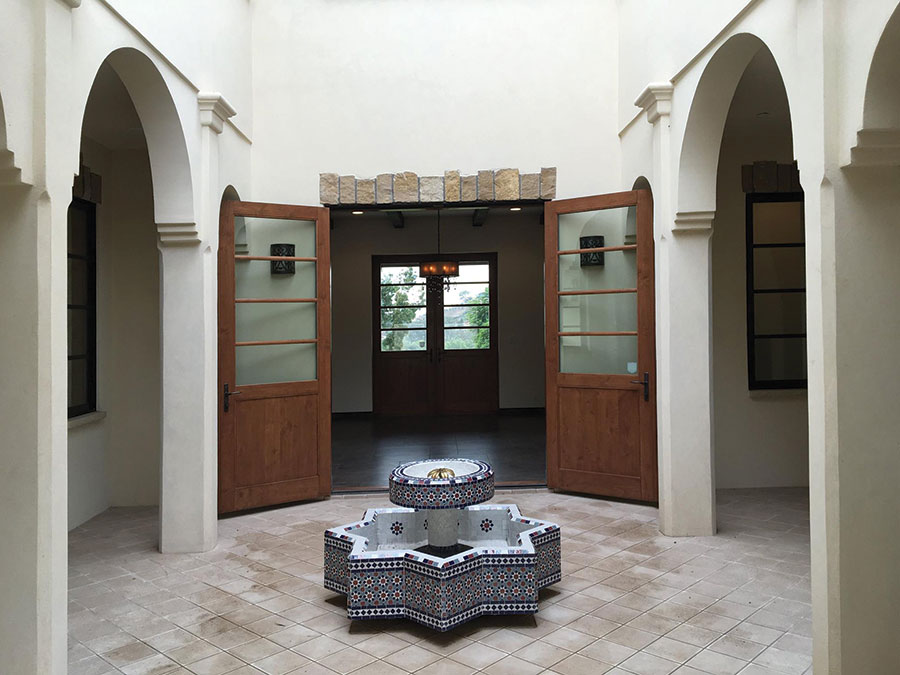 In fact, these features are exactly why the owner chose to use ICF. His previous home was lost to the 2007 wildfires that ravaged the San Diego area. So when he acquired this property in Poway, a few miles north of San Diego, he insisted that the new house be totally fireproof. It was designed almost entirely from concrete and ICFs, including interior walls and columns. The 5,000 sq. ft. home uses almost 8,000 sq. feet of EPS products. The concrete floors were formed with Hambro's steel pour-over system.
This was the first ICF project for both the designer and general contractor, and so for the install, they wisely chose an experienced ICF contractor with 18 years experience. Penna Construction is also the local Fox Block dealer, so brand selection was straightforward. It was a complicated build with 11 corners and five T-intersections, in addition to six ICF arches perched atop narrow ICF columns in the courtyard.
Tony Penna says they used Fox Buck for all the window and door blockouts, including the curved arches. He reports the second-floor Hambro concrete decking integrated seamlessly with the ICF.
Built on a hill with a narrow access road, construction materials had to be off loaded at the lower portion of property and moved to the top with smaller equipment.
In addition to being fireproof, the home was designed to the highest efficiency standards. The orientation of the home uses shading and prevailing winds to bring diffused daylight and cooler, fresher air into the home. A traditional yet functional courtyard with a fountain plays an important role in the natural daylight/ventilation strategy, in addition to the west facing veranda.
As a net-zero energy home, Penna says it has "high-efficiency everything," including LED lighting, induction cooktop and a hybrid electric water heater that uses ambient heat to augment water heating. An eight-zone mini-split HVAC system ensures comfortable temperatures and whole house mechanical ventilation.
A 12,000-watt photovoltaic array provides more than enough energy for the remainder of the home's needs.
Most of the construction took place while the owner was in the Persian Gulf on business, and ready in June 2016 when he returned.
Penna says, "Even though the weather is mostly cool and sunny year round, we still find it beneficial to build with ICF construction to capture 50% savings of cooling in the summer and heating in the winter because of the rising utility rates for the area. Many folks have stopped by from the surrounding areas and the interest has been fantastic."
Project Statistics
---
Location: Poway, Calif.
Type: Private Residence
Size: 5,060 sq. ft. (floor)
ICF Use: 8,231 sq. ft.
Cost: $1.8 million
Total Construction: 48 weeks
ICF Installation time: 30 days
Construction Team
---
Owner: Karl Kuebitz
General Contractor: Tony Parker General Builders
ICF Installer: Penna Construction Inc.
Form Distributor: Forming Solutions Inc.
Architect: Laurie C. Fisher
Engineer: Eastom Engineering
ICF System: Fox Blocks
Fast Facts
---
Moroccan-style design and courtyard
First-time ICF project for designer and GC
Fireproof design replaces home lost in wildfire
Designed to net-zero standards
Photovoltaic array lowers energy costs