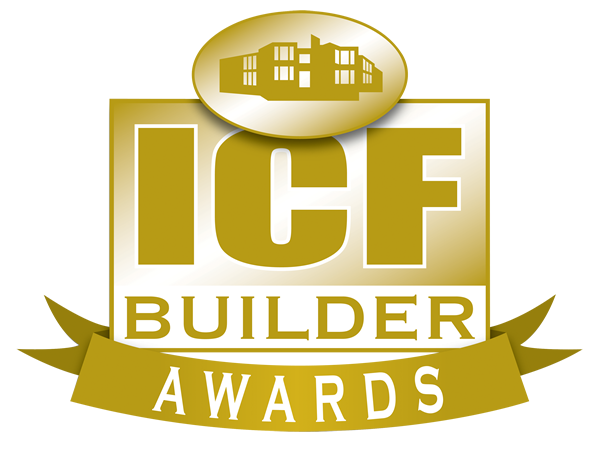 2007 Large Residential
1st Runner Up
The Mady Residence is one of those projects that has so many outstanding features, it's hard to know where to start.
The size of the home, as seen in photographs, looks much smaller than it's actual 12,400 sq. ft., which includes a 2,500 sq. ft. climate-controlled garage for the owner's antique car collection.
Like the Boone Residence on the facing page, the owners made the decision to build with ICFs after considering the advantages over frame construction, the high wind loads the home would experience near the lake, the energy savings, and absence of long term maintenance issues.
Darrel Cronin, owner of Cronin Contracting, was hired to build the residence after the owners had toured several of Cronin's other projects and were satisfied he could bring the project in as promised. 
Cronin had a difficult job ahead of him. Construction began in November 2005, as temperatures in Canada were starting to plunge. The Mady's wanted the home completed by spring. To add to the difficulties, the basement was below the water level of the nearby lake, and the plans indicated a veritable maze of walls, including radiuses, T-intersections, octagonal rooms, and non-standard angles.
He selected Arxx ICFs for the project, whose variety of specialty forms made building the extremely complex footprint considerably easier. Soon the walls were above ground level; some of them way above ground level. The front entry and the entire back wall of the home reached 22' with no intermediate floors to brace off.
By early spring, the shell was closed in and the interior framing had begun. A beautiful spiral staircase rises through the home, with a bridge connecting the two main areas of the second floor.
Outside, the stucco finish was easily applied to the foam, and despite the temperatures and the inclement seasons, the home was brought in on schedule. Cronin estimates that ICFs saved 2 months on the construction schedule. 
The finished home is stunning. It's so remarkable, in fact, that an investment company used the property as a backdrop in one of their television commercials. But most importantly, the owners are "extremely happy with the outcome." 
Project Statistics 
---
Project Name: Mady Residence 
Location: Southern Ontario 
Size: 12,400 sq.ft.
Completion Date: April 2006
Project Start-to-Finish Time: 156 days
Cost: Undisclosed
ICF Brand: Arxx
Construction Team 
---
Owner: The Mady Family
General Contractor: Cronin Contracting
ICF Installer: Cronin Contracting
Architect: Joseph Toth
Fast Facts 
---
• Extremely Complex Footprint
• Interior 22' Tall Walls made from ICFs
• Basement below level of nearby lake
• Built through Canadian Winter
Like what you read?
Yearly Subscriptions Starting @ $30