A History of Excellence
by Jeff Van Sloun
Ray Kroc, the founder of McDonald's, knew that he could grow his business through satisfying the customer with a consistent product every time. His training system allowed that to happen. In fact, it has allowed the growth of the entire fast food industry turning it into a multi-billion dollar industry. It is hard to imagine finding a single successful fast-food chain that has not copied the McDonald's training system in some shape or form. 
The ICF industry is keenly aware of the need for training as evidenced by most major ICF companies implementing some type of training program. They come in many formats. Some are offered by third parties who are sponsored by an ICF manufacturer, while others provide thick manuals with prescriptive drawings and lists of code approvals. There are a few companies that sell videos, DVDs and online tutorials mostly designed for the first-time user and offer little or no follow-up guidance.
In theory, none of them really come close to Ray's Hamburger University®. Ray's systematic yet simple approach to training should be the benchmark for our industry as well. Not that installing ICFs is as simple as making fries, but we as an industry should break down the process and strive to make it that simple…relatively speaking. Why? So that we are collectively producing high quality products for consistent building practices nationwide, which, in turn, creates satisfied homeowners? 
In the same way that Ray's training catalyzed the growth of the fast food industry, proper ICF training can play a significant role in helping our segment of construction make its way into the mainstream. Still in its infancy, the current practice of training and training support will not institutionalize the use of ICFs in the building industry. Many ICF companies have "the guy" or "guys" to go to for help with training and installation, but are they truly teaching, or just showing? Can the ICF industry benefit from a McDonald's type approach and create a sustainable and effective teaching method? Perhaps there is a better way.
A trusted name in the building materials industry for nearly 70 years, Owens Corning has recently been taking steps to bring greater awareness to the importance of proper ICF installation. We've been doing this through our signature Fold Form® ICFX program, which enables many trained builders today to erect between three to four homes a week using Owens Corning Fold-Form® Insulated Concrete Forms. They are able to do this because our training supplied them with the information and tools needed to not only understand the process of building with ICFs, but to understand how this building material and technique works in the grand scheme of home building – if the statue doesn't have a solid foundation to stand on, then it's just a fancy rock on the ground.
In many cases, building companies and contractors who have gone through the ICFX training program have reported a strong growth in their business. Many are erecting three to four homes a week using ICFs. The knowledge and confidence the program imparts has been a factor, allowing them to expand their business to other parts of the country. The key selling point for these builders is that they know they can offer a consistently, high-quality product based on standardized training. With this said, a small number of builders does not make anybody an industry leader. While there's significant headway to be made in the area of ICF training and consolidation of the industry segment, Owens Corning believes these results are characteristic of the company's way of training and the industry should take note. 
Yesterday and Today
As outlined above, today's style of training may explain how to install ICFs at the jobsite, but doesn't explain the reason for the specific approach and the overall effect that training has on the project. Industry standards show prescriptive methods of training in concrete form and structure. And most training is about the product and not the environment being created. 
At Owens Corning, we take our training beyond the basics. What sets Owens Corning's training apart is the experience we've gained during our nearly 70 years in the building materials industry, our leadership in home energy efficiency and a trusted reputation in the market. We are one of the only companies that can provide materials, 70 years of expert knowledge and building science from the footer to the ridge vent.
Building Science – The Teachings of Tomorrow 
At Owens Corning, we take an elaborate approach to our ICFX training. We practice a three segment course: First, eight hours of coursework in the classroom covering many elements of building such as installation, phases of planning and how to locate and identify certain services, parts and pieces. This full-day course is followed by a two-part, multiple-choice test and concludes with an on-the-job field test where the Owens Corning trainer provides a comprehensive explanation of tools and materials and also provides step-by-step checklists. 
Perhaps the one element that stands out above the rest is our approach to teaching building science. We are one of the only companies to test on installation practices and building science as part of an ICF training course.
Building science is woven into each segment of what we do and what we teach. We believe that it's crucial to the builder, contractor and others to fully understand the big picture of their ICF construction project before they unpack the product from the truck. It's important to understand how each part of the project plays an integral role in the overall project. We do this through an in-depth session on building science that includes:
How to know what kind of concrete you have when it shows up on the jobsite
How to set up the jobsite so that you are ready for step-by-step construction
Noise reduction – measurement of sound, impact of sound 
Moisture, not just water – air moisture, dew point, managing moisture, weeping walls below and above ground 
Heat flow – reducing energy, theories of radiation convection and conduction
Working with and understanding basic elements of the earth – air, wind, water and how they affect the building process and outcome
Resources and instruction on different equipment – what is best for which job function, etc.
What does R-value really mean and what impacts R-value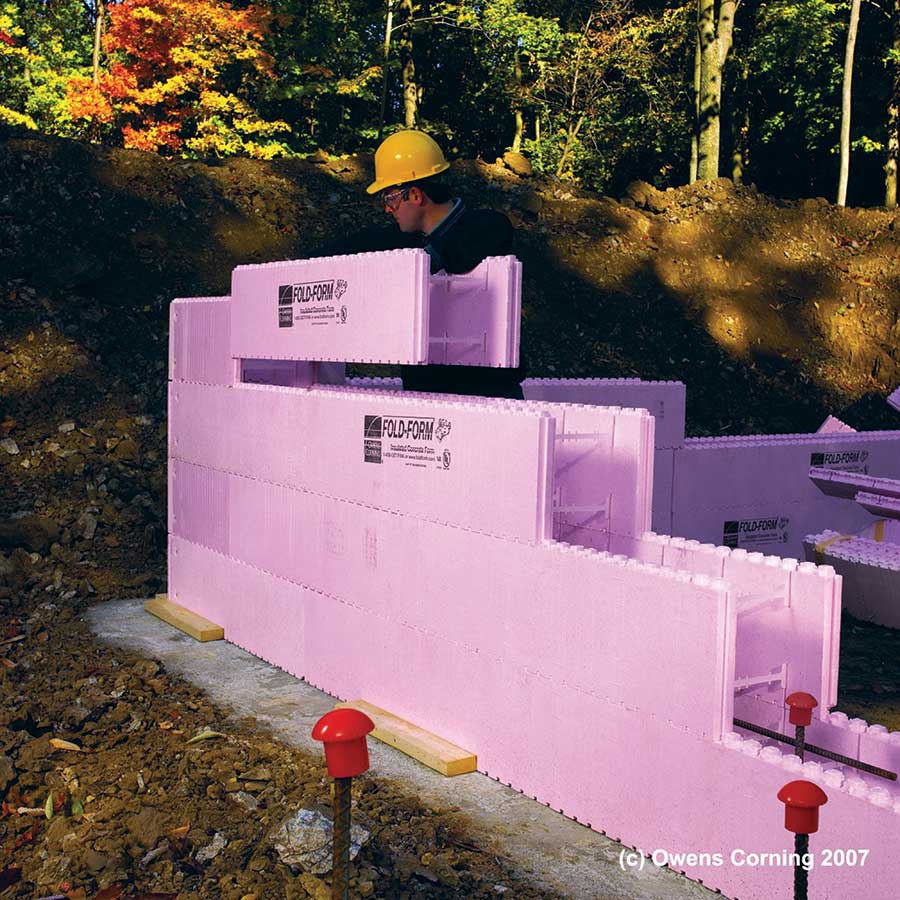 These ideas and more are presented and discussed during our training programs, which promote an overall understanding of the value of proper building and insulating. Furthermore, this training method accelerates learning and provides a solid foundation of sustainable teachings, which can be passed along from job-site to job-site.
As a leading player in the building materials industry with a long history in building science, we consider it our biggest responsibility to offer quality products, information and teachings of sustainable training methods and techniques.
Mr. Van Sloun is Business Manager for Owens Corning's Fold-Form division. He has been with the company since 1985.