Wall Bracing and Consolidation Tips
When wall heights reach more than 20 feet, bracing and consolidation become more critical—and more difficult. Years ago, only a few specialty contractors had to deal with this challenge. But as ICFs become more common—especially in commercial construction—every serious ICF contractor should know how to handle tall walls. 
If the walls are interrupted every 8 or 10 feet with a flooring system, construction is simple: Pour the walls, then install the flooring, and then begin the process again. Infill walls like those of the 11-story Waterside condo are equally straightforward.
But if the wall has no intermediate flooring, the job becomes considerably more complex. Luckily, new bracing and the experience of knowledgeable contractors make it easier.
The most common method is to stack, brace, and pour the first 8 or 10 feet of wall as normal. Once the concrete has cured, strip the bracing, set up buck scaffolding and tie it into the wall. Then you can begin the process again, bracing off the scaffolding for the next level. Mono-Brace is specifically designed to snap onto scaffolding this way. 
Obviously this process is fairly labor intensive. It also requires renting a pump truck more than once. So manufacturers have developed other options, allowing contractors to stack and brace walls up to 24 feet without having to take anything down. (See sidebar on pp. 32-35 for more details).
For really tall walls, though, pouring in stages is still the only way to get the job done.
"You've got to pour the bottom section of the wall first, and tie the scaffolding into the wall. Otherwise you have nothing solid to brace against, and everything moves when you start to pour," says Alan Johnson, president of IMS Masonry. His company built the 50-foot walls of the largest ICF project to date, a 20-sceen theater in Utah.
He ended up using his crank-up masonry scaffolding, with custom-made turnbuckle ties. "Being a masonry contractor, we already had the masonry scaffolding, and it has worked really well," he says. "Stick scaffolding would work, but it takes a lot of time to set up and brace properly."
Johnson warns that crank-up does have a few drawbacks: "The upfront costs are extreme compared to stick scaffolding, and there is a learning curve with crank up, so you may be better off using whatever system you've got. Once you get past the learning curve, though, and if you own that stuff, you'll
be ahead."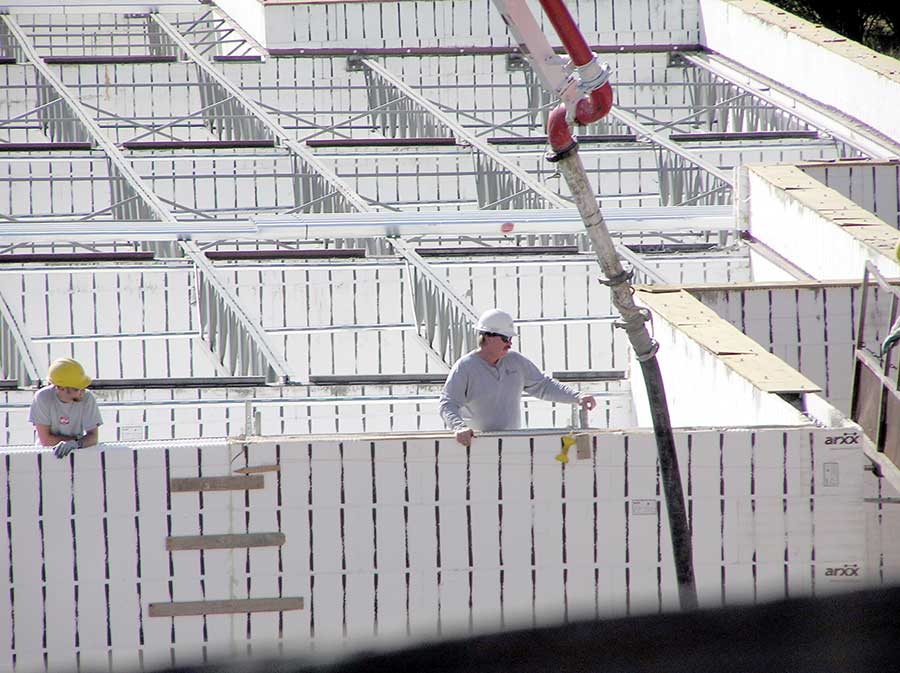 Uniscaffold, based in Lewiston, Idaho, offers another solution to contractors that routinely tackle tall walls. "Uniscaffold is not just scaffold; it is a scaffold system specially designed to stage material, build, and align ICF tall walls," explains Al Peterson, owner of the company. The design is based off the high wall scaffold/bracing system developed by Arxx, which was used to create the tallest freestanding ICF walls to date, at 62'8" (see story on p. 28). But Peterson says he has improved the system to make it even better.
"With Uniscaffold, contractors can erect ICF tall walls at or below CMU and tilt up prices," says Peterson. "It can be built up to 125' high without any scaffold engineering requirements, and exceeds the OSHA wall attachment requirements without requiring any additional work. It provides material staging platforms for materials as you build your wall… It is the most stable and secure scaffold system of any ICF scaffold on the market today."
Brian Smith, a senior project manager at IC Walls, was using Uniscaffold at a jobsite in Flagstaff when a severe windstorm came through. "The weather forecast called for scattered showers and wind gusts of 20 to 30 mph, so we decided to go ahead with our concrete placement," he says. "Our wall heights at this stage of the project were 24' and three at 20'. As the concrete placement began, it seemed like we were getting hit with the strongest 30 mph winds I could remember, and the wind didn't stop all day. That evening while watching the local weather we learned that the local wind gusts had exceeded 60 m.p.h."
IC Walls is one of the most experienced ICF installers in the country. "I would like to have Uniscaffold available for every project we build," says Ruben Carabajal at IC Walls. "Having the Uniscaffold system is really saving time on low wall assemblies as well as the tall walls."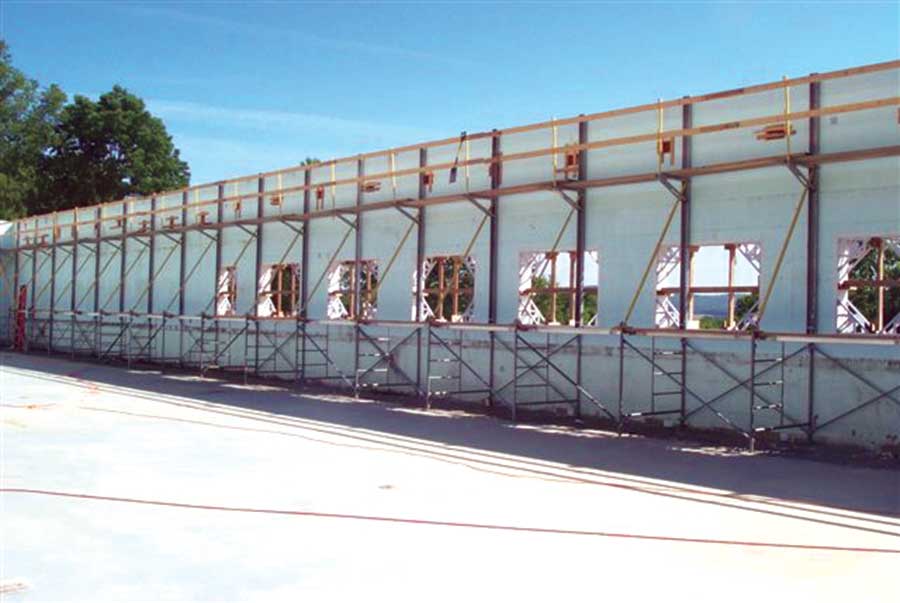 Peterson lists the tall wall projects he's used Uniscaffold on: "In the last 3 years, four multiplex theaters with walls typically around 34' high, and one theater having two walls 52' in height were completed with our scaffold. It was recently used to successfully complete a 12-plex theater, a new Honda dealership and a concrete supply warehouse. All three projects had walls in excess of 26' and were completed in a timely manner."
Peterson offers a comprehensive training program at his Lewiston, Idaho, headquarters, where contractors get hands-on experience stacking block and scaffolding ICF tall walls. "Most contractors are amazed and impressed that they can safely work on tall walls without any problems," says Peterson. 
The Pour
Until the engineering community becomes more familiar with ICFs, most tall walls will continue to be significantly "over-engineered" with considerably more steel than necessary. This can create challenges both during the pour, and with consolidation afterwards.
One useful technique to make the pour go smoother is to use a reducing hose on the pump truck. The Ruff Neck from Con Forms, for instance, reduces the 5" diameter boom pipe to a 3" hose. This slows the concrete without a double elbow and significantly increases the accuracy of the pour. 
"The flow from a smaller trimmer hose makes it easier on the forms and lets us pour at a rate of 4' an hour without any delays or waiting time," says Peterson. "We try and pour around 400 to 450 lineal feet of wall 1' to 14 feet high at a time. Six men can easily pour and align the walls if we stay around the 400' mark."
Concrete consolidation has become much easier in recent years, thanks to new equipment on the market. Brecon Inc, a Bosch Licensed manufacturer, markets an external vibrator designed specifically for the ICF walls. Because it vibrates through the foam, it easily handles common problems such as corners, lintels and congested rebar. Although the unit weighs about 25 pounds, Steve Kenning of Brecon Inc. says that when used correctly, the weight of the machine is not a factor. "When the unit is operating, with a slight pressure against handles, it holds its own weight against the wall," he says. Just as with other vibrators, additional work platforms may be required since the entire height of the wall needs to be accessible.
"We use Oztec's backpack vibrator with the rebar shaker as much as possible with great results," says Peterson. This device uses the same engine as the internal vibrator, but works by attaching to the top of the rebar, effectively converting the entire steel rod into a vibrator. It works well for rebar spacings less than 12". 
Internal "pencil" vibrators with a 1" head are extremely effective as well, especially when used by experienced operators, but can get hung up in congested rebar and lead to blowouts if overused (See Concrete Consolidation in ICF Walls in the April 2006 issue for more information.)
"Depending on the engineer for the project, we sometimes use pour pockets or holes in the forms to keep from dropping the concrete too far during the pour," says Peterson. He claims to have dropped concrete from 10 feet without any segregation, but cautions, "When a lot of steel is involved, a mock up or test wall is always good to verify segregation, concrete consolidation and mix design."
So, whether you are an experienced ICF contractor or tackling your first ICF "tall wall," there are products and experts available to ensure your project runs smoothly, safely, and efficiently. Dan Kackman, at Reechcraft, sums it up, "Our message to the contractor is, 'Don't be afraid
to bid the big jobs 'cause we've got your back." 
Waterside IV Condos
Waterside IV and V are part of a high-rise condominium complex near Ft. Myers, Florida. At 11 stories high, the buildings are among the tallest structures using ICFs built to date. 
"Anyone who is planning a high rise building should look at using ICFs for their infill walls," says Robert Ambrose, vice president of Ostego Bay Construction, the general contractor for the job.
With more than 20 years in the commercial construction business, Ambrose has historically used concrete block for infill walls. In fact, the first two of the 112,000 square foot buildings in the Waterside project were built with concrete block, but a shortage of masons in southwest Florida caused him to turn to ICF wall construction.
"I estimate that we saved more than 30 days on the overall construction time of Waterside IV because of the speed of the ICF wall construction," Ambrose said.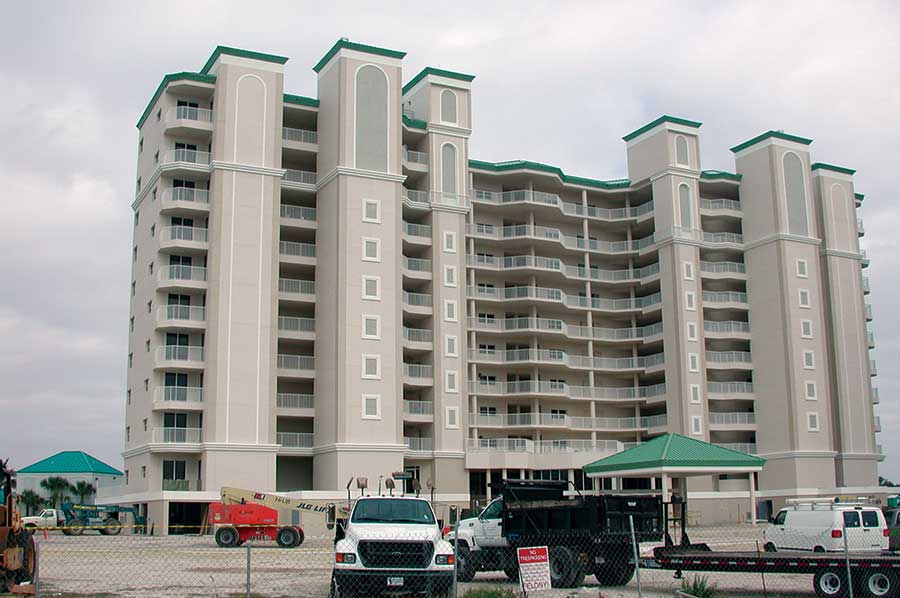 He credits much of the time savings to using a professional ICF installation subcontractor, Icon, Inc., which specializes in large-scale commercial ICF construction.
"Now that we have someone qualified to install the ICF walls they are more viable than ever," says Ambrose. "I am very comfortable with the ICF infill walls."
"The teamwork and organization of our employees really made this project go smoothly," says Harry Pilkington, co-owner of Icon, Inc. "We did half a deck at a time." While part of the crew was placing the concrete in the walls of the first half, the rest of the crew was stacking the second half. "The infill walls have gone in great and they look great, too," he says. "We have averaged just 6 1/2 days per 11,000 sq. ft. floor."
"Really, we had it down to such a science that it isn't that exciting to talk about," laughs Pilkington. "The exciting thing was to get on schedule and to end up ahead of schedule." 
Pilkington says there are advantages for other trades as well. "Since the furring and insulation are completed right along with the steel-reinforced concrete walls, total construction is further along. And because there is less waste and a cleaner site, very little time is wasted on cleanup after the wall construction is completed."
"ICF infill walls are the wave of the future," said Ed Storm, president of Reward Wall Systems, Inc., whose forms were used for Waterside IV and V. "ICF walls are substantially faster. The building is done faster, contractors get paid faster, you save on the interest on construction loans, all of which translates into huge savings for the general contractor and the building owner. Add to that the extra benefits that ICFs provide, such as storm safety, fire safety, sound attenuation and energy efficiency, and the choice is clear." 
Project Statistics 
---
Location: Ft. Myers, Fl. 
Total Bldg Size: 120,000 sq. ft 
Completed: 2003
ICF Form: 11" iForm from Reward
11-story Building
ICF Infill Walls
Tallest ICF Structure to date
Construction Team 
---
Developer: Giles Development, LLC
Architect: R.J. McCormack
General Contractor: Ostego Bay Construction, Inc.
ICF Installer: ICON, Inc.