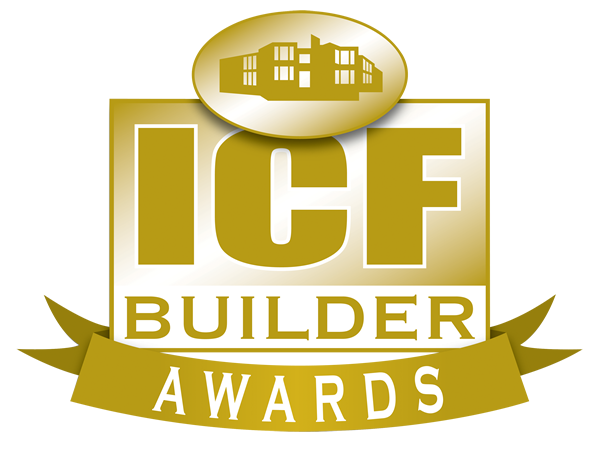 The 2005 Residential Development of the Year got high marks for using ICFs to take advantage of an otherwise very challenging site.
The Villas at Mt. Blanc is built on an old oil tank storage facility overlooking Halifax Harbor. It sat idle for 20 years while developers struggled to find an option acceptable to the neighboring community.
The site has a beautiful view overlooking the harbor, and is just minutes from downtown, but was thought to be far too noisy for residential development. 
"With the use of ICF walls, we created a very cost-effective and aesthetically pleasing high-end residential community, despite being within 50 ft. of one of the busiest arteries in the city, a major 4-lane bridge, a rail/truck facility, and a major harbor, all of which operate 24/7," writes Louis Lemoine, vice-president at Polycorp Developments.
Polycorp was not only the developer, but also served as general contractor and ICF installer as well. The 41-unit townhome community is just minutes from downtown Halifax, and is the largest project of its type in Eastern Canada. 
"The impact on the surrounding community has been overwhelmingly positive," says Lemoine. "Skeptical neighbors now benefit from the addition of a stable higher-end demographic and enhanced property values."
"These homes are incredibly quiet," he continues. "Residents say they cannot hear any noise through party walls, and when the windows are closed, they cannot hear street noise." 
One additional benefit to residents at The Villas is that they spend 20 to 25 percent less on their heating bills. Nova Scotia sells electricity during off-peak hours at a 30 to 50 percent discount. The in-floor radiant heat is powered by electric boilers set on timers to maximize savings. The heated, second-story concrete floors are supported by Hambro open-web joists, which allow savings throughout the units.
"Our biggest challenge was to find the skilled tradesmen to construct the ICF walls," Lemoine says. "In concert with Arxx, we identified a residential formwork crew with limited experience and trained them ourselves… Arxx provided us with excellent marketing materials and built the relationship with regular trips to the region."
He says, "Our competitors thought we were nuts when we started construction… Now two years later, ICF construction is becoming more common in our marketplace." 
Project Statistics 
---
Location: Halifax, Nova Scotia
Size: 41 units, 120,000 sq. ft.  
Cost: $7.5 million
Duration: 2 ½ years
Date Completed: September 2005 
Construction Team 
---
Architect: Michael Napier Architecture
Engineer: Sherwood Enterprises
General Contractor: Polycorp Developments, Inc.
ICF Installer: Polycorp Developments, Inc.
Fast Facts 
---
ICF Block: Arxx Building Systems
Wall Bracing: Arxx Bracing
Waterproofing /Drainage: Suprema
Ledgers/Joists: Hambro Open Web Joists
Exterior Finishes: Vinyl Siding
Heating/Cooling: In-Floor Radiant
Like what you read?
Yearly Subscriptions Starting @ $30