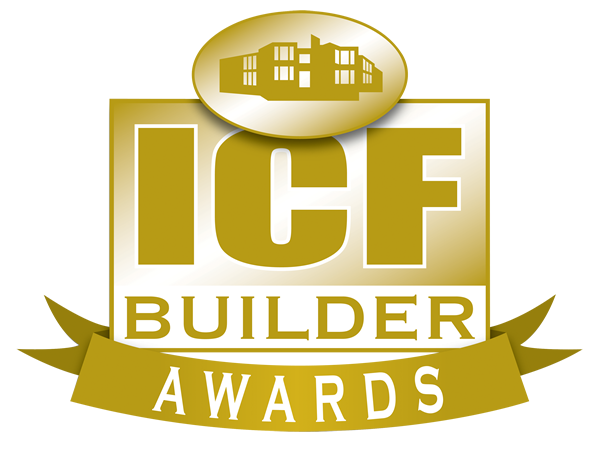 2005 Large Residential (Custom Home)
Winner
Strong, Sustainable, and Unique Design
The judging panel gave the 2005 Best Custom Home high marks for craftsmanship and architecture. "Very unique design –love the originality," commented one judge. "Super detailing and awesome interior design and architecture!" raved another.
But the beautiful styling isn't all that makes this home a winner. It also earned top marks in energy-efficiency and sustainability. 
Pueblo-style homes are unique with their meandering angles, log vigas, and parapet walls. This home is no exception. The one-story house with a walk-out basement has 33 corners. True to the pueblo style, the house is finished with a traditional sand stucco and concrete roof tiles.
Hundreds of feet of retaining wall manage the sloping site. In total, 8,000 sq. ft. of block was used on the project.
"During the construction period, hundreds of onlookers stopped by," writes Beverly Stevenart, project manager at Craftsman Homes and Design. "I believe this project 'raised the bar' for how strong, how quiet, how safe a home can be."
The home is also extremely energy efficient. Energy-rated via computer model, it scored 94 out of 100 points. That makes it 70 percent more efficient that a standard new house built to the Model Energy Code. 
The energy conserving theme is carried throughout the house, with air-tight cans and fluorescent lighting, as well as natural-fiber biodegradable carpet.
Part of the Pueblo, Colo., Parade of Homes, the residence was awarded the People's Choice Award and broke attendance records. "It's an award-winning, attractive, quality example of ICF construction," Stevenart says. 
Project Statistics 
---
Location: Pueblo, Colorado
Size: 6,500 sq. ft., + 900 sq. ft. unfinished    
Cost: $545,000 
Duration: 8 months 
Date Completed: July 2005
Construction Team 
---
Architect: Undisclosed
Engineer: C&M Consulting
General Contractor: Craftsman Home and Design
ICF Installer: Polysteel of the Southwest, Ltd.
Fast Facts 
---
ICF Block: American Polysteel 4600-2 (6" core)
Wall Bracing: Reechcraft
Waterproofing /Drainage: Platon (Armtec)
Window/Door Blockouts: Vinyl Technologies V-Buck
Ledgers/Joists: Dietrich Steel
Exterior Finishes: El Rey Stucco and Monier concrete roof tiles
Heating: Dunkirk/Wirsbo in-floor radiant
Like what you read?
Yearly Subscriptions Starting @ $30