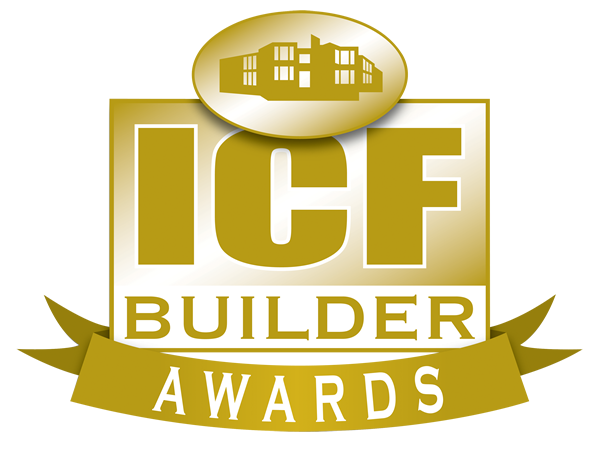 While most ICF builders were struggling to survive the Great Recession, one ICF company in Canada built out an entire 76-home development in the 2008-2011 timeframe, selling all of the properties near full price.
Named Ravenscraig at Fleming Park, the homes range from 2,600 to 4,500 sq. f.t, and are built on a 25-acre site about 15 minutes from downtown Halifax. It is by far the largest single-family development built with ICF in Atlantic Canada, and one of the three largest in North America.
The neighborhood is now home to 70 families who enjoy "one of the nicest single-family subdivisions in the Halifax area." An article in the Chronicle-Herald, the regional newspaper, says the homes "bring together superior architectural design and energy-saving technology in a development that features more than 20 different styles of homes …all with energy-efficient, imaginative and practical designs." The article continues, "ICF construction means more energy savings, as well as solid, sound-proof construction…They're an excellent example of not only top-rate construction — but décor as well. The model home design features a loft overlooking living room, while the finishes include upgraded walnut cabinets, a glass tile backsplash, and engineered hardwood floors. The gas fireplace and skylights make the living room feel modern and cozy."
This is not the only press coverage the development received. Polycorp, the general contractor and developer, has built several other large-scale ICF projects in the area, and Ravenscraig garnered extensive local press as well as coverage from national
cement associations.
Mike Perrier Homes did the ICF installation. This remarkable company delivers top-notch ICF craftsmanship despite the fact that all of the crew members are deaf or severely hearing impaired. They knocked out the ICF portion of each home in about 10 days, even though some of the work took place through the cold winter months. In total, they installed a total of 254,250 sq. ft. of Arxx ICF.
The homes are heated with in-floor radiant heat on a time-of-use meter on an electric boiler to take advantage of reduced rates on off-peak hours. Tubing is encased in 1.5" of lightweight concrete topping over a regular wood-framed floor. Each home has five or more zones each with its own programmable thermostat.
How was Polycorp able to be so successful at a time when many of the best builders on the continent struggled to find work? It's true that Canada was not impacted as severely by the recession as the U.S. market, but Polycorp also used a combination of strategic planning, clever marketing, and plain hard work.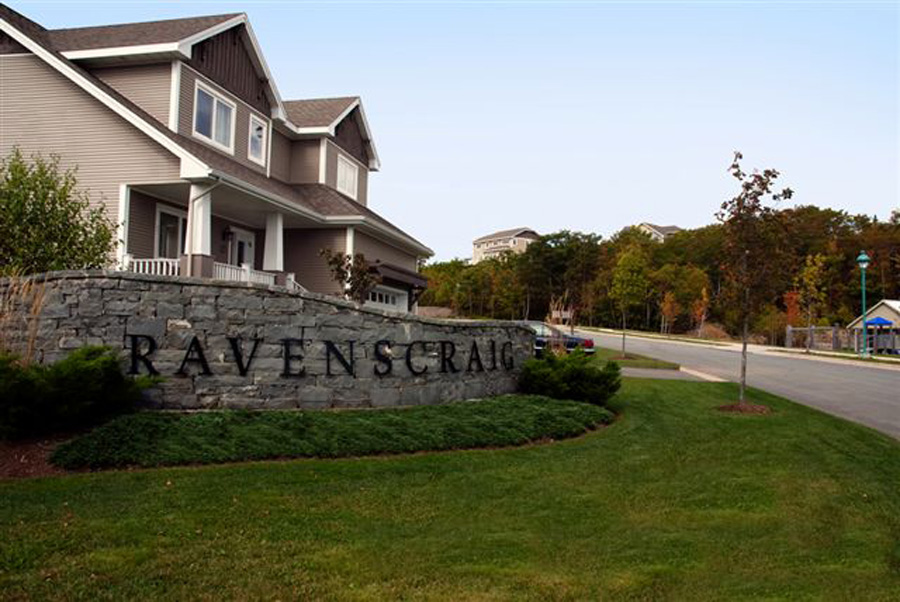 The site was effectively solid bedrock. To minimize blasting, the street layout was designed to match natural topography and minimize front porch height. They worked carefully with the city to preserve mature trees, rock outcroppings and a natural stream that flowed through the site. An old quarry bordering the property was converted into a playground and soccer field, with the steep slope on the upper portion used as a tobogganing hill in the winter.
Rather than aim for a specific demographic segment, the target market for Ravenscraig was a mix of empty-nesters, mature families with teenagers and young couples just starting families. About half the homes have the master bedroom on the main floor, preferred by empty-nesters. The other half are more traditional design. With 20 different floor plans and even more color schemes, it creates the feel of an old-style, well-established neighborhood.
The model home/sales center features a mock-up ICF wall so visitors can see how ICF walls combine rebar, cement, and foam. The home was also stocked with literature prepared by the PCA promoting ICF technology. The website contains extensive explanations of the advantages of ICF, video testimonials by Ravenscraig homeowners extolling the virtues of ICF construction, and even videos of ICF pours in the development.
Louis Lemoine, vice president at Polycorp, says, "This level of marketing creates a very strong emotional connection between our purchasers and the homes we build. By educating our purchasers about the benefits of ICF it comes together, they can see the difference for themselves and become quite excited about the prospect of enjoying the comfort and security that comes with living in an ICF home."
By any measure, the community of Ravenscraig at Fleming Park is a rousing success. Polycorp tackled a very challenging site and through their tenacity, vision and sensitivity to the surrounding community and existing terrain created a landmark achievement.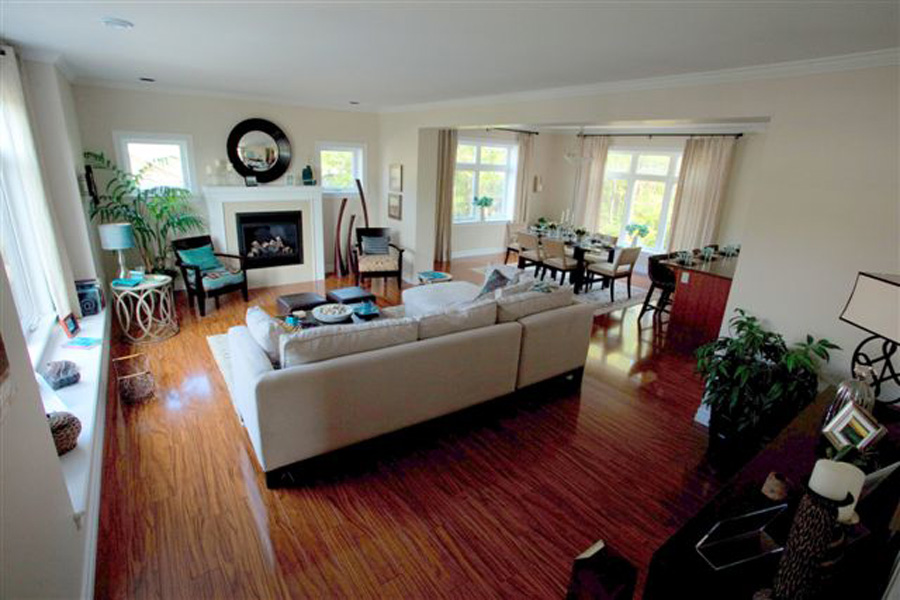 Lemoine says, "When we started, our larger homes started at $459,000 and the smaller ones at $359,000. We just sold our last large home on the park for $799,000 (full price) and we are seeing resales in the $770,000 range on our larger homes and in the $455,000 range on our smaller homes. These price increases far outstrip average price increases in the area and we believe that that is an indication of the market's perception of these homes as being of exceptional quality and value… Although the project took a little longer to complete than we had anticipated, we have met and exceeded our revenue projections for these homes."
He continues, "Time and time again, our Ravenscraig customers have told us that the main reason they bought [here] was due to the advantages inherent with ICF wall construction."
Ravenscraig at Fleming Park
Location: Halifax, Nova Scotia, Canada
Type: 76-home Residential Development
Size: 266,000 sq. ft. (floor)
ICF Use: 250,000 (all exterior walls)
Cost: $20 million
Total Construction: 5 years
ICF Start-to-Finish Time: 10 days per home
Owner: Polycorp Group
General Contractor: Polycorp Group
ICF Installer: Mike Perrier Homes
Form Distributor: Arxx Corp.
Architect: Michael Napier Architecture
Engineer: BMR Engineering
ICF System: Arxx
First large-scale ICF development in the area
Designed to be "nicest single-family subdivision" in the area
Street layout designed to maximize natural topography and minimize front porch height
Single family units range from 2,600 to 4,500 sq. ft.
In-floor hydronic heat encased in 1.5" lightweight concrete topping
All homes sold except model home and two others, most at full price
Extensive local press and coverage from national cement associations
Like what you read?
Yearly Subscriptions Starting @ $30