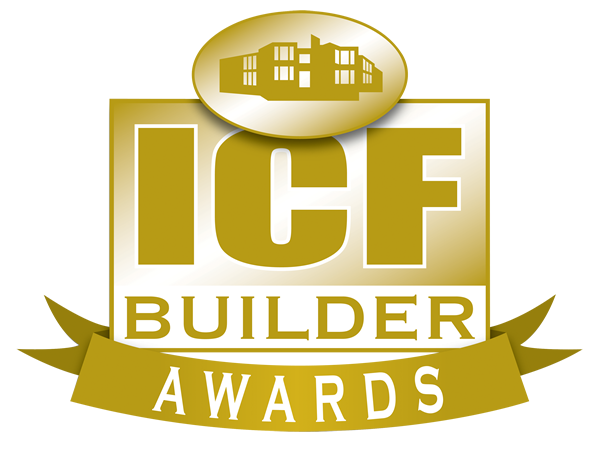 2019 Development 
1st Runner-Up
Over the years, Tim Rainwater and David Grash of Insulated Concrete Buildings have built well over a hundred homes for developers and homeowners. Cameron Ware, the Nudura distributor for the area, says, "At some point they looked at each other and said, 'hey, why don't we build some of these for ourselves and create our own ICF community and rent the properties?' "
 They put together a plan to build a 12-home development in Athens, Texas, about 40 miles southeast of Dallas, acting as the developer, general contractor, and ICF installer. The first nine homes rented almost immediately upon completion; the next three had applicants in line to sign leases before construction was complete. "They have taken their ICF installation company to an entirely new level," says Ware.
Rainwater explains, "We have created a process that is timely and effective, and something the community wants and needs in East Texas."
The homes sit on slab-on-grade foundations, and range from 2,300 to 2,900 sq. ft. per home. The roof design and exterior finish varies with each house to create a neighborhood feel. Each residence has an attached garage, along with front and back sitting patios.
"We wanted to design the homes with simplicity, budget and ergonomics in mind. However, we wanted to give our customers—the renters—an eclectic design in which they would be proud to live in," Rainwater says.
Each house took three or four months to complete, with the ICF portion taking just ten days. Each house used 1,800 to 2,000 sq. ft. of Nudura ICF forms. "These projects were designed with between nine and 12 corners," says Rainwater. "Each home has three doors and six or seven windows." Nearly all of them have tornado-resistant ICF saferooms that double as walk-in closets. "In East Texas, we live in tornado alley," he explains. 
While there were a few slowdowns in the schedule due to the logistics of managing sub-trades, Rainwater says that for the most part, all builds were very successful. The cost per square foot stayed close to the $125 mark, about 5% more than 2×6 construction.
Utilities run about $75 to $100 per month, which is remarkable given the summer Texas heat. In fact, the renters pay no utilities; these bills and lawn care costs are included in the rent. It's another benefit Insulated Concrete Buildings feels comfortable offering thanks to the efficiency of the ICF walls.
Rainwater explains the sales technique he has used so successfully. "First, the product speaks for itself. Second, the safety features of the safe room and the concrete walls are a major draw. Third, the homes are hypoallergenic. They do not have any carpet in them, are less likely to carry pet dander, and are easier to keep clean. Finally, with the environment of East Texas, we have extreme summers. Our A/C does not have to work nearly as hard because the concrete holds the temperatures really well."
He concludes, "Our rentals are the first of their kind in our area. Castleton Rentals residents love their homes. They feel like they are getting good value for
their money." 
Project Statistics 
---
Location: Athens, Texas 
Type: 12-Home Rental Development 
Size:  2,300-2,900 sq. ft. (floor) per home 
ICF Use: 1,800-2,000 sq. ft. per home 
Cost: $125 / sq. ft. 
Total Construction: 12-16 weeks (per home) 
ICF Installation Time: 10 days (per home) 
Construction Team
---
Owner & General Contractor & ICF Installer: Insulated Concrete Buildings
Form Distributor: FutureStone
ICF System: Nudura
Fast Facts
---
First ICF rental development in area
Safe Room in each home
Monthly energy usage $75-100 per home
Like what you read?
Yearly Subscriptions Starting @ $30