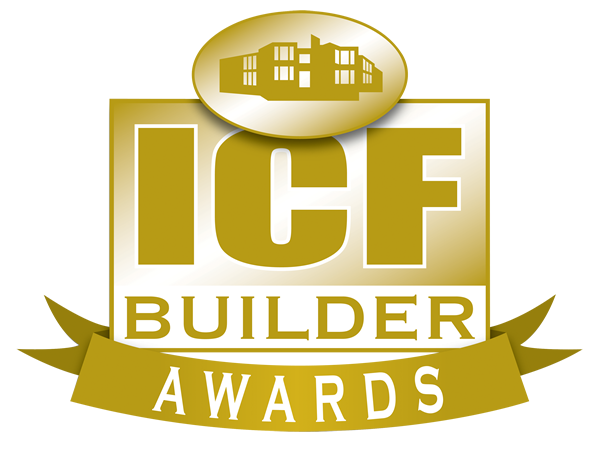 This 40-home development in a well-off suburb of Phoenix, Arizona, is one of the most ambitious ICF projects in the past decade.
The gated community is built entirely of ICFs—including the entry gate buildings and the pool facilities—and is considered one of the most prestigious in Scottsdale.
Cullum Homes, the developer and general contractor, offered six stock floor plans, with seven of the 40 lots available for a custom home design.  "The attributes of ICF lend themselves to ultra high end luxury construction," says Brad Cullum, who served as GC.  "As an example, we took advantage of the ability to create cantilevered corner windows to maximize the mountain views offered by this location.  ICFs also provided airtight, energy efficient walls, a high STC rating, and the ability to build a subgrade basement that seamlessly integrates into the above-grade walls."
For this project, they selected Fox Block for its ease of construction and low delivery costs.  (The block is molded locally.)
He was introduced to ICFs through an NAHB "20 Club,"  a networking program for residential construction CEOs that helps members grow and improve their businesses by sharing and learning from the best practicesof others.  Bart Jones of ICF LLC in Las Vegas has had considerable success in his market and introduced Cullum to the concept.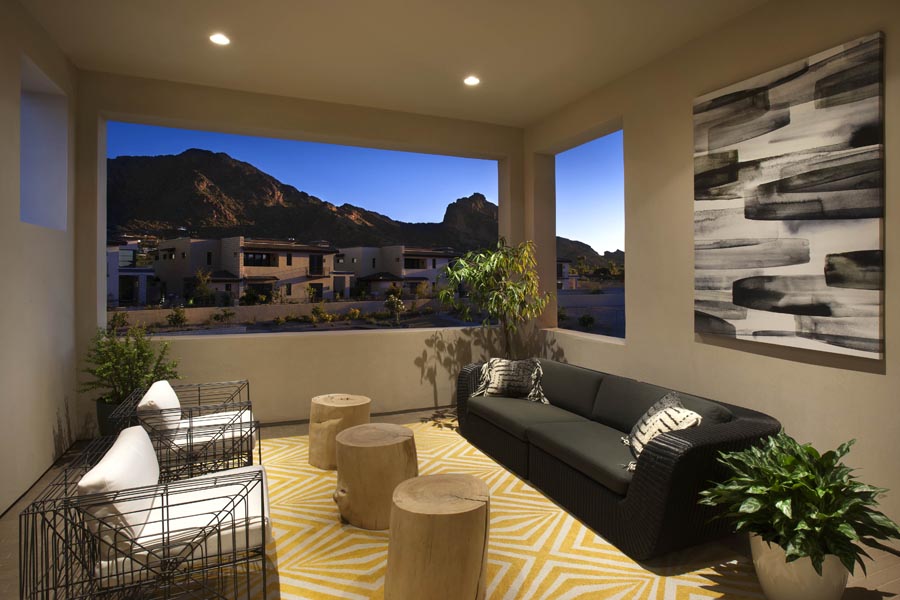 The homes vary somewhat in size, cost, and features; most are between 3,000 and 4,000 square feet, with the option of a walk-out basement that doubles the size of the home. The model home featured in the photography is about 7,000 sq. ft. and came with a price tag of $2.5 million.
"The design challenge was providing more than a 3-car garage in a 6980-sq.-ft. home on an approx. 10,000-sq.-ft. lot," says Mark Candelaria, the designer.  Here again, ICFs provided an advantage.  "Zero lot line construction on various units was a driving factor to use ICF," he says.  "The STC rating offered by ICF was a real advantage given the close proximity of these homes."
Cullum estimates building with ICF added 2%—about $50,000— to the total construction cost.
With a price tag between $2.3 and $2.6 million—nearly $400 per square foot—one might assume that marketing was a challenge, but it wasn't.  Despite being listed at the highest cost per square foot in the entire Phoenix area, the development was half sold before model home could be completed.
Quality construction and thoughtful design are evident throughout the project.
Sliding walls combine outdoor and indoor living space to advantage of Arizona's pleasant climate and facilitate large-scale entertaining. Cantilevered corner windows provide unobstructed views and an abundance of natural light.
Recycled leather flooring and "floating" steel staircases provide a high-tech architectural impact.
A few homes, including the model featured here, included an automobile elevator that allows the homeowner to display collector cars in a glass-enclosed "showroom" located on the lower level.  Automobiles and motorcycles are lowered by hydraulic lift, and come to rest behind a wall of glass.  A wet bar, eight-person theater, lounge area and poker table complete this exceptional living space.
The building envelope and appliances are geared towards sustainability.  Dual pane windows, TruTankless whole house electric water heaters, Daikin V HVAC systems, and Kohler WaterSense fixtures combine with ICFs ensure maximum efficiency in the Arizona climate.
Candelaria summarizes, "Overall this modern and stylish enclave has an ultra-high-end feel and the thicker walls provide much of the feeling of strength and solidity."
Each home used between 8,000 and 10,000 sq. ft. of forms, or 360,000 sq. ft. for the entire development.  Most of the ICF installation was done by The Modern Group.  Having multiple ICF homes under construction at the same time required innovative scheduling.  To support the efficiency of the overall construction schedule, ICF Specialist was brought in to stack the forms on five of the houses.
They report that the ICF work was fairly straightforward, with the only major challenge in the construction of the Car Bar basement, which including a poured-in-place steel and concrete floor to allow for the hydraulic lift.  The challenge of the corner windows was solved through lintel engineering to provide necessary bearing above.
As the first all-ICF neighborhood in the region, The Village at Mountain Shadow was the subject of intense interest, and media coverage began before construction commenced, Stories on the project appeared in newspapers (Arizona Republic, Paradise Valley Independent, Phoenix Business Journal), magazines (Arizona Foothills, Phoenix Home and Garden, AZ Lifestyle, So Scottsdale, Frontdoors, Highline Autos) and on television (Fox News).
Hundreds of visitors toured the project.  Cullum says, "A great many people in our market have been introduced to ICF and the significant advantages it offers, as a result of this high visibility project. We've seen major interest from other developers looking to offer ultimate comfort and durability. Multiple marketing tours and events have brought many other home builders to the site and response has been overwhelmingly positive."
Most notably, the Arizona State Building Inspectors meeting was held at the site with tours of both finished and under-construction homes.
Cullum Homes has set a new benchmark in Arizona with their decision to design and specify ICFs for every home in this 40-home development.   The project has been successful enough that they're using ICF again for an 18-home tract called Silverleaf in Scottsdale.
Mountain Shadows
5641 E Lincoln Dr
Paradise Valley, AZ
85253
Location: Paradise Valley, Ariz.
Type: 40-home residential development
Size: 6,980 sq. ft. (floor.) per home
ICF Use: 9,500 sq. ft. average per home
Cost: $2.6 million per home
Total Project Revenue: $100 million+
Total Construction: 64 weeks (total development)
ICF Installation time: 20 days (per home)
High-end all-ICF development
Car elevators and ultra-high-end touches
Hundreds of visitors, dozens of media stories
Like what you read?
Yearly Subscriptions Starting @ $30