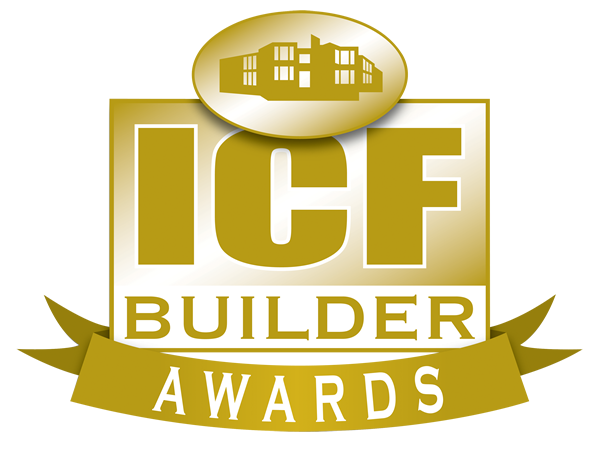 2018 Development
Best In Class
The 17 South project in Charleston, South Carolina, is a landmark for the ICF industry. Consisting of eight separate apartment buildings totally 249,000 sq. ft., it's a fantastic example of great design and efficient construction techniques in a code-plus light commercial project.
EYC Companies, the developer, is well-known in the region as a cost-savvy, no-nonsense builder. They're vertically integrated to better control quality and construction costs. Their wholly-owned subsidiary Front Street Construction Services served as general contractor on this project.
Front Street and EYC have been building in the Carolinas for nearly 20 years, but prior to 17 South had relatively little experience with ICF. Years earlier, company founder Ellis Coleman had learned of ICFs and after speaking with Paul Camozzi, Amvic's director of commercial business development, he decided to use the technology to build an addition on his personal home. That project proved successful, so when 17 South was under development, he reached out to Camozzi again to investigate whether ICFs were feasible for a mid-rise multifamily development.
"We live right on the coast," Coleman says, "We have hurricanes in this part of the world, so you have to design for 125 mile-per-hour winds. We also have a seismic component." Instead of spending the extra $2,000 per unit to get wood-frame construction up to code minimum, ICF provides inherent strength. "The strength is there from the outset, and far exceeds anything possible with wood," he says.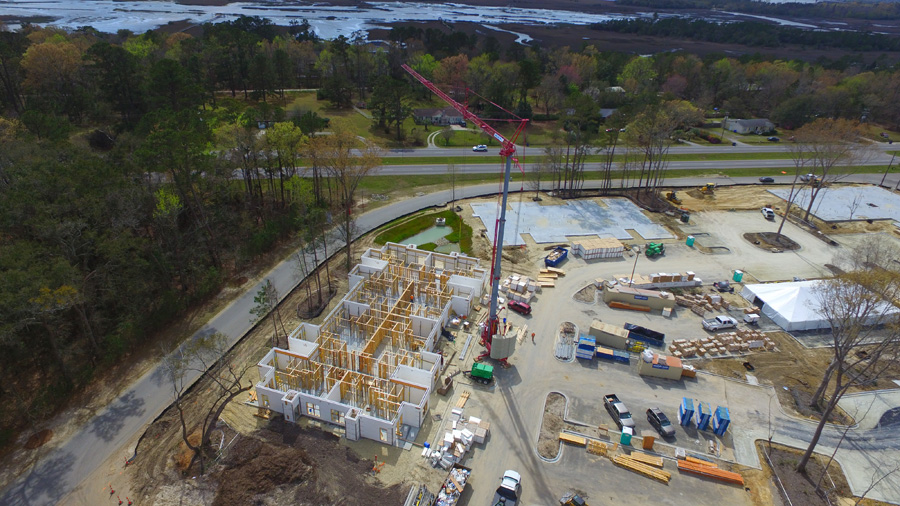 There were other advantages, too. "Having looked into lots of green technologies that we didn't have complete faith in, we found something simple that accomplishes 90% of what we wanted," Coleman states. "Using two simple products [ICF and concrete] you have a system that is almost indestructible, airtight, and with enough insulation and mass to stay cool on the hottest days at only a slight premium in cost."
Cline Design Associates drew up the plans, balancing occupant needs and basic aesthetics with the requirements of the city's Design Review Board (DRB), and the constraints of the form itself. DRB required recessed balconies on each unit, which entailed dozens of corners and short wall segments.
Architects at Cline astutely matched the length of each jog to the dimensions of the ICF form to reduce waste and simplify construction. "The precise planning of ICF modules can yield a substantial decrease in environmental waste," explains Jason Lettie, the lead designer. "By utilizing optimal offsets in wall planes, the massing and articulation of the three- and four-story buildings provided depth, shadow lines and visual interest without the need for artificial applied ornamentation."
The higher fire ratings provided by ICFs (compared to wood) also allowed the buildings to be placed closer together, preserving the large trees. Lettie says it "creates an inviting community that is crafted to, rather than imposed onto, its environment."
The final design consists of 220 units in seven separate apartment buildings. Five buildings are three-story. The other two have four stories. Lettie notes that the ICF walls had plenty of strength for the numerous large windows and ten-foot ceilings without additional reinforcement. An eighth building—housing the pool, clubhouse, and fitness center—is also built with ICF.
While exterior and shear walls are ICF, most interior walls, ceilings, and floor assemblies are conventional wood construction. This allowed the developer to use their existing subcontractor network and keep costs lower.
Despite being new to commercial ICF construction, EYC laid out an aggressive schedule. To keep pace, a crew of four workers was assigned to do all of the ICF installation. One additional member specialized in placing and verifying all penetrations and connections for the decks and canopies. The framing crew crossed over to install the bucks and scaffolding. Crews used Giraffe Brace for scaffolding and wall alignment, and PreBuck engineered wood for door and window penetrations.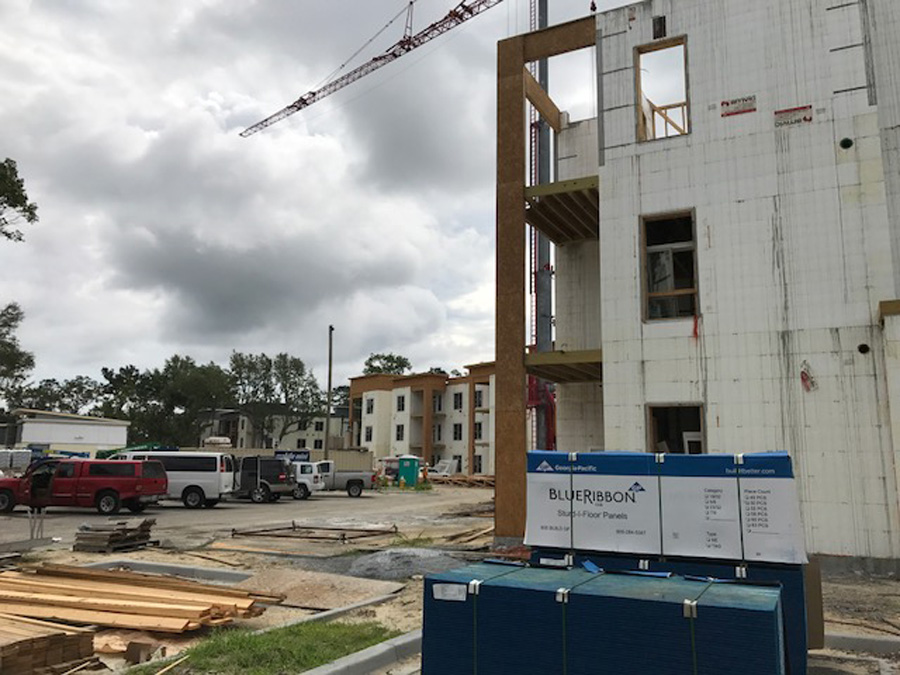 The floors were actually set in place before the pour, and helped keep the structure rigid and square during concrete placement. Coleman explains, "The floors are framed and sheathed before the ICF is poured which greatly helps keep the walls where they should be. Centerlines are carried from the slab to each floor and minor corrections are made at the start of each level."
The ambitious schedule was often complicated by atrocious weather. The site experienced record-breaking amounts of rain during construction as well as ferocious winds from two separate hurricanes (Irma and Maria). Coleman says, "Excluding the extreme weather and a very wet summer, the project construction process went very smoothly."
In total, the project used about 160,000 sq. ft. of forms, 43,000 of which are interior demising walls.
Pour days were just as ambitious as the rest of the construction schedule. They placed concrete at an extremely rapid pace, despite the number of corners, windows, and short wall segments in the design, all of which are notorious weak points. On the pair of four-story buildings, Coleman reports concrete was placed at speeds exceeding half a yard per minute. Custom temporary metal corner reinforcements provided additional support. The two four-story buildings with their ten-foot ceilings used just over 200 cubic yards of concrete per level.
Amvic, the ICF brand of choice, held up to the demands. Coleman reports, "Bulges and form problems have been rare, using care to watch for broken webs and being consistent at reinforcing columns and short corners near windows." He reflects, "We chose Amvic [originally] because they had a manufacturing facility close to our project. Now that we have worked with them, it is very doubtful we would change. The six-inch web spacing and durable interlock is helpful for the pace at which we like to pour a large building. Amvic has been very accommodating to provide consistent pricing, delivery and service throughout the project."
Because of the heat, they scheduled the concrete to arrive at 4 or 5 a.m. "This time slot has the least temperature change for hot summer days, and reduces the need for retarding additives," Coleman explains. "Having a very knowledgeable person in constant communication with the plant throughout a large pour is a significant advantage."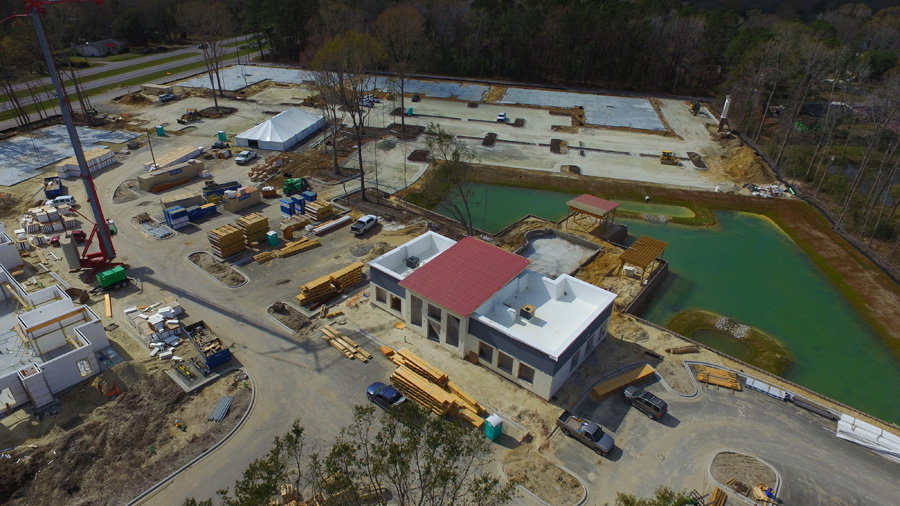 When the decision was made to use ICF, a number of other changes were made as well. Closed-cell spray foam was used in the ceilings to decrease sound transmission and boost R-values there, which meant that standard HVAC systems would be too large. Designers downsized 40% to 22+ SEER variable speed equipment with fresh air intakes.
With the improvement in efficiency, the owner decided to pick up the tenants' utility bills, which eliminated the cost related to individual electric meters.
This is appealing for customers, but also to the investors and lenders involved with the project. "We are very comfortable with the prospect of including utilities in the lease knowing our operating expense is well below the customer's expectation, " Coleman says.
A project of this magnitude draws attention, and 17 South has served as a noteworthy ambassador for the industry. NRMCA organized two separate events at the site as part of their Build With Strength campaign. More than 70 multifamily industry professionals toured the project, listened to presentations and participated in roundtable discussions with veteran ICF proponents.
"Concrete has proven itself time and again as a vastly superior building material when it comes to strength and durability," says Kevin Lawlor, a spokesman for NRMCA's Build With Strength initiative. "When you factor in the speed and ease of use of Insulated Concrete Forms, the advantages are clear."
The project has been featured in multiple print media outlets, online, and in NRMCA's presentations across the U.S. It won "Best Development" at the 2018 ICF Builder Awards earlier this year. Coleman says that while the award is nice, the real goal has always been to impress the customer. "Success is always measured by our customer and it appears they are extremely pleased. The energy savings is significant and we pass this on to them by including all utilities. They enjoy a quiet and comfortable living space, and they don't have to leave if the wind blows 100 miles per hour. It's a next level experience for the renter in today's market."
Project Statistics
---
Location: Charleston, South Carolina
Type: Multi-Family Residential
Size: 248,994 sq. ft. (floor)
ICF Use: 160,136 sq. ft.
Cost: $32.8 million
Total Construction: 2 years
ICF Installation Time: 14 months
Construction Team
---
Owner: EYC Companies
General Contractor: Front Street Construction Services
ICF Installer: Sowell Builder Services
Architect: Cline Design Associates
ICF System: Amvic
Fast Facts
---
Metal corners enabled rapid concrete pours
ICF/wood hybrid construction
Accelerated project schedule
Extreme rain and winds during construction
ICF quickly passed city design review process
Promoted by NRMCA
Like what you read?
Yearly Subscriptions Starting @ $30