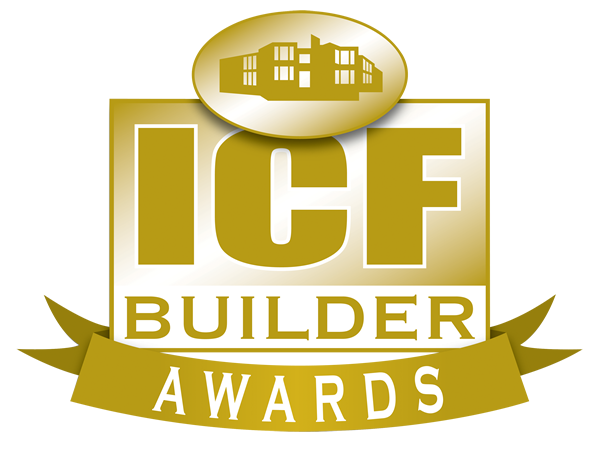 2010 Large Residential
Best in Class
The Salero Home in southern Arizona is a beautiful example of an attractive, sustainable, well-built home that blends seamlessly into its surroundings. It's also an outstanding example of how enormous design and logistical challenges can be overcome with ICFs and an experienced contractor with a can-do attitude.
The design is a classic of southwestern architecture with clean lines, sweeping curves, and varied wall heights and window openings. The architect, Wendi Munsey, was awarded third place in a national competition for her work on the project.
But converting the plans into a home would be difficult. For starters, just reaching the jobsite could prove challenging. It sits 25 miles from the main highway, the last seven on dirt roads. The driveway was almost a quarter mile long, with a 200 foot elevation gain. It was so steep that all the ready-mix trucks and concrete pump trucks had to back up the driveway.
Then there was the plan itself. All exterior walls reached a minimum of 25 feet above the footing. They had 5 different radius walls. Three of them were extremely tight (4', 5', and 9'6" radius). High winds at the mountain site, tight rebar spacing, and multiple embeds further complicated the work.
Roy Lauger and his crew at LGS Framing were up to the task. They did the ICF install using Quad-Lock ICF, a panel system that ships compactly and requires no specialized parts. Quad-Lock claims their system can form radius walls more easily than block-type systems, but even panels require modification for curves this tight. Lauger's solution for building tall, small radius walls was so innovative—and successful—that Quad-Lock revised their installation manual based on his results.
To simplify logistics, Lauger moved his personal camper trailer up to the site for his four-man crew to stay in for the duration of the build.
The 3,450 sq. ft. home used more than 6,750 sq. ft of ICF wall, and used just over 400 cubic yards of concrete.
The owners spared no expense in finishing their low-impact home. Low-E windows, a heat exchanger, tankless water heater, and graywater recovery system keeps environmental impact to a minimum. Travertine tile, maple floors, and custom-made doors ensure the owners feel pampered.
The final home serves as an witness that ICFs can
create a sustainable, award-winning green home in virtually any
environment.
Project Statistics
---
Location: Outside Tubac, Ariz.
Type: Private Residence-Custom Home
Size: 3,452 sq. ft. (floor)
ICF Use: 6,750 sq. ft. (95% exterior walls) plus 1,250 sq. ft. interior walls
Cost: $750,000
Total Construction: 450 days (finished March 2010)
ICF installation time: 120 days
Construction Team
---
Owner/GC: Richard Zeron
Architect: Design Solutions
Engineer: CDK Engineering
ICF Installer: LGS Framing
ICF Distributor: Arizona Radiant Barrier
Additional Team Member: Sundance Framing
ICF System: Quad-Lock
Fast Facts
---
4" Foam on exterior walls
Energy efficient windows and doors, 15-seer A/C units
Five radius walls, including tight 4' and 5' radius
Remote site; last 7 miles are via dirt road
Installer moved personal RV to site for installation crew
Used 400 yards of concrete
Architect won national prize for this design
Like what you read?
Yearly Subscriptions Starting @ $30