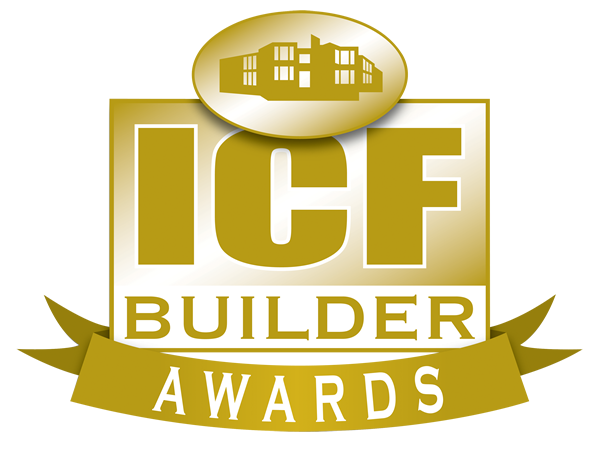 2005 Unlimited Residential
1st Runner-Up
At over 15,000 sq. ft., this project uses nearly every size and shape of Arxx form manufactured. Smith Brothers, the general contractor and ICF installer, had never built with insulating concrete forms before, but were converted to the building method after attending an educational seminar hosted by the local form distributor.
"The Arxx system, Arxx representatives, Arxx educational seminars, and local supplier seemed to be a complete support system that could be relied on," the entry notebook states.
It is a challenging design. Ceiling heights vary from 8 to 16 feet, and the architect's horizontal lines are carried beyond the house with retaining and landscaping walls, also built with Arxx ICFs. Basement walls started 12 feet below grade. First floor truss heights varied from 8 to 16 feet. Window blockouts were sometimes more than 10 feet wide.
With help from the Arxx support team, Smith Bros. was able to complete their largest-to-date project in an efficient and high-quality manner.
The judges liked the results. "Outstanding design – home carefully planned to harmonize with the site," one commented. "Excellent quality, craftsmanship and materials used," another noted.
Most importantly, the owners are happy with the balance of highly energy efficient walls and bright cheery interiors." 
Project Statistics 
---
Location: Pueblo, Colorado
Size: 15,000 sq. ft.  
Cost: $1,800,000
Duration: 15 months 
Date Completed: Sept.  2005
Construction Team 
---
Architect: Architecture Workshop, Inc.
General Contractor: Smith Brothers, Inc.
ICF Installer: Smith Brothers, Inc.
Additional Team Member: Hanover Concrete Co.
Fast Facts 
---
ICF Block: Arxx Building Systems
Wall Bracing: Arxx Bracing
Waterproofing: Arxx MaxxWrap
Drainage: Certainteed Form-A-Drain
Ledgers/Joists: Simpson Strong-Tie/Georgia Pacific
Exterior Finishes: Dryvit
Like what you read?
Yearly Subscriptions Starting @ $30