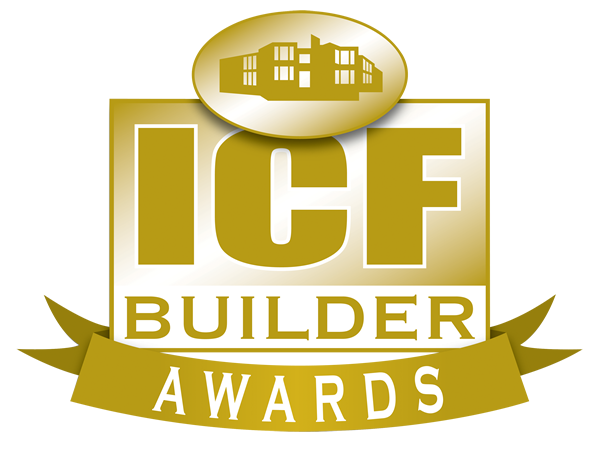 2013 Unlimited Residential 1st Runner-Up
ICFs are often chosen by homeowners who value energy efficiency and disaster resistance. This home, located about an hour south of Salt Lake City, Utah, maximizes both of these attributes. It nearly qualifies as a Net-Zero home, while also designed to withstand the worst natural and man-made disasters imaginable.
Yet despite its strength, it doesn't look like a bunker. On the contrary, it projects an air of style and elegance that allows it to fit perfectly with the affluent neighborhood that surrounds it. The owner says, "The house is designed with extensive natural lighting, with large windows in virtually every room and a beautiful wide staircase that extends the entire four floors. I asked the surveyor to shoot angles to all the best vistas, so with the exception of the two basement windows on the north, every window in this house has a view of either the mountains or Utah Lake."
Dan McCullough, the Logix ICF distributor that also served as general contractor, adds, "This home is truly a comfortable and luxurious residence but is perfectly capable of providing a safe refuge from every imaginable disaster or threat."
The four-story home was designed quite literally to withstand a nuclear bomb, and will be able to stand up to the worst natural disasters as well. All of the exterior walls are formed with Logix's Platinum Series ICF, with an eight-inch core of steel-reinforced concrete. The heavy mat of #6 (3/4″) rebar, six inches on center is strong enough to withstand an 8.0 earthquake. All interior floors are also concrete, formed using Beaver Plastic's Fortruss system. Most of the interior walls are ICF as well.
Windows have a 200-mph wind resistance rating, and all ground-level doors are bulletproof.
A 3,700-watt rooftop solar array supplements the electrical power. Two propane-powered backup generators are also installed, plumbed to an off-grid fuel supply, and wired to the home's battery bank. An ultra-high-efficiency wood stove and several underground water storage tanks complete this ultimate "prepper" home.
McCullough says, "If disaster strikes, life for the occupants of this home will be sustainable due to the preparedness designed into it. That kind of puts a kind of new twist on the term 'net-zero,' doesn't it?"
The same concrete-and-foam combination that make this home so durable also makes it incredibly energy efficient. A super-insulated roof (nine inches of closed-cell polyurethane spray foam to R-60), and triple-pane windows complete the shell. Even the garage doors have several inches of foam, providing a value of R-18, which exceeds the R-value of most homes!
Each floor has an independent energy recovery ventilator (ERV), and the hydronic radiant heating on all four floors is driven by a high-efficiency natural gas boiler. The owner is hoping to achieve heating and cooling costs between $70 and $150 per month, which is outstanding for a 8,000-sq.-ft.-plus house.
McCullough's ability to read the complex plans and his expertise with ICFs allowed him to transform this project from a dream into reality. It required nearly 12,000 sq. ft. of forms: 1,600 straight forms, 457 corners, 326 T-wall connections, 214 wall terminations, and 338 custom-cut non-standard corners. McCullough also dealt with 64 different window and door openings and nearly 18 miles of rebar. In total, the project required 538 yards of concrete in 16 separate pours.
One of the most difficult challenges was created by the non-stacked walls, which created complex engineering and massive rebar requirements in the concrete floor systems in order to bear that weight. The owner made several change orders during the course of the build which further complicated matters.
McCullough says, "This ICF home provides a level of energy efficiency and self-sufficiency that could not be achieved using any other product. It does so in a way that stretches the boundaries of what was thought possible with insulated concrete form construction. I highly doubt you'll find any residential home in North America—or the world for that matter—that has as many unique features as this one. This house will last for centuries and sets a high standard for other ICF projects to follow."
Project Statistics
---
Location: Orem, Utah
Type: Private Residence-Near Zero Energy Home
Size: 8,416 sq. ft.
ICF Use: 13,500 sq. ft. (All exterior and interior walls)
Cost: $1.6 Million
Total Construction: 660 Days
ICF Start-to-Finish Time: 160 Days (floor and walls)
Construction Team
---
Owner: J. Hoffman
General Contractor: Davies Development
ICF Installer: McCullough Construction
ICF Distributor: Utah ICF
Architect: James Carroll & Assoc.
Engineer: MEC
ICF System: Walls by Logix Platinum/Floors by Fortruss
Fast Facts
---
Designed to withstand nuclear war, Richter 8.0 Earthquake, heavy gunfire, etc.
Near Net-Zero home, with radiant hydronic heat, LED lighting, ERVs, Photovoltaic panels, etc.
Triple-pane glass tested to 200 mph wind resistance. R-60 spray foam under concrete roof deck. Auxiliary wood heat.
Scored well above gold level on NAHB Green Building Standard
Four story design uses non-stacked walls, creating complex engineering.
HERS rating of 52
Used 450 corner blocks, plus 326 T-blocks and 338 custom-cut corners
64 doors and windows used 1,300 lineal feet of V-Buck
Project consumed nearly 18 miles of rebar (92,000 lineal feet)
Like what you read?
Yearly Subscriptions Starting @ $30