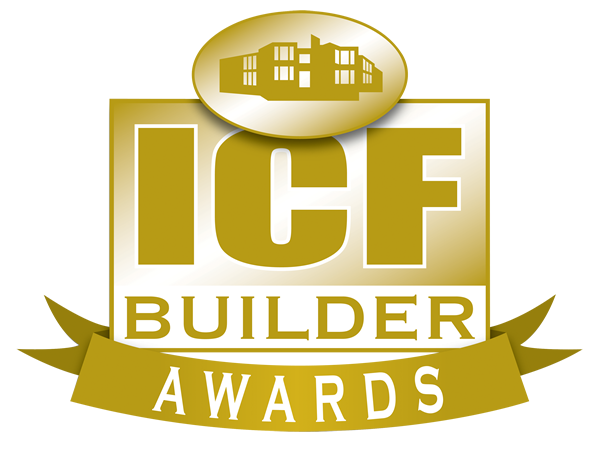 2014 Unlimited Residential 2nd Runner-Up
The design of this beautiful Indiana home was inspired by the stately Victorian summer homes on the Northeastern coast of the U.S. The multiple wrap-around porches—oriented for optimum lake views—turrets, and bay windows provide visual interest while reflecting the proportions and aesthetics of the owner.
It's much more spacious than it appears—11,500 sq. ft. spread over three levels—and careful consideration to the design, structure, create a distinctive, family-friendly home.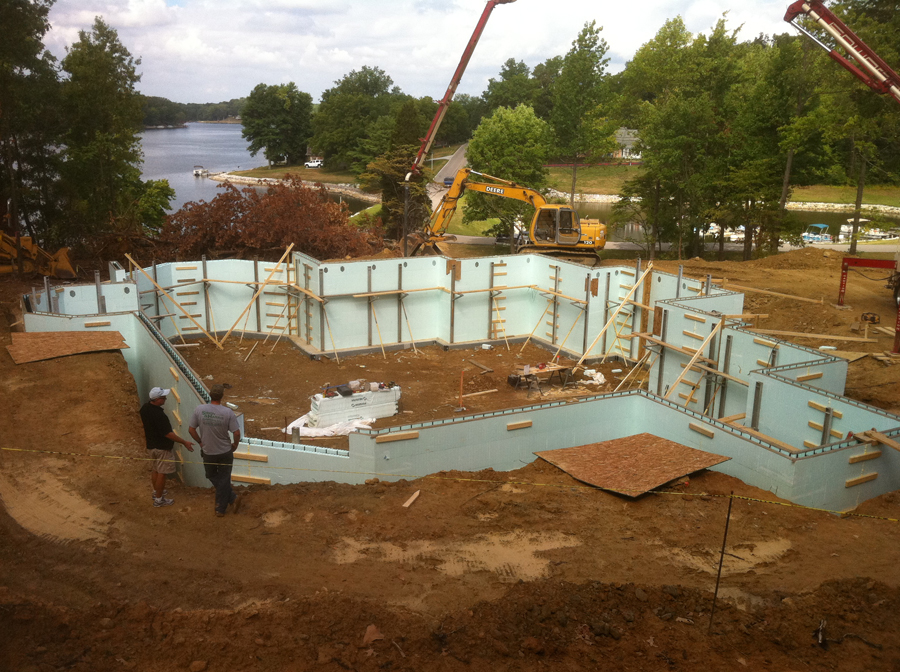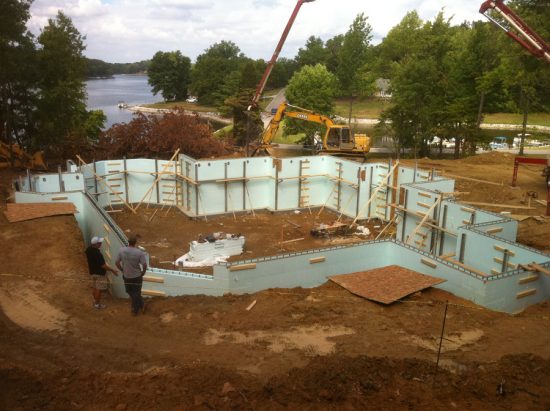 Plans were drawn up by Ron Sickmeier of Henry-Sickmeier Architects, over the course of three years. The original version called for a 2×6 frame home on an ICF foundation, but when Josh Harris, co-owner of Simon & Harris, received a phone call from the homeowner requesting a bid on the ICF portion, he presented a case for building the entire shell with ICFs, citing structural strength, sustainability, cost, and insulation benefits. Simon & Harris specialize in ICF construction, and have built nearly 50 ICF homes in the region. After several discussions, Harris took the owner on a tour of a completed ICF home. He says that before the tour was concluded, the owner was on the phone with his architect, directing him to rework his plans for ICF. The project team elected to use Nudura products, based on the builder's familiarity with the brand.
Sickmeier, an experienced architect but unfamiliar with the finer points of ICF design, faced the challenge taking the existing blueprints (drawn by him) and adapting them for ICF construction. This involved allowing for thicker exterior ICF walls, adjusting the installation of the bay windows, and reworking some of the door and window placements. The roof connections and internal steel beam supports also needed to be revised.
In the end, the decision not only led to a stronger, more energy-efficient home, but was also more economical. Harris says, "Our price for ICF construction was below the price quoted by a competitor to build with stick frame construction with spray foam."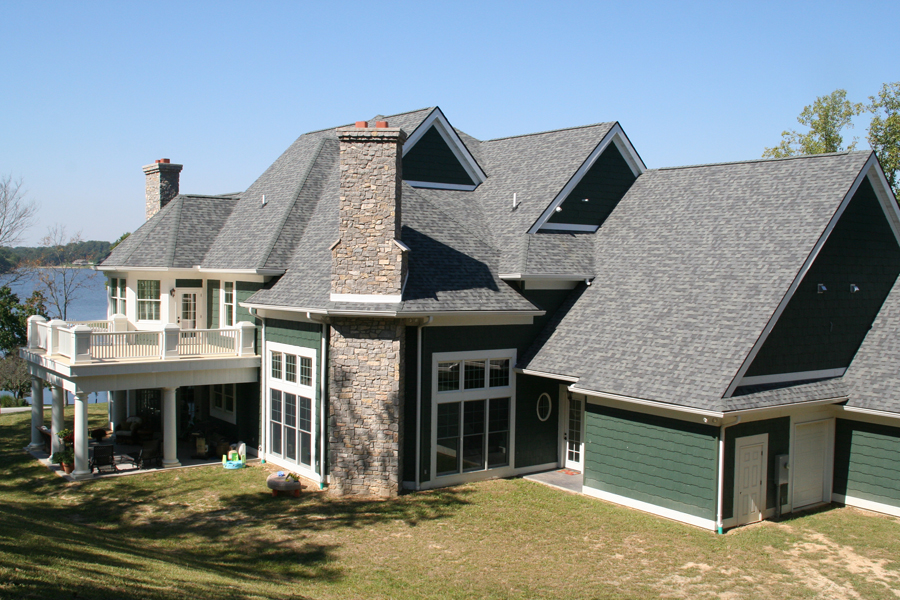 Constructing a home of this size on a heavily wooded hillside lot was challenging, to say the least. The footprint has nineteen 90º and ten 45º degree corners, as well a radius wall that sweeps across the front porch of the home. The surveyor used GPS satellite coordinates to locate these corners precisely.
Work began in July of 2012, and proceeded smoothly. Two second floor ICF walls have no supporting wall on the first floor. These were poured on steel beams. The complex roof has multiple gables, hips, and valleys, made even more difficult by the steep (12:12) pitch. A second-floor turret, now the homeowner's office, is supported by steel beams that cantilever over the porch. Harris says, "Until the final porch posts were installed, this cantilevered section of the home was quite a topic of conversation. It appeared to be floating in space."
The homeowner confirms, "Our house did raise a few eyebrows during the 18+ months of construction, and apparently became the talk of the town". The attention led to at least one favorable story in the local newspaper.
The homeowner continued to investigate other energy-saving strategies. High efficiency doors and low-e argon-filled windows were installed. The home has a geothermal heat pump for the HVAC system, with separate units on each floor for independent control of the heating, air conditioning, and hot water. The owner calls it "practically free air conditioning" in the humid summers of southern Indiana.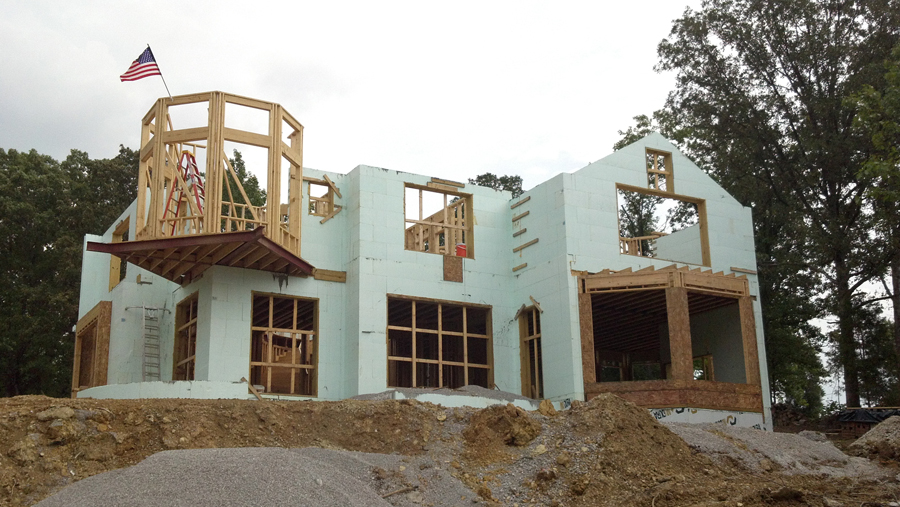 Just as much attention was spent on the interior. A sweeping "Gone with the Wind" formal staircase leads from a central rotunda to the second level. Wide baseboards and trim were used balance the 10-foot ceilings and match the deep window sills inherent with ICF construction.
Timeless, unique, one-of-a-kind details are tastefully placed throughout; imported marble fireplaces, mosaic tile floors, bronze staircase banisters, stained glass windows, and antique furniture pieces allow the owner to enjoy the very best of the past, now and in the future.
The exterior finishes were chosen with Victorian influences in mind. Louisiana Pacific and Nudura collaborated with the installer on this home to work out "best practice" installation techniques for installing LP's Smartside engineered wood shingles on ICF. Harris says, "It's sometimes been a challenge in the building industry to be assured that [a certain] product will be compatible with ICFs. This is changing slowly as more ICF projects (residential and commercial) are developed and successful."
Harris summarizes, "This home was completed in May 2014, and meets or exceeds the standards for a graceful, attractive and energy-efficient home. Its design is classic with loads of architectural details and design elements, both inside and out. Challenges of terrain, elevation, plan revision, and structural concerns all were addressed in a professional and timely manner, culminating in a home that draws positive attention from all who see it."
Sickmeier, the architect, now considers himself a "convert" to the benefits of ICF, and now makes an effort to encourage other builders that "ICF is a good consideration".
Most importantly, the homeowner is thrilled with his home. He says, "I cannot express how happy I am that I chose ICF for the construction of this house. Although we have only lived here a little less than four months, the benefits of ICF are becoming quite clear. We feel exceptionally safe staying in this house regardless of the weather conditions, and the insulation provided by these walls has proven to be exceptional, as witnessed by our electric bills." He goes on to add that the walls nearly eliminate the noise from the nearby road, and that "there is no movement or creaking" of the walls that would occur in a traditionally framed home.
He concludes, "When an ICF house is properly built, I see no comparison to the benefits provided by ICF as compared with any other type of home construction."
Location: Spencer County, Ind.
Type: Custom Home
Size: 11,500 sq. ft. (floor)
ICF Use: 8,000 sq. ft.
Total Construction: 23 months
ICF Installation time: 50 days
Owner + General Contractor: Undisclosed
ICF Installer: Simon & Harris Home Builders
Architect: Henry-Sickmeier
Form Distributor: Holdfast Technologies
ICF System: Nudura
Modeled after coastal Victorian homes
Architect's first ICF project
Non-stacked ICF walls sit on steel beams
30 corners, ten at 45 degrees, plus radius walls
Generated significant local publicity
Developed LP siding ICF installation standards
Like what you read?
Yearly Subscriptions Starting @ $30