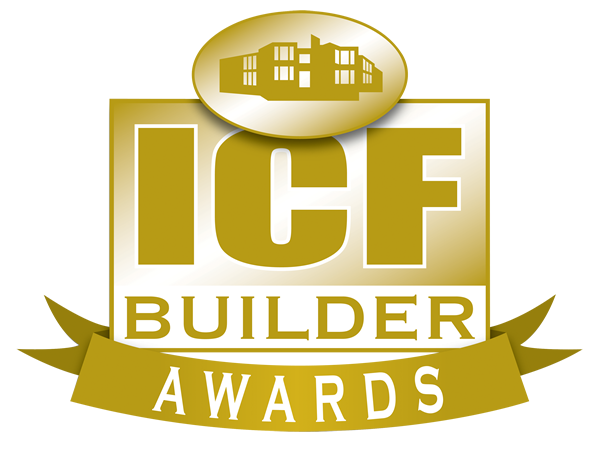 2016 Unlimited Residential
2nd Runner-Up
Modeled after the estates found along the French and Spanish Riviera, the Resort Boulevard home has an aura of grace and elegance that will stand the test of time.
The home should last for generations as well, thanks to top-quality craftsmanship and innovative construction materials. The exterior walls of the home are built with Insulated Concrete Forms (ICFs), which sandwich a core of steel-reinforced concrete between two panels of high-efficiency rigid foam insulation. The result is a high-efficiency building envelope that can also withstand most natural disasters.
The decision to build with ICFs was made by the owner, who built the home on a beautiful beachfront lot overlooking Eagle Mountain Lake, about 15 miles north of downtown Fort Worth, Texas. Seeking efficiency and durability, he was curious about the concept of building with foam and concrete, and after Cameron Ware at FutureStone—the local Nudura distributor—showed him a number of similar homes in the area built with ICF, the decision was easy. Ware says, "Poured-in-place concrete would not have been able to match the aggressive schedule or provide the level of insulation required.
Robert Pounds, of Pounds Homes Inc., got the nod as general contractor. He had been interested in exploring ICF construction for some time and was excited to be selected as the builder. However, the job was both enormous and complex. The home is well over 10,000 sq. ft., with tall wall, multiple radius wall segments, and dozens of windows and corners. Additionally, several arched windows needed to be placed in radius walls. Pounds, who had no ICF experience, subcontracted the ICF install to a crew headed up by Tim Jackson to keep the enormous project on schedule.
Together, they installed 13,000 sq. ft. of ICF in the exterior walls, an interior safe room, and two second-story interior crossover walls.
Pounds says, "The ICF installation was flawless. In doing my due diligence on ICF, this was a concern of mine because of the level of complexity associated with the several radius and elliptical walls. I wanted poured arches and this is something many installers shy away from and they were provided exactly as requested."
Jackson says, "Other than the typical aggressive schedule on a complicated home and weather that required working in and around rain, we did not experience any significant issues." First floor walls were stacked in 16 days. The second floor took 13 days. Two videos of first floor construction can be found online by searching YouTube for "Advanced ICF."
The home has high efficiency Pella windows, purchased in advance of construction, so all openings had to be exact. Jackson built his own wooden bucks, sized precisely to the dimensions specified by the manufacturer. The arched bucks were accomplished using the ICF as a void form, with treated lumber segments running over the top fastened together with perforated steel duct strapping. Galvanized screws driven partially into the wood on top of arch ensured a good bond with the concrete. Jackson says, "This was a particularly valuable approach when doing the compound arches: poured arches within a radius wall."
There were plenty of these. The home has four different radius walls plus a fifth wall built as an oval. Nearly all of these have poured arch windows.
The bucks worked flawlessly. Pounds says, "The Pella Windows rep said he had never seen windows with virtually zero variance to the required opening."
In addition to ICFs and high efficiency windows,
the architecture lends itself to efficiency. Large second floor decks shade the windows. A sealed attic completes the ultra-energy efficient system.
Tornadoes and severe thunderstorms pass through North Texas regularly. The finishes—which are a perfect match for the architecture—were also chosen for durability: synthetic stucco and stone. The clay tile roof will stand up to the occasional violent hailstorm and also most high winds.
Several architects toured the home while it was under construction, which ultimately led to several additional high-end home designs and new projects in the Dallas/Fort Worth area.
Pounds has since moved to Florida, and says ICFs are a natural fit for high-end homes there as well. "I am confident that [ICF] is far superior for a number of reasons," he says. "The execution of the ICF on this home has motivated me to start building ICF here and I am seriously considering it."
Project Statistics
---
Location: Fort Worth, Texas
Type: Custom Home
Size: Undisclosed
ICF Use: 13,000 sq. ft.
Total Construction: 12 months
ICF Installation time: 30 days
Construction Team
---
General Contractor: Pounds Homes Inc.
ICF Installer: Timothy Jackson
Architect: Grand Homes Designs
Form Distributor: FutureStone, LLC
ICF System: 6″ core Nudura
Fast Facts
---
Modeled after French chateau
Tall walls, curved walls and arches
Fast-track schedule
Dozens of windows and corners per floor
Like what you read?
Yearly Subscriptions Starting @ $30